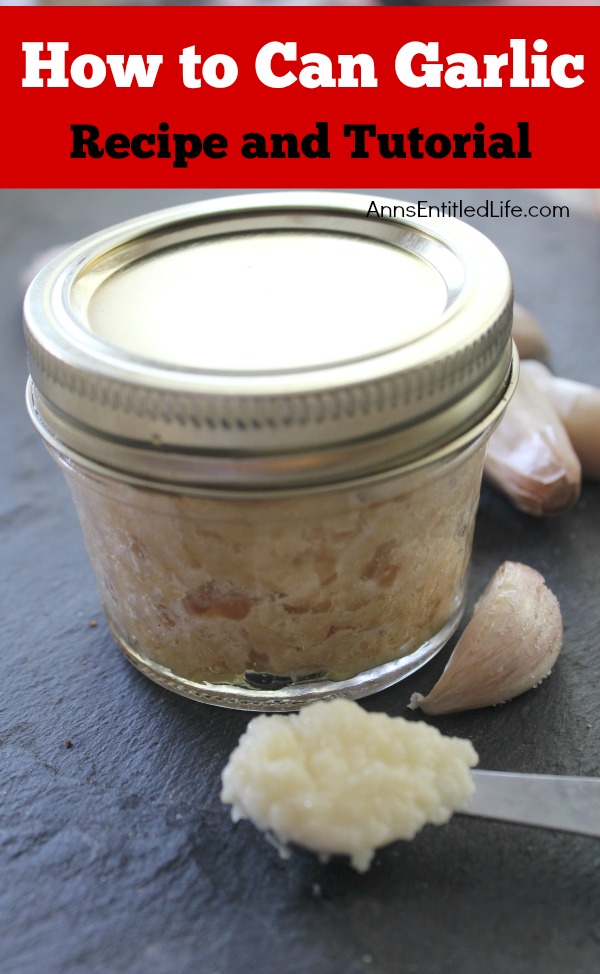 Canned Garlic Recipe
By Ann
Make your own, minced, canned garlic! Have garlic on hand at all times to add to your delicious recipes by canning your own. In just over an hour you can have enough canned garlic to last a year with this easy canned garlic recipe.
Prep Time: 30 minutes
Cook Time: 46 Minutes
Ingredients:
● 2 lbs Fresh Garlic
● 1½ tsp Citric acid
● 2 tsp Olive Oil
● 2 tsp Coarse Sea Salt
● Boiling Water
Directions:

● Wash your canning jars, lids, gaskets, screw tops in the dishwasher on sanitize, boiling water on the stove, or extremely hot sink water.
● Pull bulbs from the entire head of garlic and peel. (The easiest method I have found for peeling is to smash the entire bulb under your hand, then give each bulb a firm hit with a pot ( I used the bottom of a jar). The peel will come off easily.)
● Bring a medium pot of water to a boil.
● Submerge garlic cloves in boiling water, turn off heat and allow to sit for 1 minutes.
● Remove garlic from water, reserve water.
● Mince garlic. If your food processor has a blade that minces (not mushes) you can try that, or mince by hand.
● Add the citric acid to the food processor while mincing.
● Combine minced garlic, olive oil and sea salt in a bowl.
● Stir in 1 cup boiling water.
● Transfer garlic to your sterilized jar packing it well, remove any air bubbles with a rubber spatula.
● Wipe off the rim to clean and place lid and ring on top.
● Place in pressure canner at 10 lbs pressure for 45 minutes.
● Release pressure.
● Remove from canner and then allow to cool on a dish towel as placing them on a cool counter could crack the jars.
● Listen for the ping ping of each jar sealing, remove the ring and try to pry up lid if it is secure your seal was successful.
● Garlic will keep when opened in refrigerator for up to a year and unopened in a cool, dark place for years.
● When processing garlic it may turn slightly brown but it still delicious and edible!
● Makes 100 servings Canned Garlic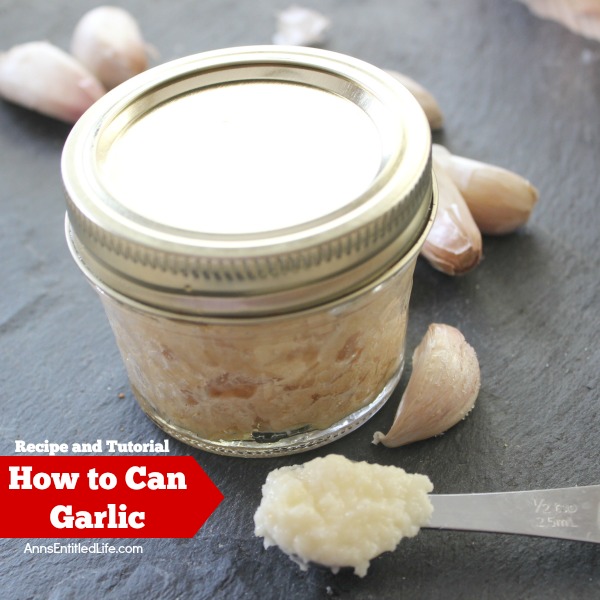 Notes
● Pressure canners these days are much better than they used to be. This is the Pressure Canner
used for this tutorial.
● In this tutorial, the rings were built into the lid. If you have the old lids + rings + bands, no problem, it works the same way.
● Make sure you sterilize all the parts of your canning jar: the jar itself, lids, bands. Some people just use REALLY hot sink water to get the jars good and hot and clean. You can also run the jars through the dishwasher instead to make sure they are clean and come out hot. And there is the old boil it all on the stove so they come out squeaky clean and remain hot.
● This recipe makes 3 pints or 6 small half pints (perfect for gifting!)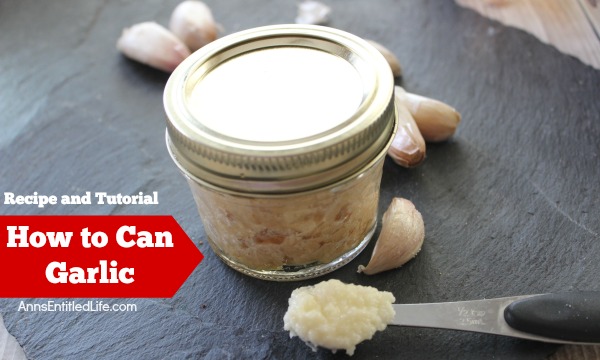 ● To print the Canned Garlic recipe, click here.
---
● Disclosure the links in this post may be affiliate links.
● For more Recipes on Ann's Entitled Life, click here.
● If you enjoyed this post, be sure to sign up for the Ann's Entitled Life weekly newsletter, and never miss another article!
---