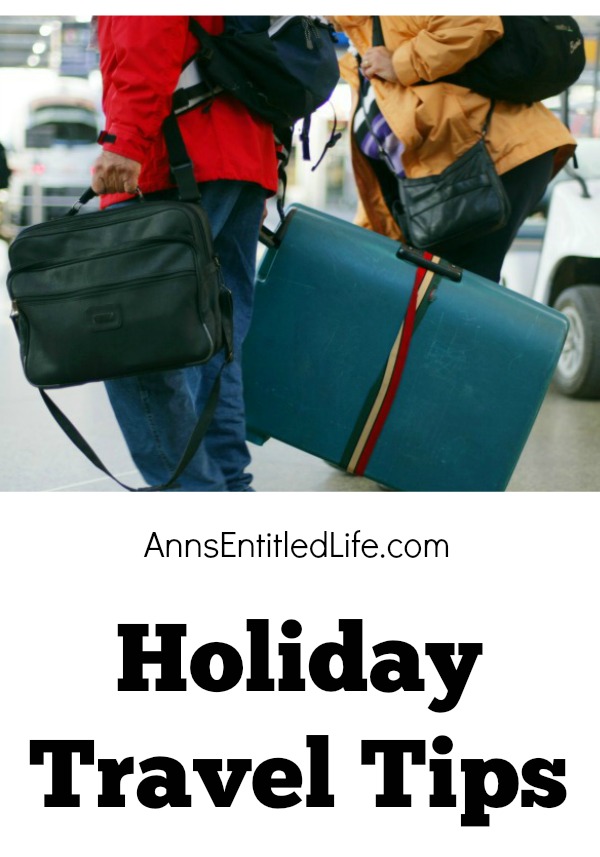 Holiday Travel Tips
Holiday Travel Tips. Here are some holiday travel tips for those of you heading off to visit family and friends this holiday season. Travel is not always pleasant and sometimes can be extremely stressful, but these holiday travel tips are based on personal experience and shared in the hopes of making your holiday travel smooth and carefree.
● Check the weather. If you are driving and there is a potentially life threatening weather event forecast, stay home. Seriously. Nothing is worth a day parked on the thruway or sliding into a snowbank while waiting for road crews to rescue you. If taking a plane and your flight is canceled, call your airline immediately so they can try and get you on the next available flight. If you you are in the airport, still call… forget the big line with the agent. The seats will be taken before it is your turn.
● If you are leaving for an extended period of time, let a neighbor know you are leaving town, and secure your house appropriately.
● Assuming the weather looks good and you are driving, make sure you have an emergency road kit in your car.
● Make certain your vehicle is in good repair, the spare tire and kit is in the trunk, and you have blankets, water and snacks tucked into the backseat. Just in case. If your car is not in good enough shape to safely take a long drive, rent one.
● Gas up the day before you leave. It will save you time at the pump the next day, and if you are traveling on the holiday itself, there may be a shortage of open gas stations.
● Hit the bank/ATM the day before you leave. Again, you want to be able to get right out of the house, and not have to make any side trips.
● Make certain you have your credit cards and ID when you leave the house.
● If driving, make certain a second person in the vehicle has a spare vehicle key.
● Map your destination on google, and compare against your GPS. You would be surprised how often one offers a better travel plan than the other.
● If you are flying, print your tickets from home and make certain you get to the airport early. Pack your carry on bag as if you were preparing for a 24 hour delay, and include medicines and dry snacks. The holidays are prime travel times and security can be backed up, and parking can be at a premium. If possible, take a taxi to the airport or have friends or family drop you there so you don't have to park in lot Z 30 minutes from the airport door. The TSA has issued Holiday Travel Tips to help expedite your screening.
● If you are taking the train, call ahead to make certain it is running on time. Make certain you comply with Amtrak's luggage weight restrictions. Amtrak has issued their Holiday Travel Tips to help make your train journey more comfortable.
● Wear comfortable clothing by whatever method you travel. Nothing is worse than restrictive clothing on a 10 hour car or train ride.
● Make certain your outerwear is appropriate for all phases of your travel. Hubby and I once took a cruise out of San Juan in January. It was 85° when we left Puerto Rico for home, but we had checked local weather and knew it would be below freezing when our flight arrived at our local airport. We made certain we had our winter coats handy (we were taking a taxi home from the airport). Well, you'd be surprised how many people who traveled with us to the same general area were wearing sandals, shorts and t-shirts and exiting into 20° temperatures. I often wonder what they were thinking!
● Consider taking only carry-on luggage when flying. We did 17 days with carry-on luggage only, and it allowed us to easily rebook our flight when plane issue arose.
● Whatever you do, allow plenty of time to reach your destination. A ticket while driving or a missed plane or train can ruin a holiday before it has even begun.
Do you have holiday travel tips you would like to share?
---
● For more Travel posts on Ann's Entitled Life, click here.
● For more Holiday posts on Ann's Entitled Life, click here.
● If you enjoyed this post, be sure to sign up for the Ann's Entitled Life weekly newsletter, and never miss another article!
---