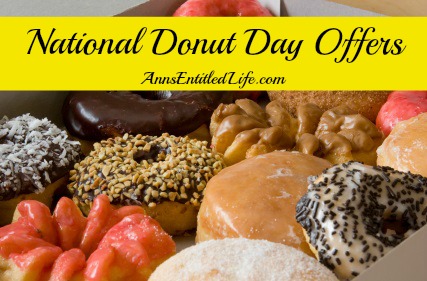 2014 National Donut Day Offers
• Dunkin' Donuts National Donut Day Offer: On June 6, participating Dunkin' Donuts restaurants nationwide will offer guests a free donut of their choice (while supplies last) with the purchase of any beverage.
• Entenmann's National Donut Day Contest Win free donuts for a year!
• Krispy Kreme National Donut Day Offer: In honor of National Doughnut Day, on Friday, June 6, stop in to any Krispy Kreme US or Canadian location for a FREE doughnut of any variety–including its world famous Original Glazed(R) doughnut. No purchase necessary. Excludes Connecticut and Puerto Rico.
• LaMar's Donuts and Coffee National Doughnut Day Offer: In celebration of National Donut Day on June 6, The Salvation Army is partnering with LaMar's Donuts to take a bite out of child hunger. Visit your local LaMar's Donuts location to celebrate with a FREE donut. Any donut with a hole, no purchase necessary.
• Shipley Donuts National Donut Day Offer: Stop by one of our participating locations on Friday June 6th, between 5am-12pm and receive one glazed do-nut and a small coffee- FREE!
*This offer is valid at participating locations only. Offer expires on Friday June 6th at 12pm. Limit one free glazed do-nut and small coffee per customer per visit. Not valid with other offers. No substitutions.
• Tim Hortons National Donut Day Offer: This is our 5th year celebrating National Donut Day. This year we are offering a free donut with any purchase. There is no coupon required, the guest just has to say "Happy National Donut Day."
(This was from my email to Tim Horton's PR!)
• If you would like to make your own donuts, here are https://www.annsentitledlife.com/recipes/15-delicious-and-sweet-donuts-recipes/ you can bake!
---
I originally posted this information on Coupons, Deals and More National Donut Day Offers 2014
---