As many of you know, I live in Western New York in a suburb of Buffalo. There is a lot to do in Western New York, especially in the summer! There is a festival every weekend somewhere in the immediate vicinity, including the large Allentown Art Festival which attracts half a million people or more over the two show days, and artisans from all over the country.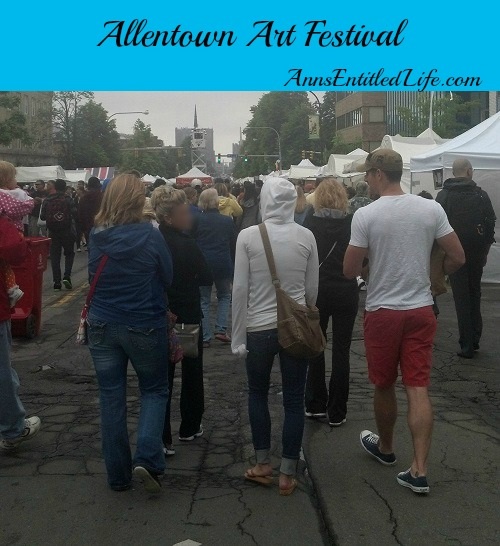 Hubby and I don't go very often. We prefer to much smaller Lewiston Art Festival. We can take Max, it isn't that crowded, and we can get into the booths to really see the art work. But this past Saturday it was rainy and overcast, so off to Allentown we went! As you can see from the picture above, it wasn't all that crowded.
The reason we went in poor weather is because we knew the crowds would be down. When it is sunny out, the streets are packed! So packed, that it is hard to see the art let alone get close enough to make a purchase. Believe me when I tell you that people spend, and spend freely at Allentown.
Now Hubby and I have never purchased a painting at an art festival, although there are plenty to be had. We don't agree on much art, so our walls are pretty bare. We have a few paintings in the foyer, and that's about it. In the dining room I have some framed silk prints my mother brought home from Singapore, a pen and ink drawing from a consignment find, and then the rest of the house has various pen and ink drawings, and some commercial works of art.
So, while hunting at Allentown this year, I didn't expect us to buy much in the way of art – more like garden items. Little did I know we'd find something that qualifies as both.
The first booth I was interested in was quite crowded and had metalwork hangings made of copper. They were beautiful, and I decided that I would fight the crowd on our way out if I found nothing else. The next booth we stopped at was this woman that worked in mosaics. These were the coolest thing I have ever seen (wish I had taken a picture)! She had them on all sorts of lawn ornaments and bird baths, as well as a few bowls. I'd have bought something, but there were two people for every square foot of space in her tent, and just as I would make a decision, a "sold" sign would go up on the piece! #!&%* I decided to move on.
So Hubby and I meandered the streets looking at crafts and art work and chatting about pieces that caught our eye. Nothing enthralled me like the mosaic-lady though, so I wondered if I had made a mistake leaving her booth?
We found a man out of Syracuse with a lot off buffalo (bison) cut out for the lawn, so I bought one. I figured I could aggravate my mother by giving it to my father (Hubby suggested plopping it in their garden and seeing if they noticed… that would have gone over well!), or just keeping it myself.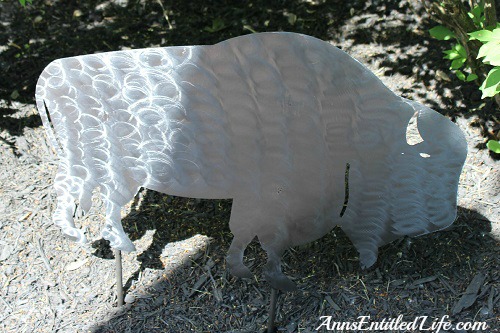 I have it in our garden now as a placeholder. If my father wants it (and my mother lets him have it), I will give it to him. Otherwise I will keep it myself. My father loves all things with a buffalo motif! I do too for that matter. Over the years I've given him some really cool things and he's always liked them. My mother however, has not. She has taken to "returning" these buffalo gifts by leaving them in bags at our house when she visits. I think she thinks we'll get the hint. NOPE!
Now while my father has always liked the buffalo items i have given him, my niece gave him a hat that looked a lot like this a few years ago: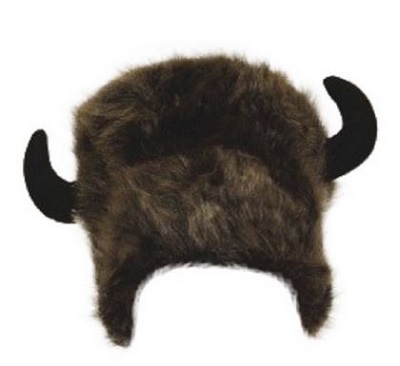 and now his love isn't as strong.
My father makes the best cross-eyed, stick-your-tongue-out-to-the-side-of-your-mouth faces in the whole wide world! My niece snapped a pic of him doing that while wearing the buffalo hat she gave him and let's just say we all laughed. Loudly. Really, really, really loudly. My father did not laugh.
I wanted to make a holiday card using that photograph, but was immediately vetoed. Poop.
I should ask my niece if she still has that picture and have her send it to me! 😀
Anyhoooooo, back on topic…
As we made the final turn of the festival streets, Hubby and I were both drawn to this display of hummingbird feeders made out of colored glass bottles and the "flowers" next to the feeders.
The man (we didn't get his name and he didn't have a card – he was from Ohio though, so we would probably have to seek him out again next year if we wanted to buy another) gathers old dishes, glassware, bowls, etc from consignment shops and thrift stores and reworks them into pieces of art. He does this for his hummingbird feeder bottles, and for his bird feeder/flowers.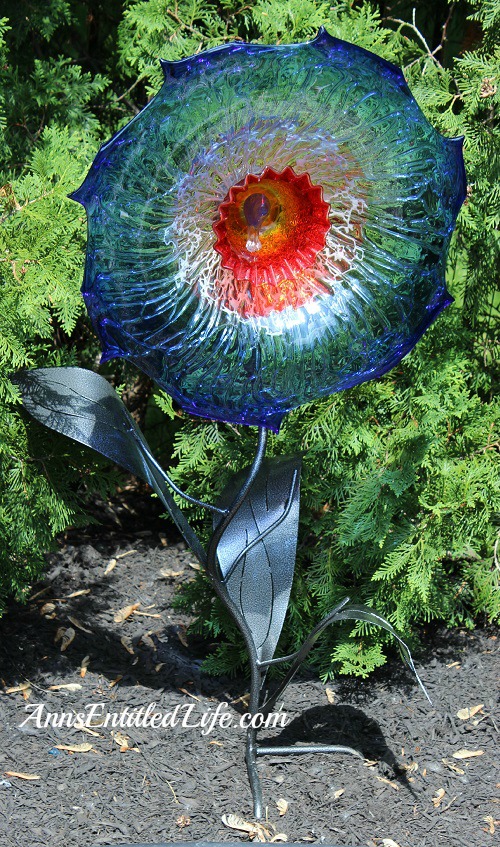 We decided to make a purchase.
The way the hanger on the back is made, you can either insert to have the piece look like a flower, or a bird bath.
There are two different holes, and how you place them on the leaves-holder determines the look.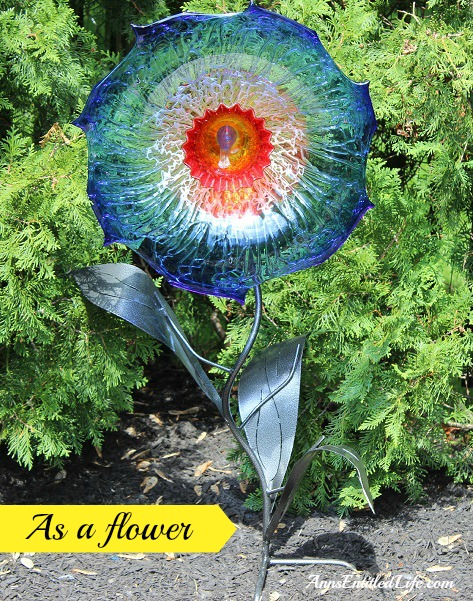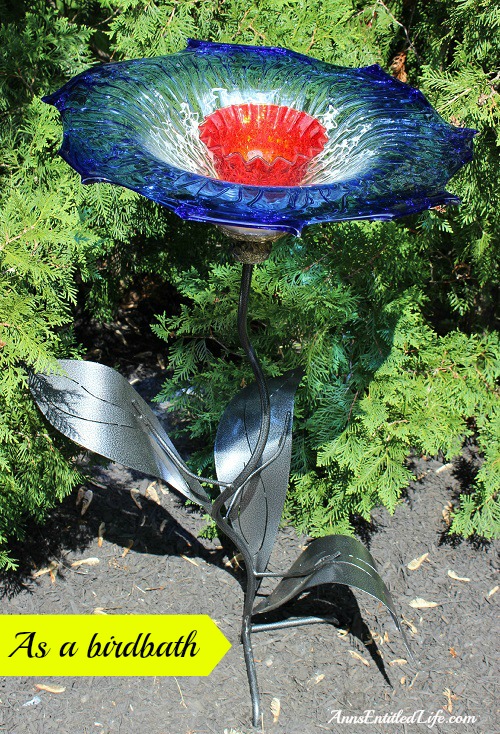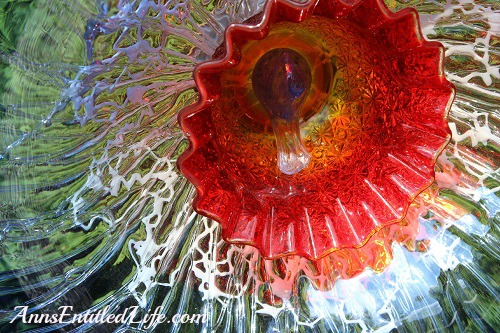 That is the close up. In the middle is a glass bird.
The leaves have some sort of powder on them to discourage rusting. Hubby figures we will break it before rust sets in. I hope not! This thing is truly beautiful. As we were buying one lady behind me said, "Ohhhhh noooo she bought it!" And another woman said nearly the same. The woman checking out in front of us made a comment along the lines of "how did I miss that!?" Me? I was well pleased with our purchase!
Do you go to art festivals? Buy anything "good"?