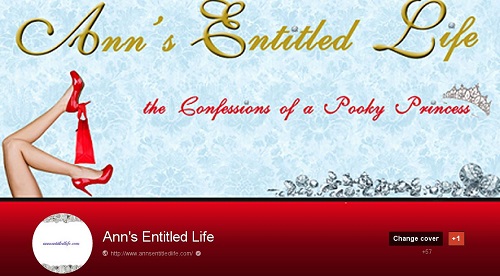 There are many ways to follow Ann's Entitled Life! You can:
Follow me on twitter! You all know I love twitter, so feel free to tweet me anytime!
Follow Ann's Entitled Life on facebook! Didya notice it now says Anns Entitled Life on the page link!?
Follow me on google+! If you have anything google related – gmail, a blogger blog, picasa account, etc, Google has made it so you can't avoid google+! So come over to the dark side my pretties! And don't forget the upside: everything on google+ is visible in your stream, unlike facebook. There is no throttling, so whatever your followers post, you see. A +1 is the same as a like (and very, very, VERY beneficial to bloggers, so please +1 early and +1 often!). This video explains google+ and how easy it is to get started and use!
Subscribe to the Ann's Entitled Life daily newsletter! I think I have worked out all the kinks, and am now sending out one newsletter daily, fairly early in the morning so you have something to read on your lunch break at work. 😉
If you have any questions, please feel free to email me!