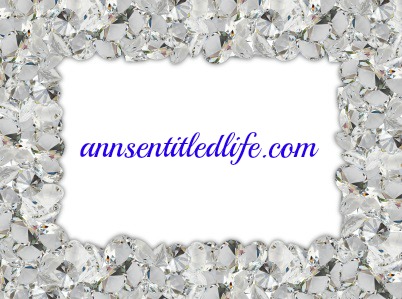 Good Morning and Welcome to Ann's Entitled Life!  The blog-name will become clearer as the days and weeks progress.  In some ways, Ann's Entitled Life is completely tongue-in-cheek, in other ways, you all will see how completely spoiled I am!  And let me tell you, I like being spoiled.
A little background for those who may not know me from my former, now defunct blog (more on what happened there tomorrow):  my name is Ann and I am old.  I am married to a wonderful man (the spoiler) named Hubby who, though many years my junior (yeah, I am a cradle robber), is retired.  I also have an almost 25 year old son, Sonny-boy, from a prior marriage.  In the coming weeks, months, (and dare I say it?) years, I expect to do a lot of babbling about my life, my ideals, my thoughts and everyday life.
We live in New York State, and have a condo in Florida (yeah, that is new! Can't wait to tell you all about how that happened!).  While I love a great deal, I am not above spending money for whatever I want, provided I really want it. I hope I don't disappoint too many of you when you find out that I am in no way, shape, manner or form, frugal. Not that there is anything wrong with that. I know people that are frugal. Some of my best friends are frugal. So, ummmm, yeah.
Anyhoooooo …
I would like to welcome you all to Ann's Entitled Life, and hope you will feel at ease commenting , even if it is just to give me grief.  Believe me, I expect it.  Hey, someone has to bring the Pooky Princess back to reality, and I expect it to be all of you!