I know I should be happy I've been lucky in love these past seven years – and I will admit I will never be behind on lottery scratch-offs – thanks to low dollars input (I only buy for presents), and being the recipient of several hundred of dollars worth of prizes over the years – but man I can't win at any contests!
Now I grant you I have not made a science of entering contests. Some people make a load off contests by entering online daily, just as many people rack-up the freebies with online submissions. Me? I am a very-casual-contest-entrant-when-the-entry-is-shoved-in-my-hand kinda participant. I'm not sure if I don't enter because I never win, or if I never win because I seldom enter?
Chicken. Egg. Perhaps?
So last week I went to my nearby grocery store (Tops for those of you who are local) and made a purchase that resulted in "bonus" Monopoly game pieces. The Tops Monopoly Game gives instant prizes, cents-off store coupons, and prizes that can be accumulated on a board, as well as online entries for prizes.
I received 50 Monopoly pieces after my order: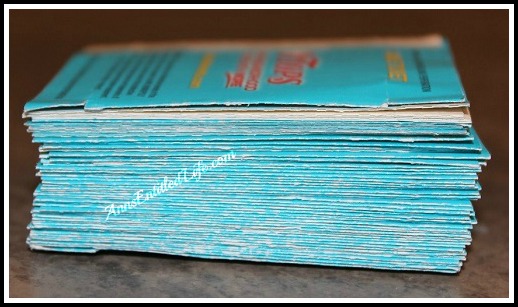 Reading the odds chart it appears that there is at least a 1 in 12 chance of winning something (the odds are slightly better than that reading the chart, but my higher-math skills have been put away for the millennium). So, with my 50 tickets, I should have won at least four prizes…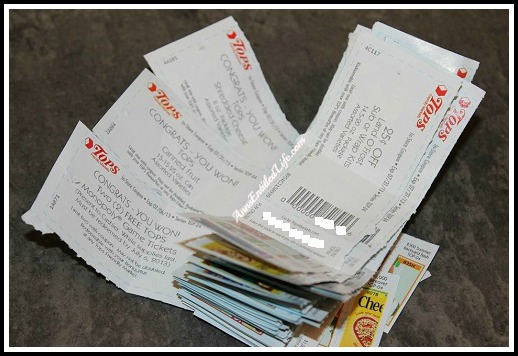 I won three: a free cheese, free canned fruit and 2 more free monopoly tickets.
Eh, at least it is something. Better than nothing at all, right?
BTW, prior to this I have collected a number of tickets – 20 in all, and won – you guessed it – nothing! Just goes to show that I may be lucky in love currently, but not very lucky with contests!
How lucky are you?