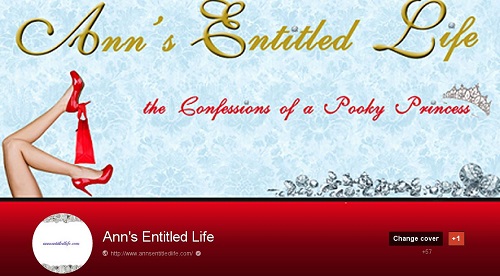 There are a number of ways you can follow Ann's Entitled Life for the latest post updates. Choices depend on how often you would like the updates.
Subscribe to the Ann's Entitled Life Newsletter – I send out twice per week now (beginning next week). This is the least intrusive way for me to "remind" you to come visit!
If you follow me via GooglePlus, this is the most updates. You will see everything. If you have anything google related – a youtube account, gmail, a blogger blog, picasa account, etc, Google has made it so you can't avoid Google+! The major upside to G+? Everything on google+ is visible in your stream, unlike facebook. There is no throttling, so whatever your followers post, you see. A +1 is the same as a like (and very, very, VERY beneficial to bloggers, so please +1 early and +1 often!). This video explains Google+ and how easy it is to get started and use! My old Google+ For Dummies post is still pretty informative. A few things have changed on the dropdown menu, but not much else.
Follow me on twitter! These are also all the updates, but if you follow a lot of people on twitter, sometimes things get lost in the pop-ups!

I've only has a pinterest page since October, but it has quickly become my #1 source of social media traffic, so plenty of you must adore pinterest! So, follow me on pinterest! Like all things pinterest, if you follow my boards you will see who I repin too. You will not see my pins to collaborative boards unless you follow those boards too.
And finally:
You can follow me on facebook, via my facebook group. Why a group and now a page? This Business Insider article explains why bloggers are bailing on facebook. It boils down to this: we can't afford to get into your streams!
For now the group is free, and I post to it frequently. The negative is that you can't share from a group, and you have to make an effort to go to the group. It won't just appear in your stream, but it will show in notifications on the left side of your personal page under, ummm, groups.
If you have any questions, please feel free to email me!
Thank you for following Ann's Entitled Life.
---