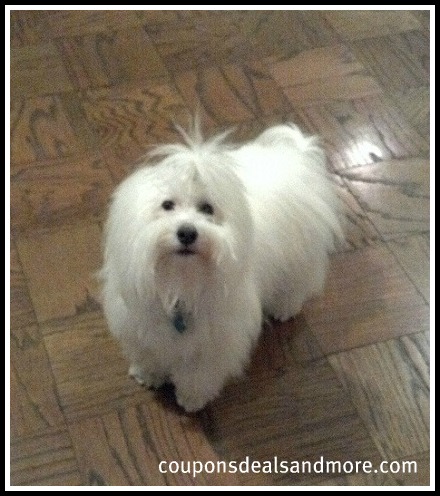 We have had a pretty tough go of it in the Ann's Entitled Life household the last few weeks. Max, our not quite four and a half year old Coton de Tuléar, has had a trying month.
A week after we returned from Florida, Max started to stare out into space. That is a sign he is in pain. He has had pain issues in the past having to do with a bad back since he was about a year old. Our vet took x-rays and showed us some vertebrae troubles, gave us Rimadyl for his pain with advice to keep him inactive for several weeks after a flare-up. Of course this happened this last time on a Saturday, so we called immediately on Monday the 11th to get him in, just to be certain all it was was his back-pain.
Now Max had stopped eating on Sunday the 10th, and also decided he wasn't going to drink anymore too. He's never been food driven, and eats as little as possible to survive. He does have a few things he likes – basically anything pork related, and he likes whipped cream. After the vet visit on Monday, where he received a shot, and he was given subcutaneous fluids to keep him hydrated, he still would not eat or drink.
On Tuesday he seemed to be in even more pain, so we brought him back in. And then again on Wednesday. On Thursday we brought him to a pain management specialist for dogs, and they thought he was critical for surgery. He was referred to the surgeon who could schedule him for Tuesday the 19th for back surgery. On Friday, Max was given an acupuncture treatment as well as his third subcutaneous fluids and some new meds.
That entire week Max never ate. All his water came in through either the subcutaneous fluids or the water we squirted in his mouth with a syringe. To say it is a horrible experience to watch your dog in pain (regardless of how many shots or oral pain meds), not eat, not drink and basically not move, is an understatement.
We had been advised to give him the meat baby foods to try and get him to eat, we tried to entice him with dabs of whipped cream (sometimes when he starts to eat, instinct kicks in and he continues to eat even if he was fussy before that), and nothing was working. Finally Sunday night Hubby at wits-end decided to give him diced ham… and Max ate!
He ate again on Monday, and we went back to the pain management vet. They did another round of acupuncture and also remarked on how much improvement Max had made over the weekend. His tail was still not up, but at least now it wasn't dragging the ground. His surgery the next day was called off as no longer being critical. We did make an appointment with the pet surgeon to see if Max should have surgery, or if these episodes of great pain were something Max were going to have to live with. We were very concerned as they have become closer together over the years, and we do not believe in having the dog in pain to "tough it out".
We went back to the vet again on Tuesday, and they decided to discontinue the acupuncture until the pet surgeon had determined the best course of treatment.
So, from Wednesday the 20th to Friday the 29th we observed Mr. Max get stronger, happier, and apparently more pain free. Our biggest fear was that he was just getting used to the pain, so we couldn't wait to see the pet surgeon. And, keeping Max quiet and contained has been a real treat – Max thinks he's allllllll better and is wondering why we won't play with him, why he has to be in a small pen, and why walks are a thing of the past.
On Friday the 29th we finally saw the pet surgeon. From what he saw in the X-rays, Max does not have disc troubles, he has arthritis! But, he wanted better-positioned X-rays, so ordered them to again be under anesthetic so he could be sure of this diagnosis. The last ones were from a few weeks back, and Max was not exactly still.
As long as they were going to put him out, I wanted his teeth cleaned too. No sense knocking the poor little guy out more often than necessary. The vet is scheduled for the 12th, and then the X-rays will go back to the surgeon to read them from there. At that point we will see what options are open to Max. More acupuncture was suggested.
For now Mr. Max seems to be a happy pooch. He's back to eating three meals a day, has gained back one pound of the two pounds he lost the week he did not eat (for a 13 pound dog a 2 pound weight loss is huge!), and thinks his life should be back to his normal regime. Hopefully soon.