As you all know, I've had a bit of a rough time blogging this year. My main blog, Coupons, Deals and More bit the dust in February. I started Ann's Entitled Life in March, and brought back Coupons, Deals and More in May. While that sounds like a lot of work, the truth is my heart hasn't been in deal blogging for a while, so Coupons, Deals and More is simply a shell of its former self. I put up 3-4 deals daily, Ace Hardware holiday ads, and a bunch of printable rebate forms, and that is about it. Ann's Entitled Life has been my full blogging focus for the last three months, and even here I have cheated by running a lot of the old Coupons, Deals and More library content that wasn't deal specific. I take it easy on the weekend by doing two round-ups and posting a funny video.
For the last few years I have been going to the Savvy Blogging Summit. It is a learning conference for bloggers. You see while it appears that blogging is simply a matter of write-it-and-they-will-come, the reality is that for every hour I spend writing, I spend at least three on the back-end; behind the scenes as it were. There is always something new to be learned when blogging – from dealing with affiliates, SEO, platforms and plugins as well as the mundane time management, dealing with your exploding email and a hundred thousand other things I could spend all day listing.
For most, blogging comes down to money, writing and sharing. There are a lot of decisions that go into deciding whether or not to monetize (Ann's Entitled Life really isn't, Coupons, Deals and More really is) to pay for all the costs of blogging, as well as cover the blogger's time. The who, what, when, where and hows of making money via a blogging platform (both on and offline) vary as greatly as there are bloggers. The same for writing styles. These can range from professional writers to conversational writers to "U C Hm" people. Sharing our pearls of wisdom with a vast audience is the blogging Holy Grail, highly sought after, and ever elusive.
Now with everything that happened at the beginning of the year, not only did I think long and hard about coming back to blogging, but once I made the decision to blog and not kill myself doing it, I also had to come to terms with whether or not I wanted to go to blogging conferences and learn more of the craft. And make no mistake about it, blogging, when done correctly, is a work of art.
I had my Savvy Blogging ticket booked and waffled up until the last minute whether I wanted to go or not. You see I had been to several before, and knew they were quality productions well worth the cost of ticket, travel and lodging, but I wasn't certain I needed to learn more. Once you decide monetization is not your primary (or even secondary) focus, all that is left is writing (and for better or worse, my style is set) and gathering readers to share my highly entertaining wit and witticisms (if I do say so myself). In other words, was it worth a thousand bucks and five days of my time to drive down to Cincinnati for a blog conference in my current blogging-state-of-mind?
Well I clearly made the decision to make the drive and drag Hubby along. He sat in on a few sessions I could not attend, and had two other days free which he spent (and spent and spent) at Menards.
Even before the conference officially began on Thursday I was very glad I attended. I learned some new things that will improve both my blogs, met some fabulous bloggers and brand reps that I would not have otherwise had contact with, and got re-energized! When people are researching in 2014 whether or not to attend the Savvy Blogging Summit and stumble across this blog post while trying to decide whether or not it is worth the investment, all I can say is go! I am enthusiastic again after a most depressing six months of blogging. If I can be re-energized, and learn something new after 13+ years working online, anyone can benefit!
While in Cincinnati, Denise (Coupons For Your Family), Jennifer (I $ave A to Z), Michelle from CenterPoint Media and a brand new blogger, Maria (who purchased The Frugal Find a few months ago), and I walked to Kentucky.
Well not really. We had planned to walk to Kentucky until the 4000% humidity and the realization how long the bridge really was, got to us! We did take pictures, and these are the best of mine (camera phone, sorry). My pic of the baseball stadium did not come out at all.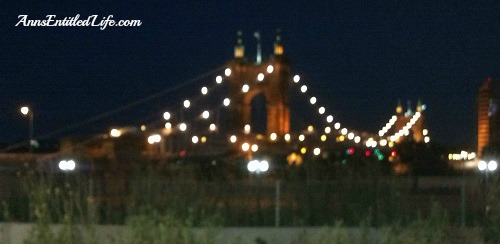 Once again at a Savvy Blogging Summit I met many wonderful people who were extremely helpful and informative! I wish I could list them all, but then inevitably I forget someone and hurt feeling so my blanket statement is this: I met a lot of bloggers were are truly fabulous and fun to be around. I thank you all sincerely for your advice and guidance, and hope to meet you again in the not too distant future! Or at the very least, see you again at next year's Savvy Blogging Conference.