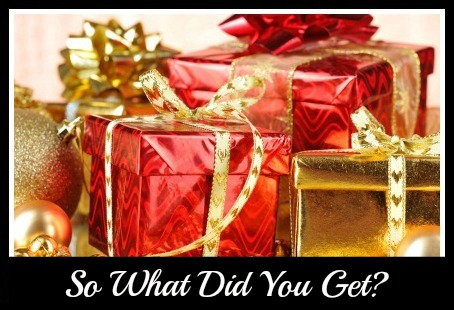 The wrapping-paper-explosion is over, the gifts are neatly stacked under the tree – or more likely strewn about the house. At least one piece of electronics, or one plastic toy, has been broken, and you've tried on half the clothes you received. You are pretty sure what you are keeping, returning, and re-gifting.
Hubby gave me a bracelet and a necklace. This necklace is absolutely gorgeous. He went to a local jeweler and picked out a Blue Topaz (square cut) in white gold. I wanted a long one necklace, and this is what he picked out. It is stunning.
Sonny-boy have me a movie gift card, restaurant gift card, and a note for a "day with your Sonny Boy" to spend them! (Yes, he wrote "Sonny Boy", and I get to pick the movie!) This is what every mother wants, time with her children.
I received Tim Horton gift cards, Swarovski Christmas ornaments, a beautiful shawl, and a few other miscellaneous gifts.
So tell me, what did you get for Christmas?
---