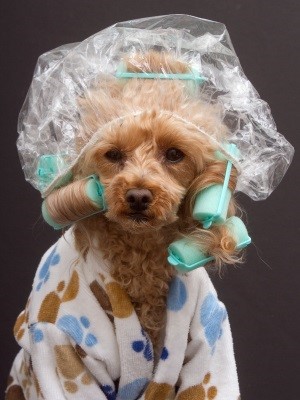 Last week I posted a picture of my oh so handsome husband. (The rest of this post may not make sense unless you look at that pic first.)
Debb posted in one of the comments:
My question is this…..what would they do if the shoe was on the other foot? What if I wore no bra, didn't shave my arm pits or legs or remove all the hair that grows on my upper lip now days. Would they go anywhere with us if we just stopped giving a crap???? That is my question.
Let's play pretend: You best friend from college who you haven't seen in 15 years unexpectedly knocks on your door. Do you answer? Or do you send one of the kids to let her in while you run upstairs to get out the flat-iron, make-up and do a quick change?
Do you still dress nicely for everyday living or is it all sweat pants and a t-shirt day in and day out? Do you "do" your hair? Or is it a ponytail and 4″ roots for you? Do you wear make-up? Or is it only for special occasions?
I am guilty of being a slug and pulling up a ponytail at least a few times a week, and my yoga pants have never been to yoga (hey, they aren't sweats! ;-)), but I usually manage to look presentable enough that if someone rang the doorbell, I wouldn't hide in shame. Make-up and non-stained clothing are my manta! (Hey I have high standards.) So while I haven't "let myself go" I do have my days.
Have You "Let Yourself Go"? Would YOU answer the door?