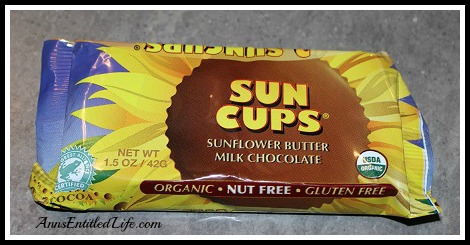 Hubby is always looking for new investments. He belongs to various groups and a lot of little sites that deal with either start-up companies, or companies that are looking for R&D or new build money.
A few weeks ago, he ran across the Sun Cups story. A man whose child was highly allergic to peanuts contacted Seth Ellis Chocolates and asked if they could make a peanut butter cup, but with sun flower seeds. The owner of Seth Ellis Chocolates took it as a personal challenge, and developed some cups that went over very, VERY well with the man's children.
One thing led to another, and they decided that there was a real market for these nut-free, gluten-free, certified Kosher, organic cups, and a new product was born.
When Hubby ran across this investment opportunity, asked me what I thought. I figured we'd give 'em a try to see if they were even semi-palatable. We decided that if these were tasty, we'd invest as I know there is a real market for peanut-allergy chocolate alternatives.
The Sun Cups we had were VERY smooth. Hubby wasn't thrilled with the chocolate, I thought it was pretty good myself. Smooth, not gritty. We both loved the filling. Yes, it tasted like sunflower seeds, but with a sweet twist. These may have begun as an alternative to a peanut butter cup, but all the two have in common is the shape and layering. The sun cups really are their own product.
This is the information on the Milk Chocolate Caramel Cups:
INGREDIENTS: Milk Chocolate* (cane sugar*, cocoa butter*†, whole milk powder*, cocoa liquor*†), Cream*, Cane Sugar*, White Chocolate* (cane sugar*, cocoa butter*†, whole milk powder*), Butter*, Lemon Juice*.
*Organic ingredient. †Rainforest Alliance Certified™.
ALLERGENS: Dairy. Does not contain soy, gluten, peanuts or tree nuts. Our facilities are nut- and gluten-free.
These retail for close to $2 each. However, if you want to give them a try, Sun Cup has this sampler promotion where they will send you one of each: caramel, dark chocolate, milk chocolate and mint for $2.99. If someone you know has peanut or wheat allergies, I would urge you to give them a try!
Needless to say we decided to go with the investment. I don't think we are alone either as Sun Cups made their raise. There really are an awful lot of people with food allergies looking for a tasty treat that won't break the bank. I am a firm believer in Peter Lynch's "invest in what you know" (you should see my portfolio… nothing weird in there!)