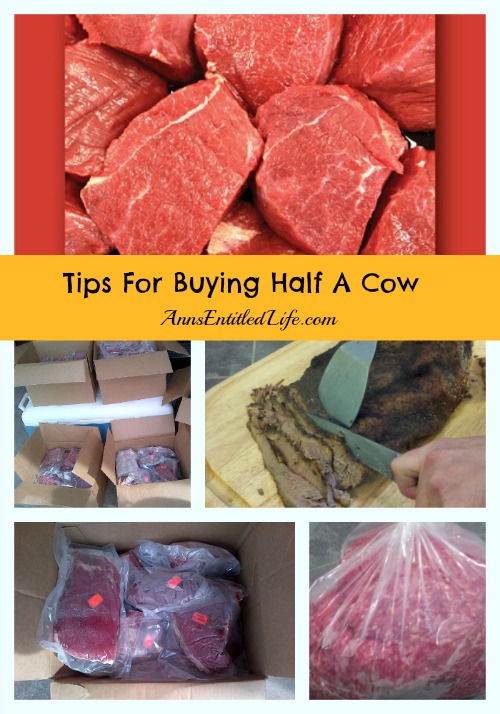 One of the reasons I am not doing much grocery shopping is because Hubby and I again bought half a cow. We bought half a cow specifically so we wouldn't have to worry about the price of meat rising, so that we would be able to pick and choose what cuts we wanted, and so that we "knew" what type of meat we were getting – all natural, raised free of growth hormones and antibiotics.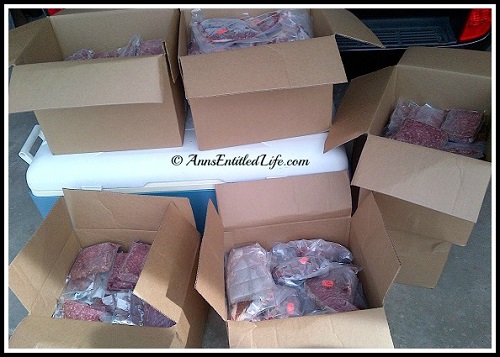 We purchased our half a cow from Hanova Hills Farm, producer of "Lake Country Premium Natural Beef". Hubby found them last year either in his travels, or from a recommendation. I never did get the full story on that. We put in an order last fall. We were told our beef would be ready in either November, or in January. Well, when the beef wasn't available in November, Hubby called and told them we couldn't take delivery until March as we were vacationing in Florida. They were fine with this development and the last week of February they called Hubby to see how we would like the meat butchered.
When you order a pig, cow, lamb, etc, you decide what cuts of meat you would like – roasts, steaks, chops, crown roasts, ground meats, etc. It is very specific, and you tailor to your family needs. Don't worry, you don't have to know all the different cuts, your local farmer will walk you though the choices. If you are interested in learning, I actually bought Hubby the The Meat Buyers Guide : Meat, Lamb, Veal, Pork and Poultry for a gift last year. It is definitely comprehensive!
We chose a lot of roasts, ground beef, and hubby asked for the bones (from which he made a FABULOUS low-sodium beef stock) as well as the organs.
In all we paid for just over 300 pounds of meat at $3.90 a pound.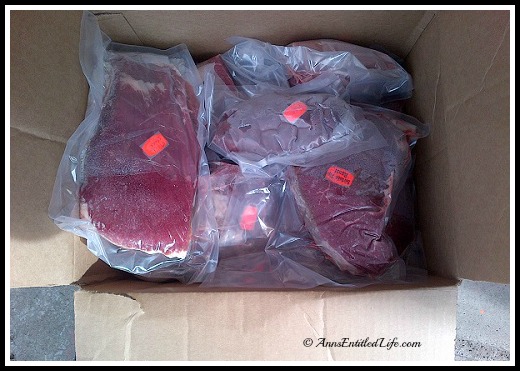 When we opened the boxes to unload into the garage chest freezer, we saw that the meat was foodsavered. You cannot imagine how thrilled hubby was to have everything not only labeled, but ready for long term freezing. And as an added bonus – and something we didn't see until we defrosted a roast to cook – was that this was double-bagged for extra freshness! Hubby was super impressed.
To date we have had ground beef and chuck roast. While both suited our taste, we once again found that the meat is very, very lean. The chuck roast was far less marbled than what I buy in the grocery store, and the ground beef was probably 90/10, possibly 93/7. Our future recipes will have to take into account the leanness of the meat, and the lack of fat.
This was our second time buying half a cow (we buy a pig a lot more often), and we will continue to do so. It is worth it to us not only for the stockpile aspect, but for the peace of mind of knowing what the animal was fed, and how it was raised.
If you are interested in buying your meat directly from a farmer, localharvest.org is a great place to start your search.
Have you ever purchased meat directly from the farmer? How did that turn out for you?
---
To find local farms that sell meat, try one of these resources:
● For Library Topics on Ann's Entitled Life, click here.
● If you enjoyed this post, be sure to sign up for the Ann's Entitled Life weekly newsletter, and never miss another article!
---