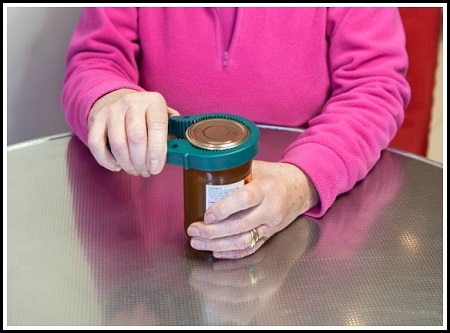 I was attempting to open a jar the other day. I banged it on the counter. I tapped it against the kitchen counter. I used a flexible jar opener. I ran the jar under hot water, and then used a towel to try and open it. That actually worked, but you have to figure the 47 other things I tried must have loosened it up.
Now, I am not elderly. Ok, maybe a 10 year old would consider me elderly. Possibly a 15 year old. But I doubt many in their twenties would consider me elderly; to them I am just old. I am a middle aged woman without any arthritis issues, and I could not open this freaking jar!!
Which brings me to my original question: why is it so hard to open a jar? And, how do the elderly open any jars? The hot-fill pasteurizing process does ensure freshness and block disease and rot, but couldn't there be a happy medium? A jar that ensures freshness, blocks air preventing disease and rot, and allows people to opened the darned thing would make someone a bazillionaire! It would be as useful (probably more so) than inventing an alternative for oil.
Do you have any easy-open tips for opening jars?
(For those wondering, no that is not me. I bought the photo at istock.)
Disclaimer, the links in this post may be affiliate links