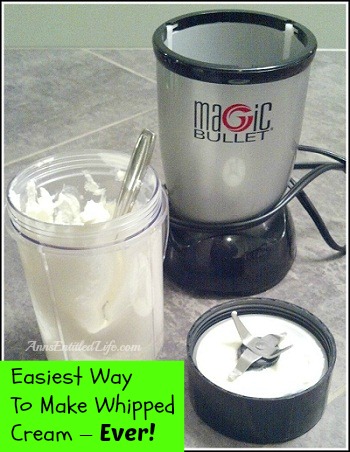 Would you like to know the easiest way to make whipped cream? Hubby discovered it a while ago.
We like real, homemade, whipped cream when needed for a recipe, but there are times when a dollop on top of a piece of pie is quite enough.
Easiest Way To Make Whipped Cream – Ever!
Now, my regular whipped cream recipe goes like this:
● 1 pint heavy whipping cream
● 2 TBSP confectioner's sugar
● 1/2 tsp real vanilla extract
● Combine in a mixing bowl
● Beat on whipping cream (or high) setting until stiff
Delicious!
But, what about when a little dab will do ya?
Hubby decided one day he wanted a personal size portion of whipped cream (take the "personal" size with a grain of salt) on a piece of pie, so he got out the Magic Bullet, added an inch of heavy cream, a teaspoon of confectioner's sugar, and turned it on.
He says it takes about 1.5 minutes to turn the heavy whipping cream into real, homemade whipped cream, but not running the magic bullet continually as he is afraid to burn out the motor. He runs the Magic Bullet for 20 seconds, shakes, runs it for 20 seconds, etc. He does this 5-6 times, and when he is finished, whipped cream!
---
● For a list of all recipes available on Ann's Entitled Life, click here.
This recipe originally appeared on Coupons, Deals and More.
Disclaimer, the links in this post may be affiliate links
---