I have mentioned in the past that Sonny-boy moved out a few months after he graduated from college, but he is continuing his education in graduate school. The difference between this move-out and his college move-out, is he is not returning during school breaks. When he moved out (for good) he left behind a closet full of clothing, a dresser full of clothing, stacks of boxes… full of clothing, and a card table stacked with… you guessed it! Clothing!
As part of my limited spring cleaning I needed Sonny-boy to come over and shovel out those spaces. I want to replace the carpeting in his room, so his left-behinds needed to be dealt with fairly promptly. I had been asking him for months to come over and deal with that mess, and he had been putting it off. We both knew a lot of the clothing he left behind were going to be donated, so it was a matter of sorting things out. I needed him to do this, couldn't do it alone, and he now had a deadline… April 1st. So, in typical Sonny-boy fashion, he showed up on the 10th.
While cleaning out his dresser and nightstand, he found a lot of paperwork that was ready for the shredder, his community college diploma, his high school diploma … and then his grammar school diploma. And here I thought I had them all! Turns out I only pulled out the college diploma.
So, Sonny-boy was moving right along plowing through old bills, paperwork, trinket boxes, tie boxes, wallets and more. When he got to a little brown jewelry box, he opened it and screamed out, " WTF is THAT!?!?!? It looks like doodie!"
I looked and saw this: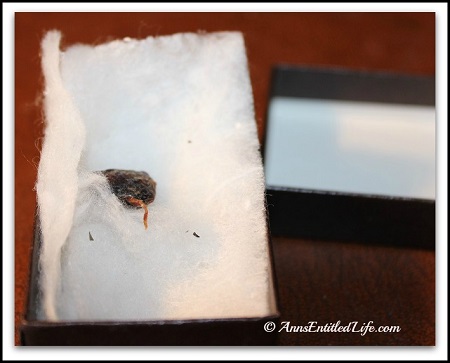 And I started laughing.
And Sonny-boy looked at me.
And so I started laughing even harder.
Somehow, between the laughs, snorts and as I was doubling over, I got out, "It is your umbilical cord."
And then I laughed even harder at the complete look of horror on Sonny-boy's face.
Sonny-boy: "No really, what is it?"
My response (through the laughter), "Your umbilical cord".
Sonny-boy looks at me, determines I am serious even though I am laughing so hard I am crying, and goes, "Ewwwwwwwww that's disgusting!"
I then mussed about the whereabouts of his baby teeth, at which point he called me psychotic.
I am laughing just thinking about the conversation!
Needless to say, things wrapped up rather quickly after that discovery. He took out the trash, put the last of his clothing to be donated on a pile, grabbed some of the stuff he decided to take to his new place, and basically ran out the door!
Hmmm if I ever want to get rid of Sonny-boy in a hurry, I know what to bring out. Now I just have to find it again. I have a sneaking suspicion it went out in the trash.
So, what "disgusting" things have you saved from your kid's baby/toddler/childhood?