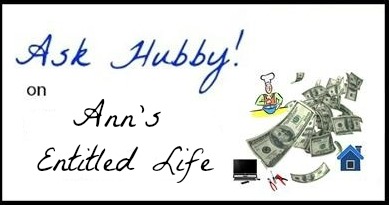 Wendy's Ask Hubby Question:
Can you recommend a basic all-around fry pan/ skillet? I get so confused by all the different kinds out there.
Any recommendations for cutting board? I mostly cut vegetables and don't have a lot of room for storage?
Hubby's response:
I found a guide to frying pans that gives a good overview of the different material options here webstaurantstore.com

Myself, I like Calphalon Hard-Anodized cookware like this. Note, I do NOT like non-stick surfaces. Most of the stuff sold nowadays is non-stick. I hate it. It never holds up, especially when certain household members who shall remain nameless cook with metal utensils. With the NON-non-stick hard-anodized cookware, you need to make sure the pan is hot and use some butter or oil in the pan. If you do that, you should not have sticking issues. Another benefit of NON-non-stick is that you can possibly put it in the oven or broiler. (The particular set I linked to can, but I am not sure if the statement applies to all NON-non-stick cookware. Basically, it can't have any plastic anywhere on it, like the handle, to be able to go in the oven.)

Cutting board-wise, keep it simple and get a large plain white polypropylene cutting board with a drip edge like this one – progressive international cutting board. They are easy to clean, anti-microbial, and do not blunt your knives. Wood is pretty, but too risky to keep clean, and you cannot put them in the dishwasher (they will warp). Glass is also pretty, but too hard on knives. Some cutting boards will have non-skid rubber feet. I would avoid them as they invariably fall off in the dishwasher. Just put a damp washcloth underneath your cutting board.
Disclaimer: This information is not to be considered legal or financial advice. It is for discussion purposes only.
And there you have it folks, this week's installment of Ask Hubby.
A few things:
1) The disclaimer. Gotta have it because he isn't an attorney or your financial adviser and he isn't dispensing legal or financial advice, just giving his opinion.
2) Hubby is willing to give his opinions and answers on a wide variety of subjects listed here. That post also explains his background.
3) If you would like to submit a question to Ask Hubby you can email here and make the subject title "Ask Hubby".
4) You can use your name or be anonymous. Either works.