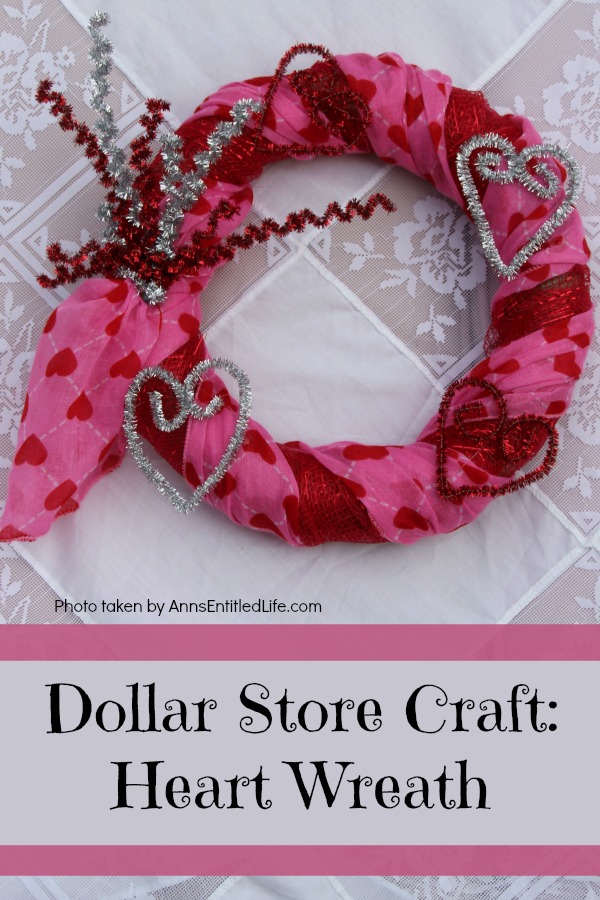 This simple to make heart wreath is made using dollar store finds. It comes together in under 15 minutes, and it a wonderful, inexpensive heart décor. Perfect for Valentine's Day, Sweetest Day, or any occasion where heart décor is wanted.
Dollar Store Craft: Heart Wreath
Crafts and decor do not need to be expensive to be cute. This heart wreath is made with items found at the local dollar store! Especially for a holiday like Valentine's day – you want a little bit, but do not want to spend a fortune. This could easily be upgraded with nicer products from your local Michaels, JoAnn or Hobby Lobby too.
Notes:
• This is a fast craft. Everything came together in about 15 minutes. I swear it took longer to gather the items used on this heart wreath than it did to make it.
• This is a great craft for a kid's door, or for a teacher to hang in the classroom.
• This can easily be adjusted to a summer wreath with a different scarf (say in yellow or blue) and different pipe cleaners (swap the red for yellow!).
If you are looking for more dollar store crafts, you might like:
• Dollar Store Craft: Paper Bag Flower Arrangement – adorable! Can be customized to match any decor, for any season.
• Dollar Store Craft: Fall Centerpiece – a fun, easy to make fall craft you can make with basics found at your local dollar store. This comes together in about 45 minutes.
• Dollar Store Craft: Lighted Thanksgiving Centerpiece – this is lovely. No one would ever know the parts come from a dollar store!
Dollar Store Craft: Heart Wreath Materials:
• Red Mesh on a roll
• Wreath (10″)
• Scarf with Hearts (mesh, ribbon would also work)
• Pipe Cleaners (red and silver were used)
• Chopstick or Pencil
• Straight Pins
• Scissors
Please note that even though this is a dollar store craft, you will need a few items that can not be purchased at a dollar store (or at least not at any dollar stores where I have shopped!):
• Glue Gun
• Hot Glue Sticks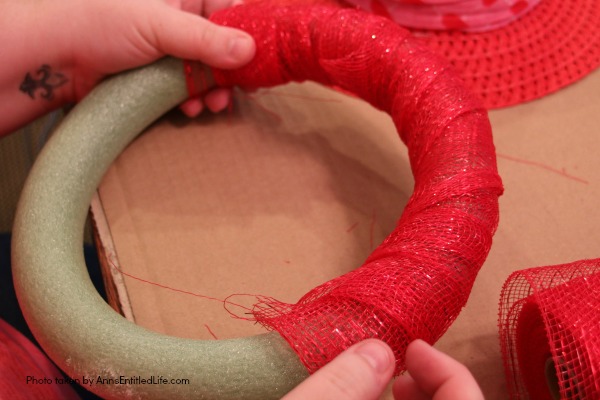 Dollar Store Craft: Heart Wreath Directions:
• Wrap the wreath form in mesh.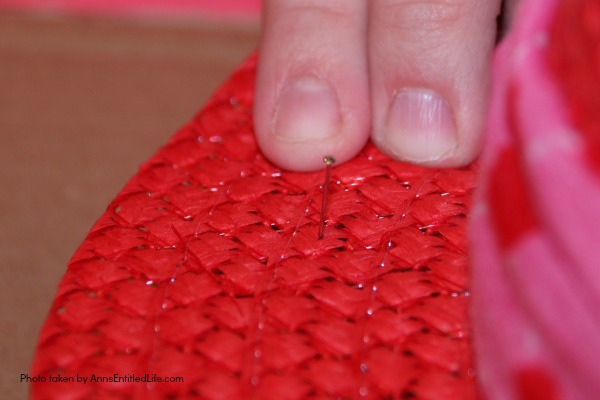 • Secure with straight pins and hot glue.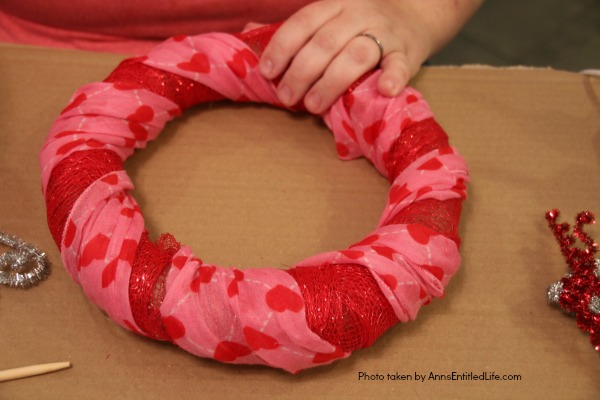 • Wrap the scarf around the wreath. Leave some room between each turn around the wreath form so you can see the underlying red mesh. Secure with straight pins. Allow the remains to dangle as a tail.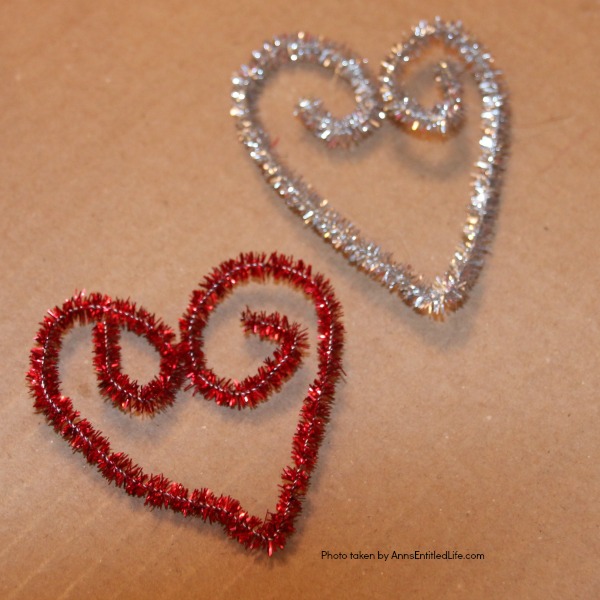 • Form several hearts out of pipe cleaners. (We did three because odd numbered décor appeals to women.)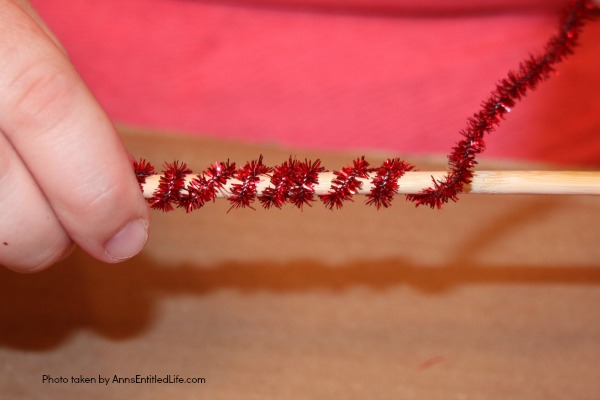 • Wrap your pipe cleaners around a chopstick or a pencil to form spirals.This wreath used 2 silver pipe cleaners and 4 red pipe cleaners.
• Twist together to form a bunch.
• Attach to wreath with an additional pipe cleaner, hot glue in place.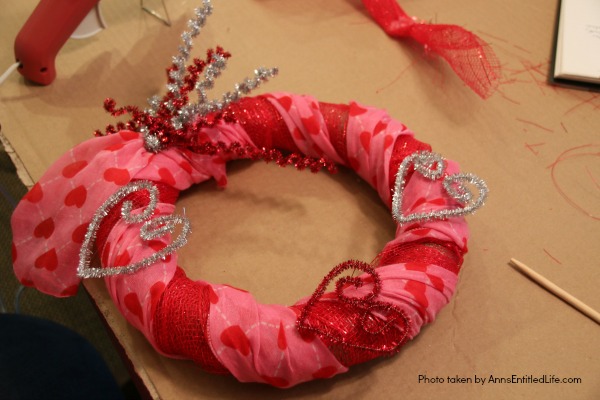 • Hot glue pipe cleaner hearts in place.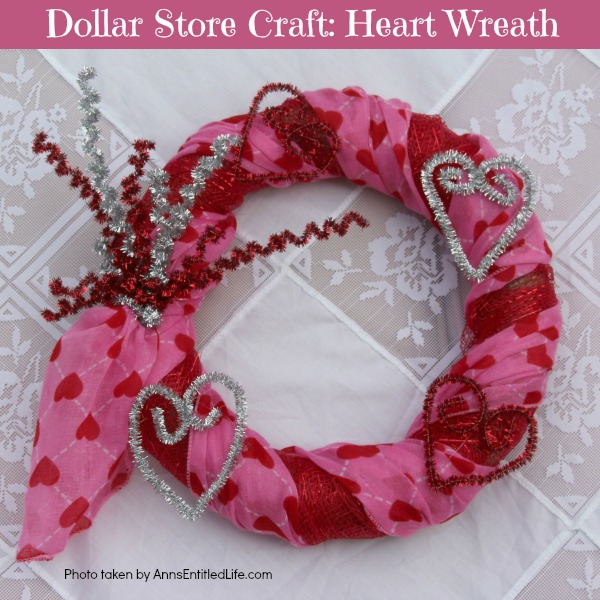 • Note: I did not attach a ribbon to hang this, I just hooked it over a door hanger. If you would like, you can add a ribbon to hang.
• This is what mine ended up looking like. Yours may be different depending on the colors you choose, the overlay (scarf, ribbons), etc. Highly customizable!
---
• Disclosure: the links in this post may be affiliate links.
• For more Holiday posts on Ann's Entitled Life, click here.
• For more Craft posts on Ann's Entitled Life, click here.
• If you enjoyed this post, be sure to sign up for the Ann's Entitled Life weekly newsletter, and never miss another article!
---