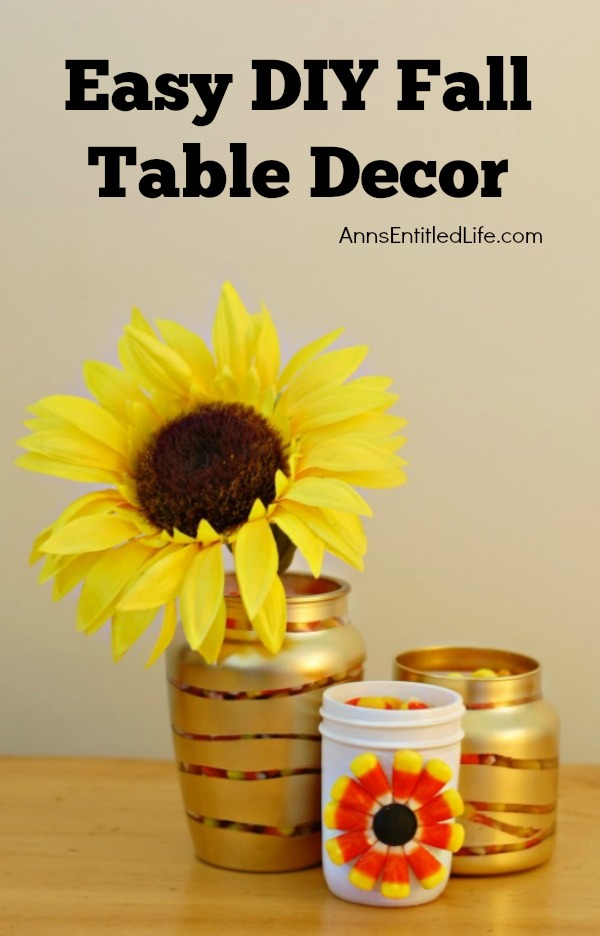 Easy DIY Fall Table Decor
Seasonal decor does not need to be expensive or time consuming to achieve. This easy to make, do it yourself autumn table decor features mason jars, vases and sunflowers which comes together quickly, is highly customizable, and simple to make. Just perfect for the fall months!
Easy DIY Fall Table Decor Materials:
● 2 Glass Vases of varying size and shape

● 1 Pint Mason Jar

● White Spray Paint
(that adheres to glass)
● Gold Spray Paint

● Rubber Bands
● Candy Corn
● Black Button
● Glue Gun
● Glue Sticks
● Artificial Sunflower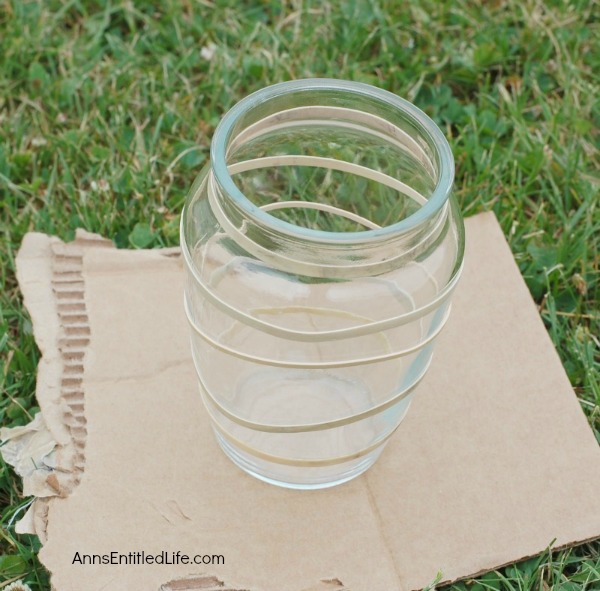 Easy DIY Fall Table Decor Instructions:
● Take your 2 vases and place 5 or 6 rubber bands around each to create a pattern that will show through on the glass after you spray paint them. Use thicker rubber bands so that the bands are more visible. You can leave them each parallel to each other, or crisscross the rubber bands and create your own unique design.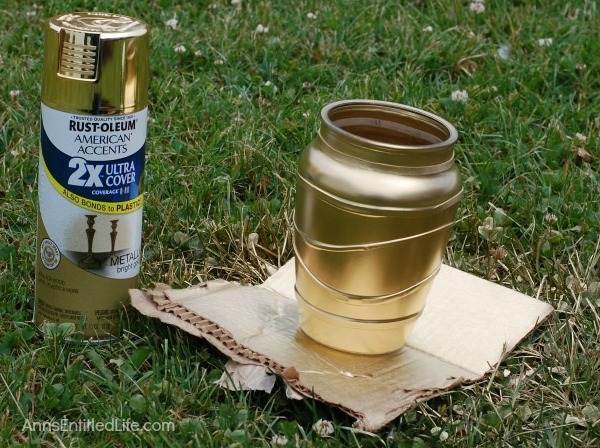 ● When you have both vases with the rubber bands in the position you would like, lightly spray paint both vases with the gold spray paint.
● It is highly recommended you do this outside on top of cardboard or a plastic bag.
● Allow to dry.
● Repeat.
● This may take up to three thin coats. You do not want to spray thick coats as you want to avoid drips. The thicker the paint, the more likely you get drips. Do several coats (drying in between) to achieve total coverage without drips.
● Remove rubber bands when your final coat is completely dry.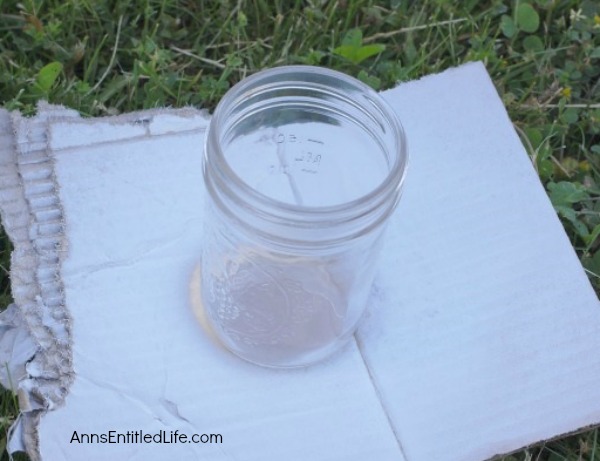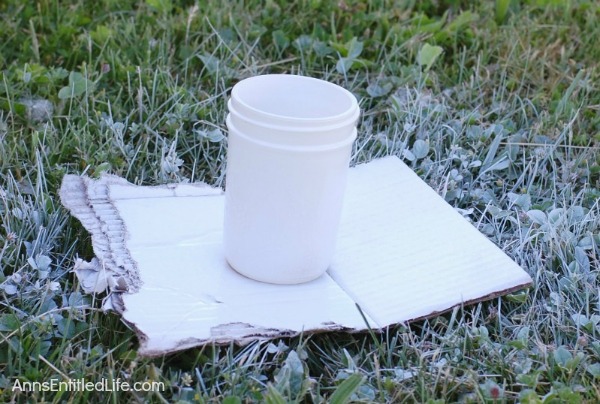 ● Lightly spray paint a pin mason jar white.
● It is highly recommended you do this outside on top of cardboard or a plastic bag.
● Allow to dry.
● Repeat.
● Again, 2-3 light coats is better than one heavy one.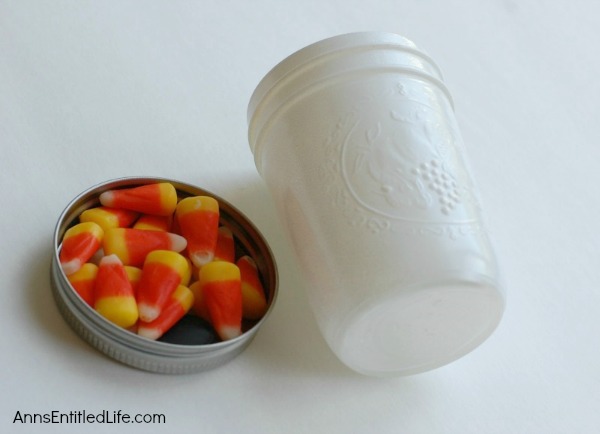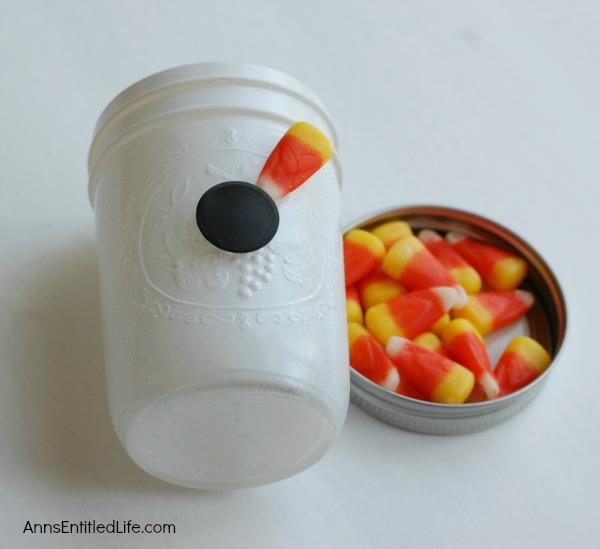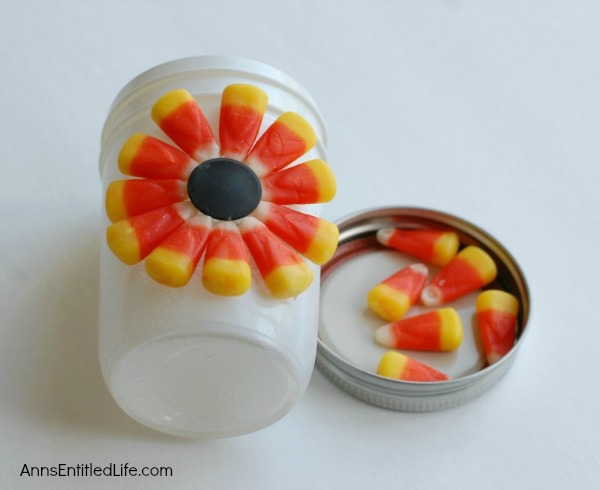 ● When your white mason jar is completely dry,you will now make a candy corn "flower" in the center of the jar.
● Using a hot glue gun, glue a black button to the center of your mason jar.
● Glue on approximately 11 candy corn pieces to create the sunflower petals on the mason jar surrounding the black button.
Note: the number of "petals" may vary depending on the circumference size of your button.
● Fill your jar and vases with candy corn to add more color to your table decor.
● Insert an artificial sunflower for a pop of brilliant fall color.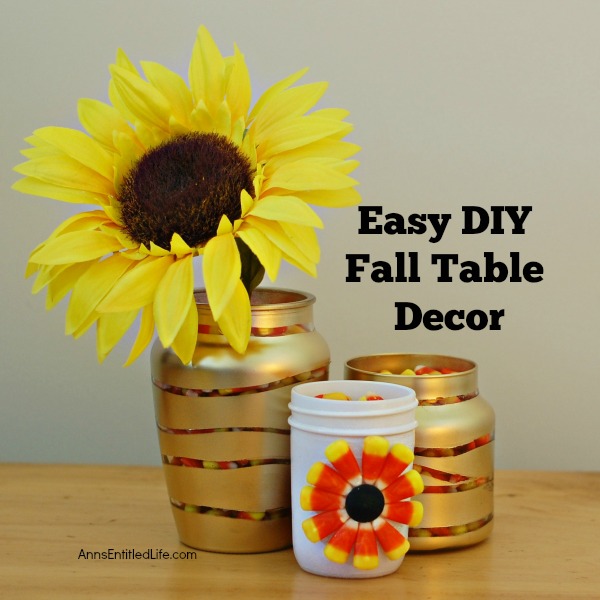 Use this as a centerpiece, on a mantle, or a side table as festive fall or Halloween decor! (plus you can sneak the candy as a treat from time to time!)
When Christmas time rolls around, you could easily change this up a bit to match the new season. After Thanksgiving, simply fill the vases and jar instead with red, green and white M&M's. Glue a poinsettia on the other side of the mason jar and just turn that side to face forward. Replace the sunflower with a poinsettia and you can use this through December!
---
● Disclosure: the links in this post may be affiliate links.
● If you enjoyed this post, be sure to sign up for the Ann's Entitled Life weekly newsletter, and never miss another article!
● For more Craft posts on Ann's Entitled Life, click here.
---