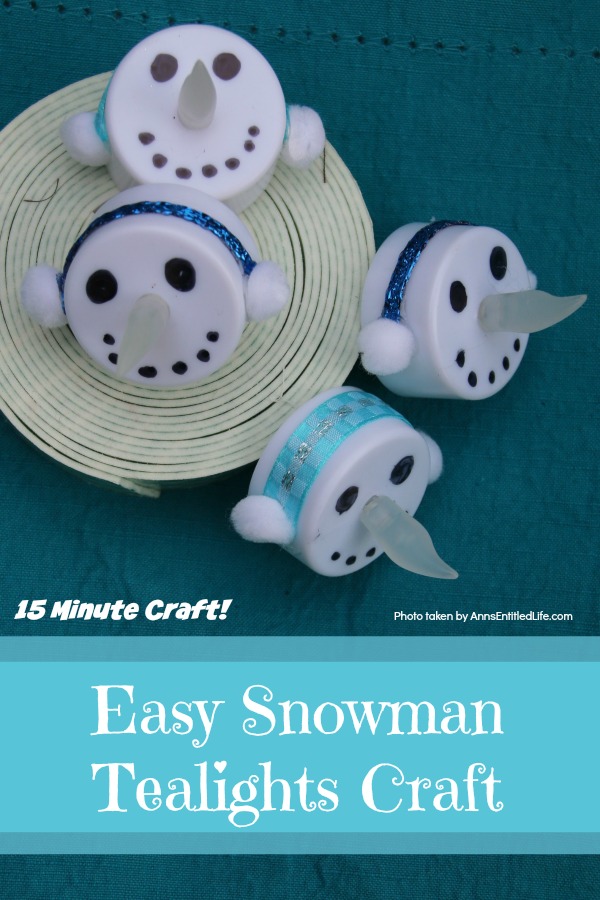 These cute little snowman tealights are simple to make, and wonderful decor for the winter months. This 15-minute-craft is simple to make, and come together quickly!
Easy Snowman Tealights Craft
If you like making snowmen crafts, here are a few others you may enjoy:
● Framed Button Snowman Craft – so easy to make!
● DIY Wine Glass Snowman – super cute!
● Snowman Mason Jar Craft DIY – super simple to make.
● Snowman Garland Craft – cute on a mantel or across a window.
● Make Your Own Snowman Window Cling – the kids will LOVE this one!
First things first: sign up for my weekly newsletter! You get a free downloadable e-cookbook when you confirm your newsletter sign-up!
Notes:
● Use a low-temp glue gun so as not to burn your fingers. You can also use goop.
● If you have children helping you, supervise the glue gun use (or use goop).
● This is a great dollar store craft! Get the battery operated tealights there, as well as the ribbon and sharpie. I've never seen a low-temp glue gun at a dollar store, but hey, you never know.
● In this craft, a 2 mm sized ribbon is the small ribbon used. A 3/8″ ribbon is the larger width ribbon.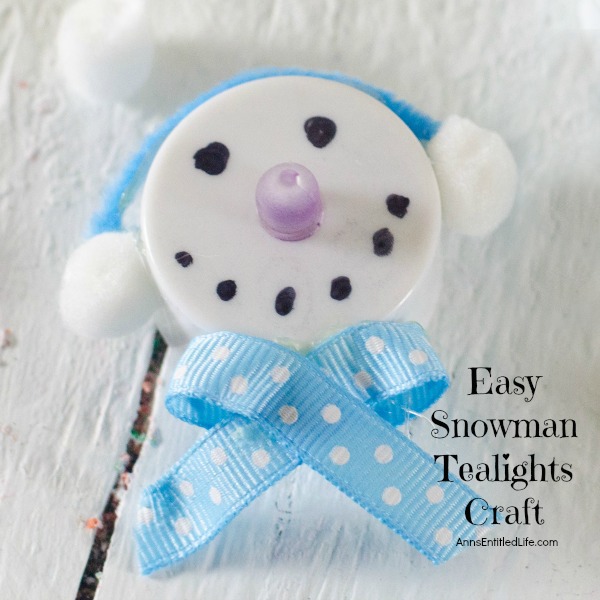 ● If you do not have ribbon (or do not wish to use ribbon), use a pipe cleaner!
● If you wish to make an ornament of these, hot glue some string or ribbon to the back of the tealight. Do not cover the battery-cover.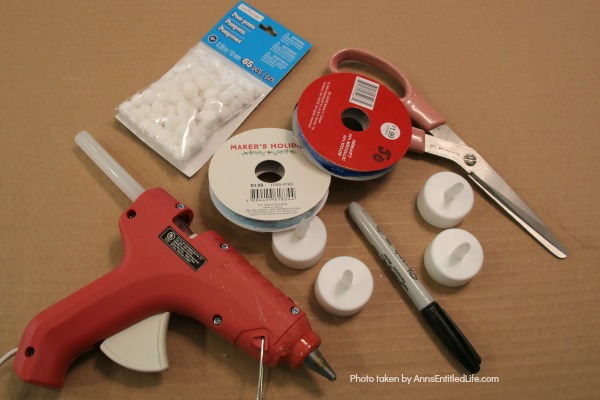 Easy Snowman Tealights Craft Materials:
● Battery Operated Tealights
● Low-temp Glue Gun and Glue Sticks or Goop
● 10 mm White Pom Poms (2 per tealight)
● Ribbon
● Sharpie
● Scissors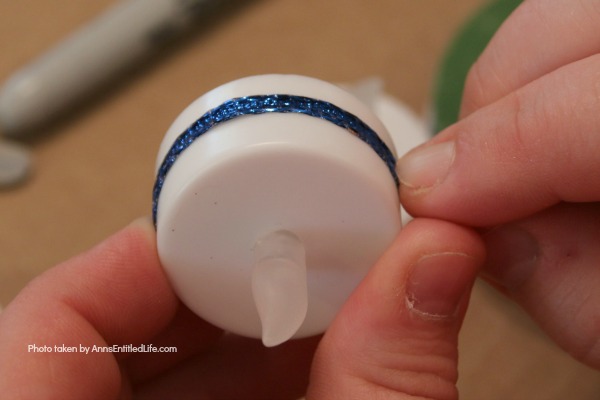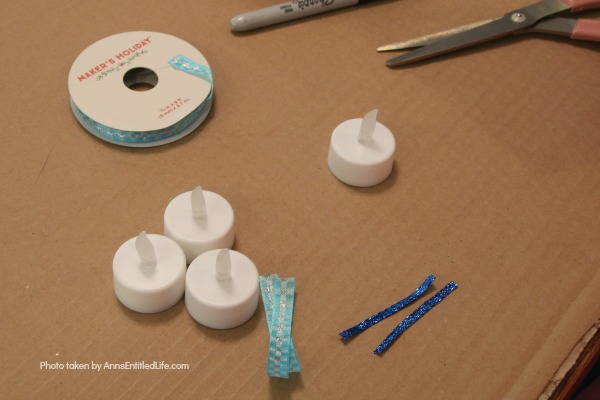 Easy Snowman Tealights Craft Directions:
● Measure out 2 1/2″ of ribbon for the tealight headband. Cut.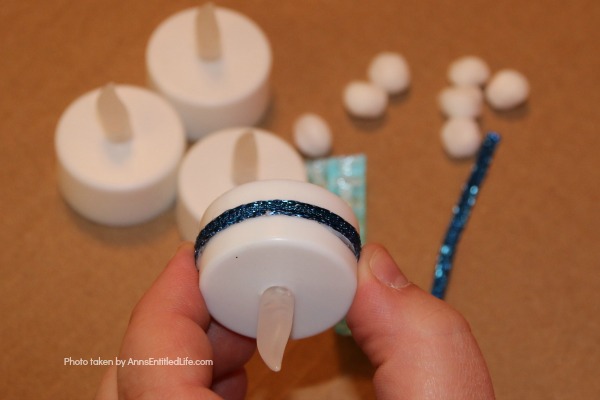 ● Hot glue ribbon in place as you would a headband.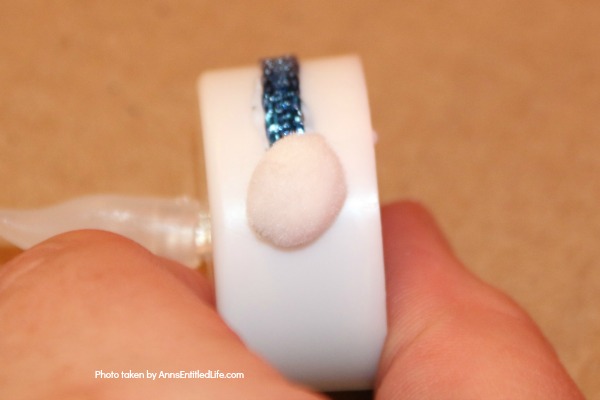 ● Hot glue two (2) white pom poms, one at each end of the cut ribbon for earmuffs.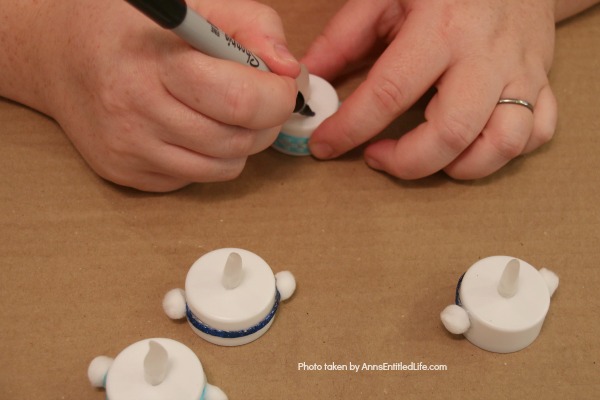 ● Using a sharpie, draw two eyes on the front of the tealight.
● Again using the sharpie, draw a mouth in dots.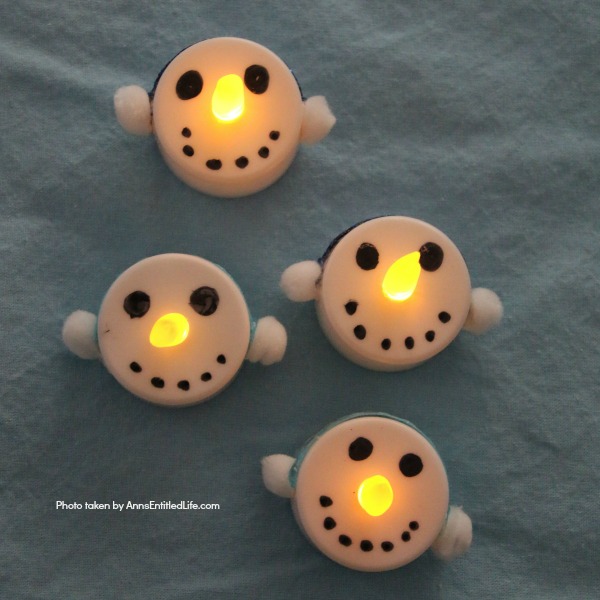 ● Display as you like!
These are super cute for kids, just to set on an end table for decor, etc. I love snowmen crafts as that can take me from December 1st though Valentine's day! Or, if I am skipping Valentine's Day decor, through to March!
---
● Disclosure: the links in this post may be affiliate links.
● For more Craft posts on Ann's Entitled Life, click here.
● If you enjoyed this post, be sure to sign up for the Ann's Entitled Life weekly newsletter, and never miss another article!
---