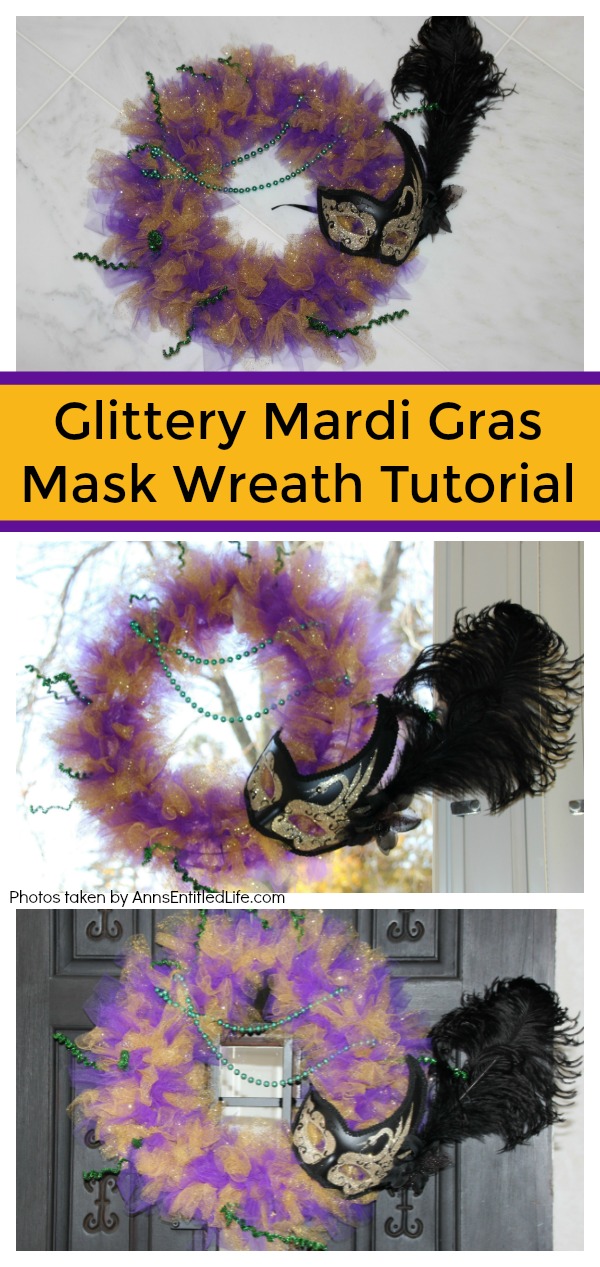 Follow the step by step instructions of this Glitter Mardi Gras Mask Wreath Tutorial to make this beautiful, sparkly, Mardi Gras Wreath. This highly customizable, simple to make, Glitter Mardi Gras Mask Wreath will look great on your front door, over your mantel, or on a wall. Truly unique Mardi Gras decor!
Glitter Mardi Gras Mask Wreath Tutorial
That is the same wreath in the photo(s) above. I just placed it in different areas, some dark, some light, to show how the light and dark effects the look of the wreath. In person, it is simply stunning (truly).
Here are some other DIY Tulle wreaths you may want to make:
• Easy Thanksgiving Wreath DIY
• The Grinch Inspired Wreath DIY Tutorial
First things first: sign up for my weekly newsletter! You get a free downloadable e-cookbook when you confirm your newsletter sign-up!
Notes:
• Tulle is significantly more difficult to work with than a cotton material. Keep that in mind when making this wreath.
• You want your wreath nice and full. If you skimp, you cannot hide it. So, make sure your tulle is nice and full!
• Sequin glitter tulle sheds. A lot. With that in mind, I strongly suggest you cover your work surface with a towel (or it will look like a glitter bomb went off in your house).
• We used pipe cleaners for some texture. You could substitute feathers!
• For this wreath, we used purple and gold with a green bead and pipe cleaner accent and black mask. You do not have to use the colors as shown. Mardi Gras colors are green, purple, black, and gold, so mix and match according to your preference. Break it down like this:
2 colors tulle
1 color pipe cleaner + beads
1 color mask
• If you want the same look we did, follow the color scheme used. If you want a different look, go for it! Your best bet is to start with your mask choice, and then match the colors to that (tulle rolls are easy to find). Just remember this is a sparkling tulle wreath, so make sure one of your tulle colors glitters with sequins.
• There are several ways to do the tulle color grouping on this wreath – two alike knot colors, three alike knot colors, etc. and repeat. Ultimately, after playing around and experimenting, this wreath was created with alternating tulle knots meaning one gold, one purple, one gold, one purple (etc until finished).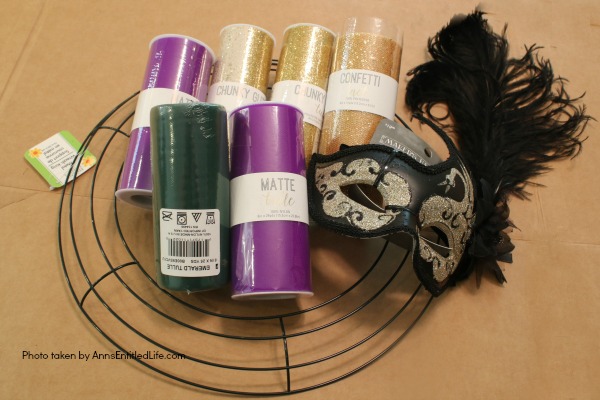 Glitter Mardi Gras Mask Wreath Tutorial Materials:
• 14″ Wire Wreath Frame
• Mask
• 1 chopstick or pencil
• 8 Green Pipecleaners
• Scissors
• Mardi Gras Beads
• 25 yards Purple Tulle (1 roll, 6″)
• 25 yards Gold Sparkle Tulle (with sequins, this may not be available in a 25 yard roll at your local fabric store, so buy as many rolls as you need to make 25 yards, 6″)
• Glue Gun and Hot Glue (optional)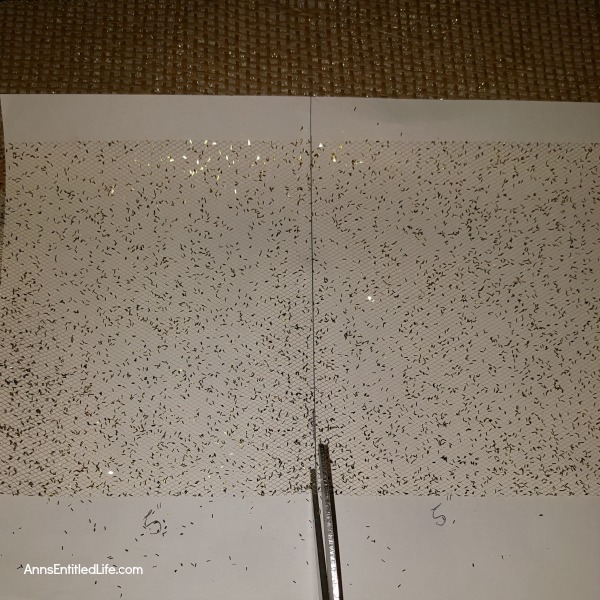 Glitter Mardi Gras Mask Wreath Tutorial Directions:
• Cut tulle into 5″ strips. You will get 180 strips per 25-yard roll.
• Using the 6″ side of the tulle, tie a square knot (left over right and under, right over left and under) around one of the frame times.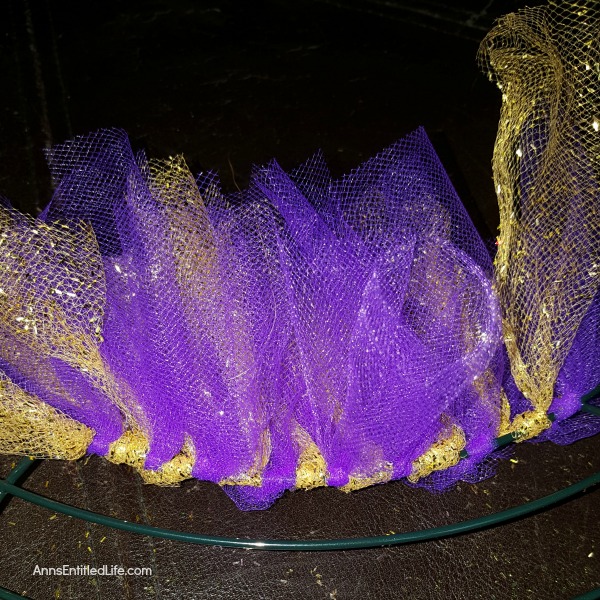 • Every other tie is a different color. You are alternating colors for this one. Leave the second outer row of the wreath frame empty for beads, pipe cleaners, and mask attachment.
• Push together after each knot.
• Use all 720 strips. Your wreath will be nice and full, but not squished.
• Wrap your pipe cleaners around a chopstick or a pencil to form spirals.
• Twist around the frame, and allow the curly ends to poke out through the tulle.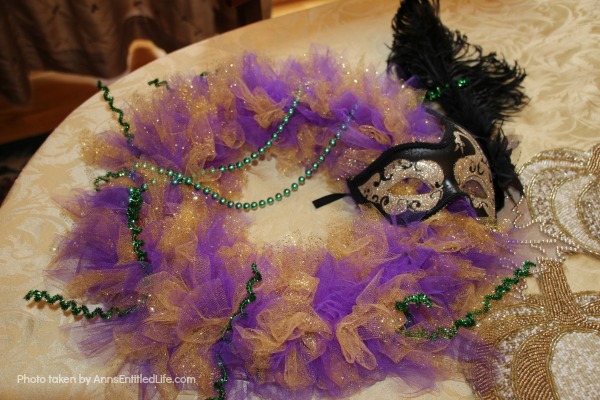 • Clip the ends of the beads (where the necklace meets) using scissors (to form a long strand and not a necklace). You can twist the clipped ends around the frame allowing the beads to swag down a bit. They will secure as a twist-tie would. You can use a dab of hot glue to secure in place if you like.
• Tie the mask to the frame. The mask should have ribbons on it making it simple to secure. You can dab with a bit of hot glue to hold in place.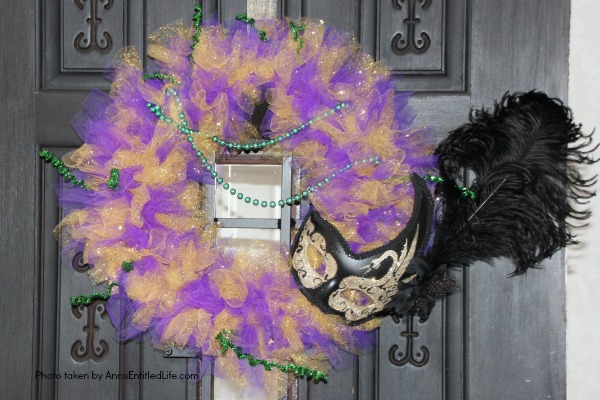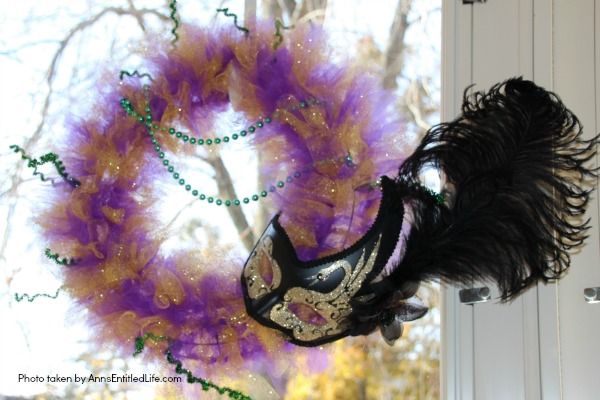 • Hang where desired.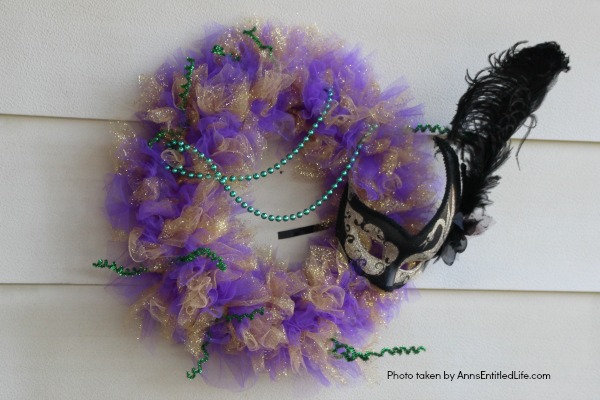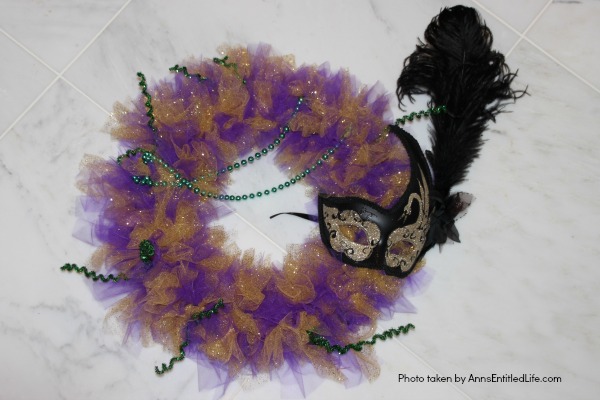 • Note: I did not attach a ribbon to hang this, I just hooked it over a door hanger. If you would like, you can add a ribbon to hang.
---
• For more Holiday posts on Ann's Entitled Life, click here.
• For more Craft posts on Ann's Entitled Life, click here.
• If you enjoyed this post, be sure to sign up for the Ann's Entitled Life weekly newsletter, and never miss another article!
---