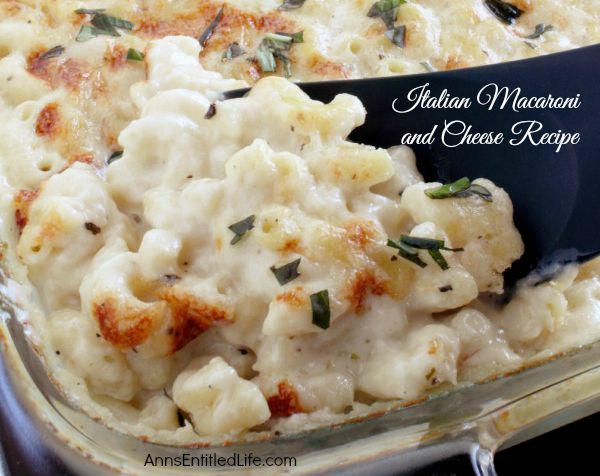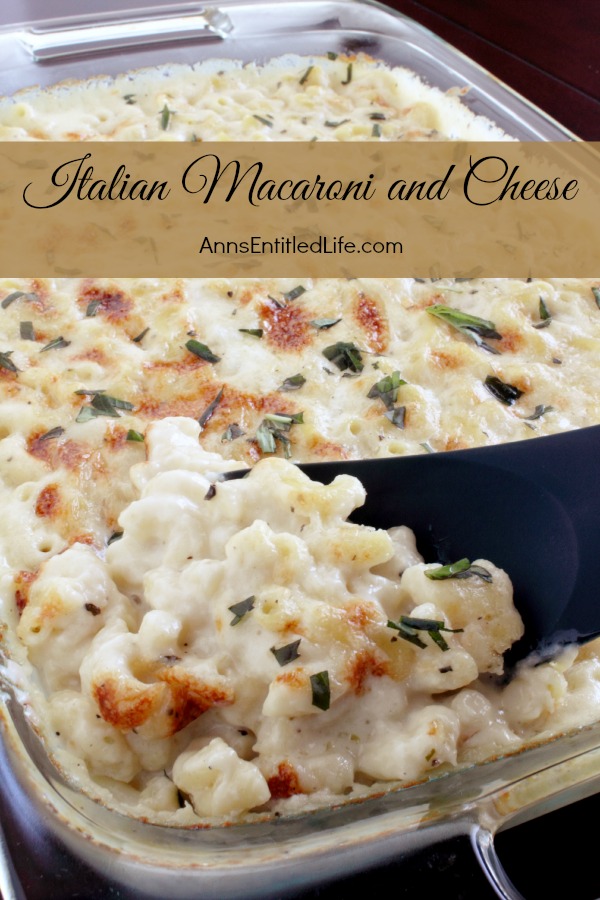 Italian Macaroni and Cheese Recipe
By Ann
A delicious, extra cheesy take on traditional mac and cheese, this Italian Macaroni and Cheese recipe will have your entire family asking for seconds. Simply an outstanding Italian macaroni and cheese recipe.
Prep Time: 15 minutes
Cook time: 40 Minutes
Ingredients:
• 12 oz Elbow Macaroni
• 6 TBSP Butter
• 1/3 cup Flour
• 2 ½ cups Milk
• ¾ cup White Wine
• 1 tsp Ground Mustard
• 1 tsp Salt
• 1 tsp Garlic Powder
• ½ tsp Pepper
• ½ tsp Dried Oregano
• ½ tsp Dried Basil
• 12 oz Mozzarella Cheese, shredded
• 8 oz Monterey Jack Cheese, shredded
• 1 cup Parmesan, shredded
• Fresh Basil for garnish
Directions:

• Preheat oven to 400˚.
• In a Dutch oven cook the macaroni until al dente and drain the macaroni in a colander.
• Return the empty Dutch oven to the stove top, and over low heat melt the butter.
• Increase heat to medium, add the flour and cook 2 minutes whisking constantly.
• Raise the heat to medium high and slowly whisk in the milk a ½ cup at a time. Whisk until smooth after each addition.
• Keep whisking until it starts to simmer, continue whisking, and slowly whisk in the wine.
• Add the ground mustard, salt, garlic powder, pepper, oregano and basil; whisk to combine.
• Add the cheeses a handful at a time whisking until the cheese completely melts between each addition.
• Add the al dente macaroni and stir to combine.
• Pour the mixture into a greased 13″x9″ pan and bake at 400˚ until bubbly and browned, 15-20 minutes.
• Serve hot garnished with chopped fresh Basil.
• Makes 8 servings Italian Macaroni and Cheese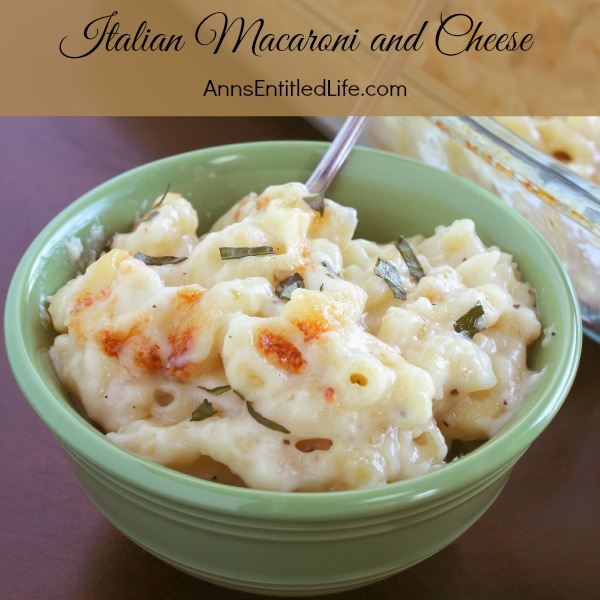 Want a good, easy recipe the entire family will enjoy? Here you go. This is an excellent lunch, side with soup, side with dinner (or as dinner itself). It is a grown-up mac and cheese that the kids will love too!
Italian Macaroni and Cheese Mise en Place:
• Dutch oven

• Colander

• Measuring Cup

• Whisk

• Measuring Spoons

• 13×9 Pan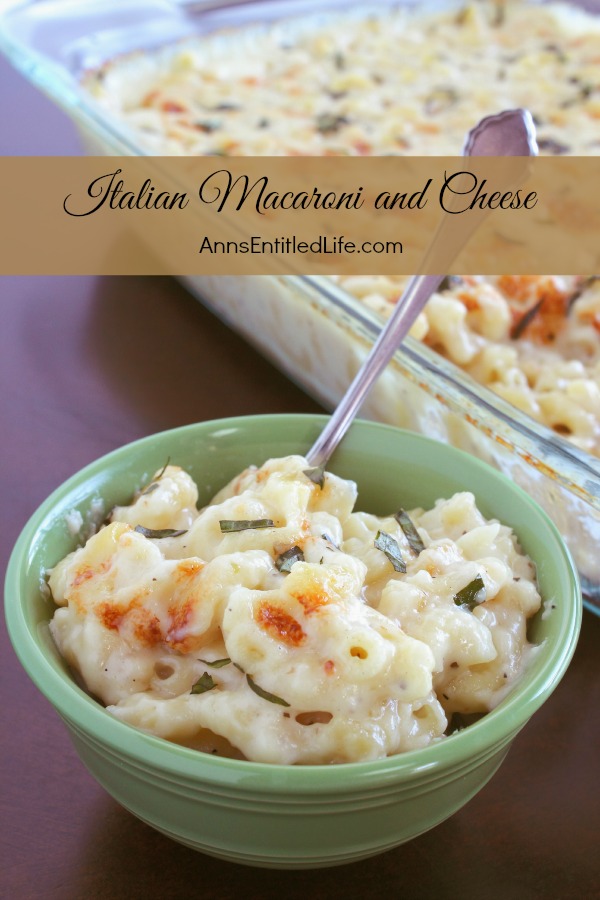 • To print the Italian Macaroni and Cheese recipe click here.
---
• Disclosure the links in this post may be affiliate links.
• For more Recipes on Ann's Entitled Life, click here.
• If you enjoyed this post, be sure to sign up for the Ann's Entitled Life weekly newsletter, and never miss another article!
---