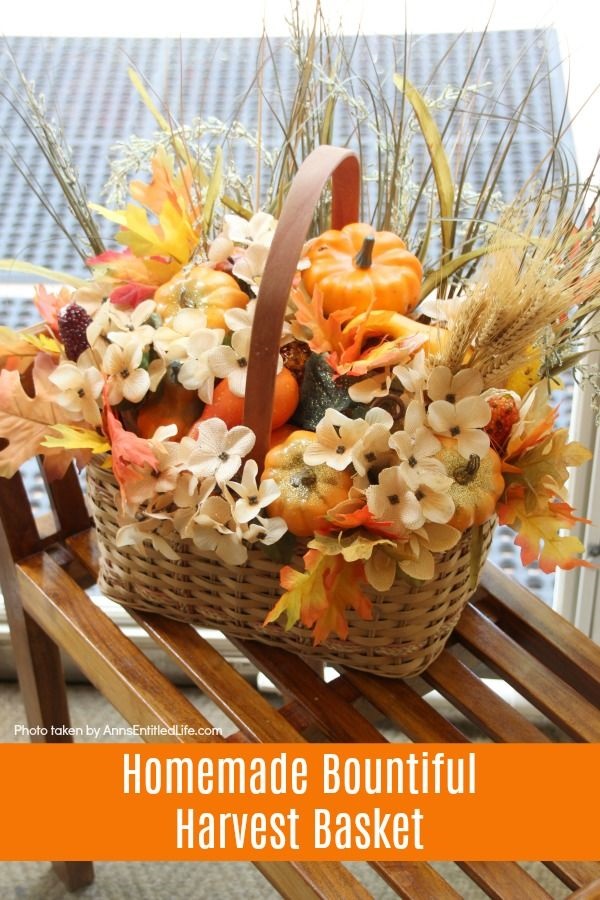 Fall is traditionally harvest time. Bring a little of that bountiful harvest indoors with this beautiful fall decorating idea! This easy to make DIY fall decor piece makes a great fall centerpiece, side table decor, or even a floor decoration. Follow these step-by-step tutorial instructions for this beautiful, abundant fall harvest basket to add to autumn decorations.
Homemade Bountiful Harvest Basket
The point of this fall decoration is over-the-top! More is more!
This is a great fall decoration for someone new to craftings or making flower arrangements as it is very difficult to mess up. This isn't about height, it is about texture and color. You could stop at nearly any step of these instructions after the gourds are in the baskets (once the foam is covered) and this bountiful harvest basket is going to look complete.
Notes:
Because this is so full and abundant, you also cannot add too much. As long as your picks and gourds are attached and not falling off, layer as many items as you like into your fall harvest basket.
The basket used in this craft is approximately 11″ long, 6″ tall, and 6″ wide. If your basket is smaller or larger it may impact how many materials you use to fill it.
Great places to look for baskets (if you do not have an old one in your basement) is a yard sale, a thrift store, or a consignment shop. You can, of course, hit a local craft store such as Jo-Ann Fabric, Michaels, and Hobby Lobby.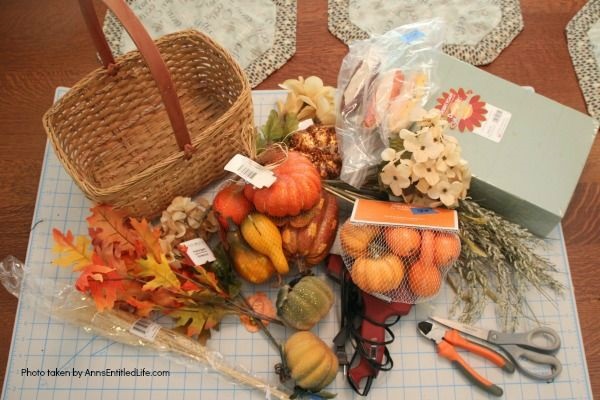 Homemade Bountiful Harvest Basket Materials Used:
● Wicker Basket
● Floral Foam
● 6 small Pumpkins
● 10 Gourds
● 3 Corn
● 3 Small Floral Bushes
● Fall Foilage – including autumn leaves, whispy floral, and wheat (for height)
● Scissors
● Cutters
● Glue Gun
● Hot Glue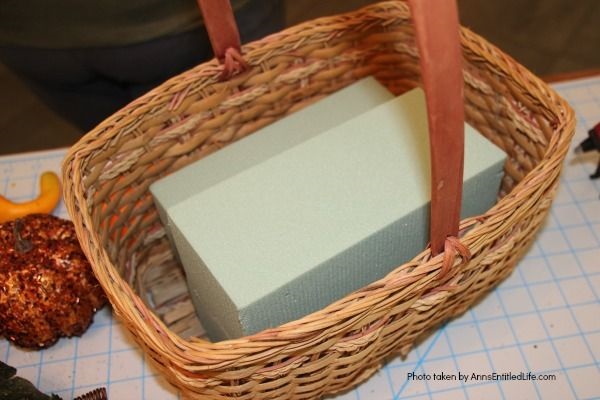 ● Cut down (if necessary) your floral foam and hot glue in place. This has a higher front to the floral foam than in the front. We built the floral foam up because our gourds were short. If you have higher gourds, you may not need to build up the front.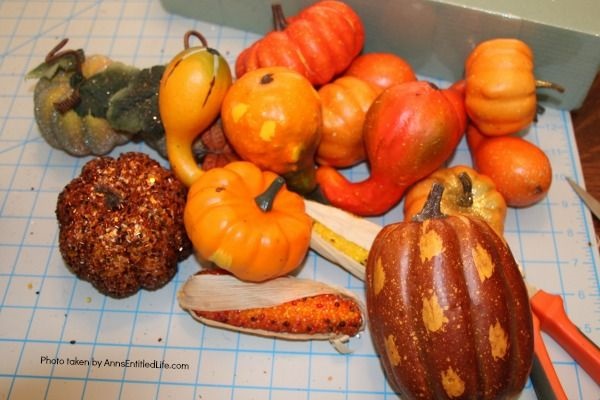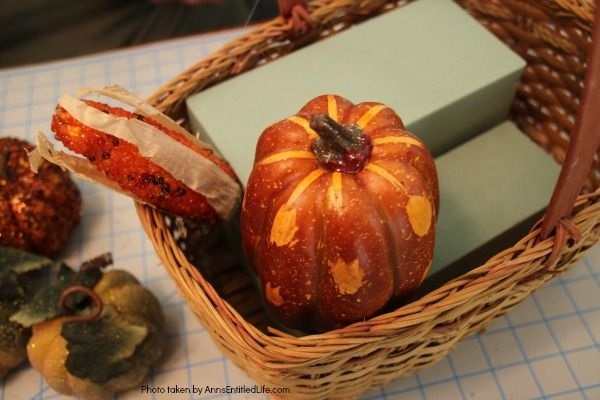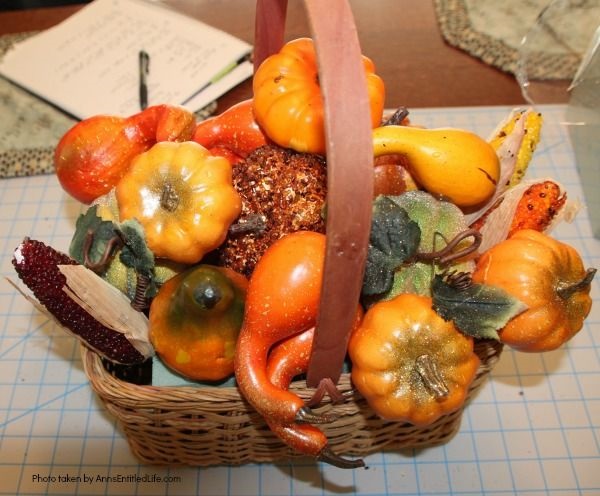 ● Hot glue gourds in basket on top of the floral foam. You may need to cut down your picks. Once you begin to layer the gourds on top of one another you will need to clip the picks off completely. Make sure you place the gourds before you hot glue just to give yourself an idea of how this will look. Pay special attention to the textures and sizes of the gourds being used.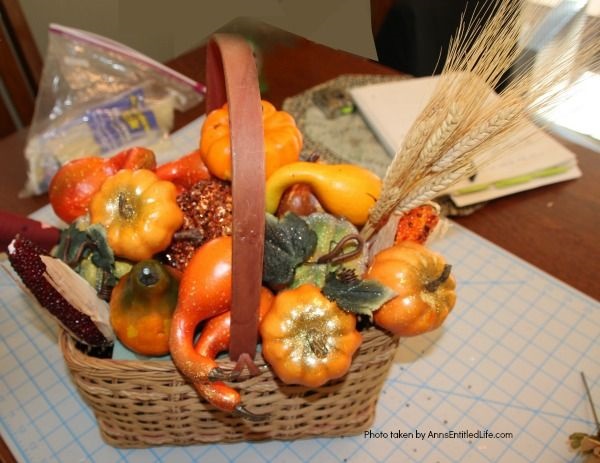 ● Insert wheat in the back of the harvest basket for height.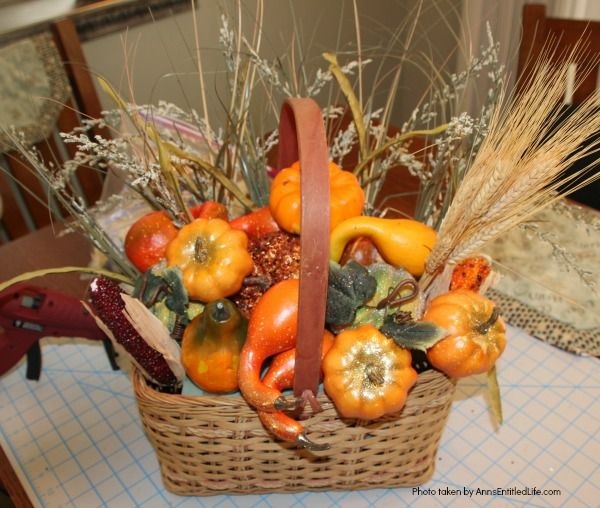 ● Insert whispy foliage.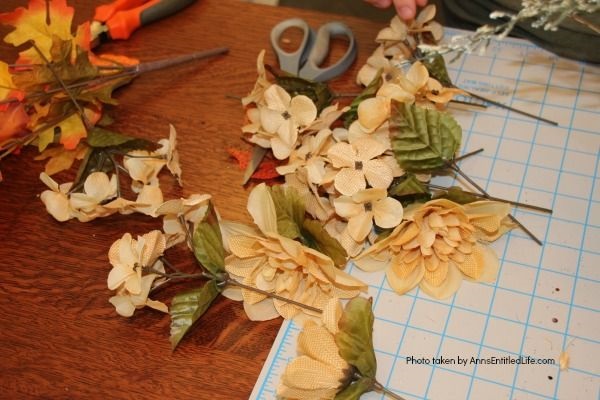 ● Cut the flowers off the bushes.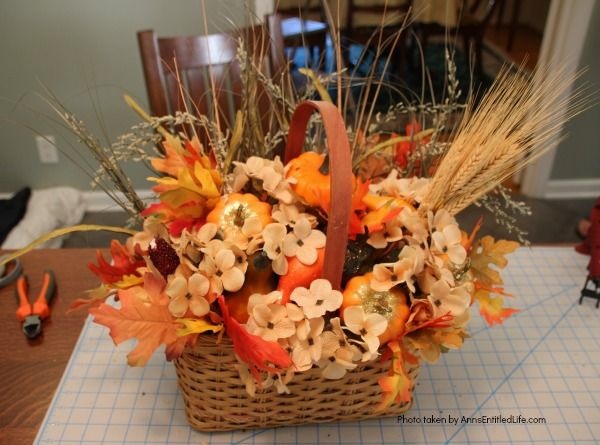 ● Starting in the back with height on your florals, begin filling in any holes with flowers. Do not worry if you still have a few open spots right now. Hot glue floral in place.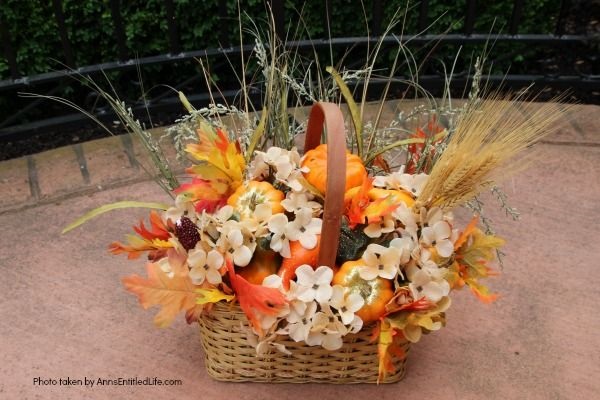 ● Insert corn, Clip the autumn leaves from the bush, and insert in any holes. Hot glue in place.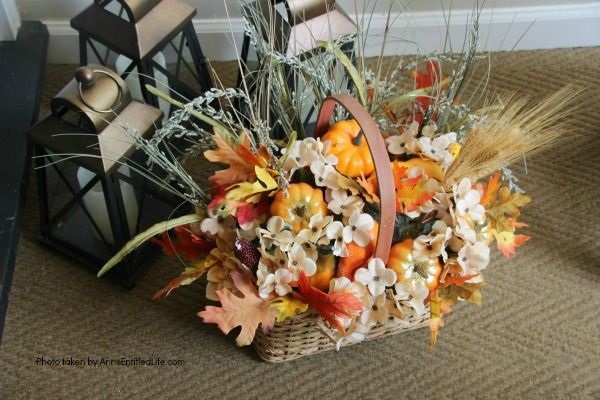 ● Give your basket a little shake to confirm everything is hot glued in place. Since this has layers, things may not be quite as secure as desired.
● Display where you like. Since this is a basket a foyer is a great idea, an unused staircase, a side table, centerpiece. Because this is a basket it is extremely versatile!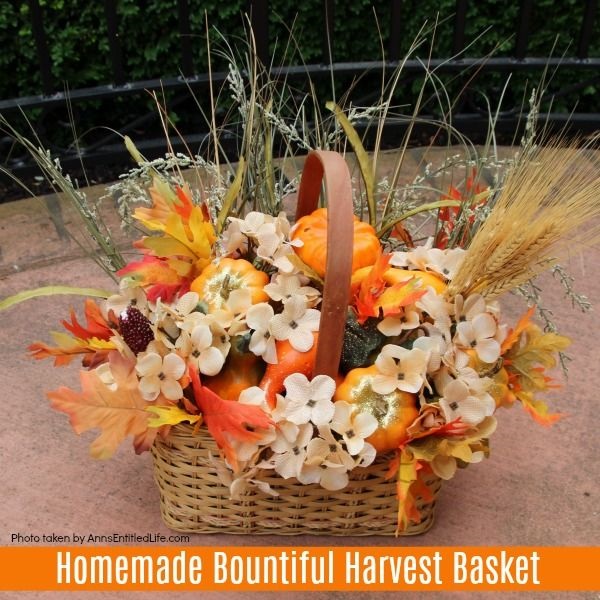 If you would like to make some other beautiful Autumn crafts, you might want to try these:
● Rustic Fall Burlap Wreath DIY – This DIY tutorial on how to make a Rustic Fall Burlap Wreath has easy to follow, step-by-step instructions. Less than an hour or so of your time results in a lovely autumn wreath that is highly customizable, and a lot less expensive than a store bought wreath! Perfect fall decor for your front door.
● Sunflower Knot Wreath – This DIY tutorial on how to make a sunflower knot wreath has easy to follow, step-by-step instructions. An hour or so of your time results in this lovely sunflower knot wreath, perfect for your front door!
● Shabby Chic Autumn Wreath – If you are a fan of shabby chic décor for your home, you are going to want to make this lovely shabby chic autumn wreath! Simple to make, the soft and understated colors are perfect shabby chic wall décor or door décor.
---
● Disclosure: the links in this post may be affiliate links.
● For more Craft posts on Ann's Entitled Life, click here.
● If you enjoyed this post, be sure to sign up for the Ann's Entitled Life weekly newsletter, and never miss another article!
---