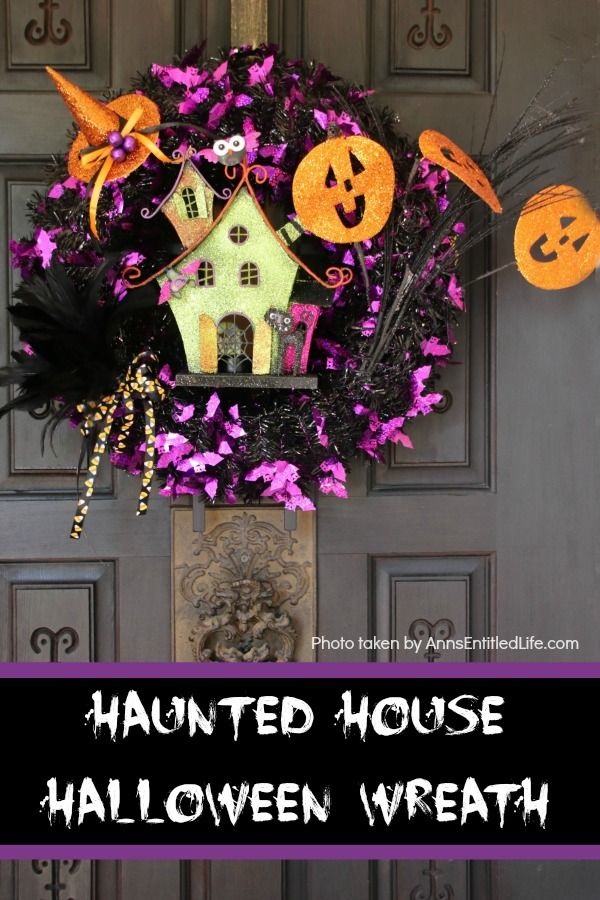 This whimsical haunted house Halloween wreath is an easy to put together – truly a 15-minute craft! If you are looking for simple Halloween wreath ideas, look no further than this fun haunted house Halloween wreath DIY!
Haunted House Halloween Wreath
This wreath is sooooo easy to make! You use very few extra items – you are basically dressing up a Halloween wreath and making it your own. The entire craft took about 15 minutes to make.
Notes:
● The size of the wreath you use will depend on the size of the haunted house you choose. Make sure the wreath center is small enough so the haunted house can be closed to the wreath.
● The black feathers used are a crow influence as black crows are big in Halloween decor (I have one in my front hall!)
● You can buy a premade bow instead of making your own.
● You do not have to attach a hanger if you do not want to… door decor instead of door hanger decor.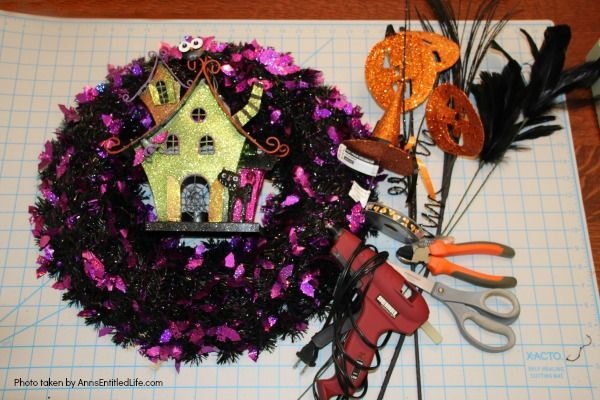 Haunted House Halloween Wreath Materials Used:
Note: everything for this craft was purchased at Michaels two weeks ago. You can certainly check If you cannot make a bow, buy one! They are fairly inexpensive at Jo-Ann Fabric, or Hobby Lobby or the Christmas Tree Store for similar craft products!
● 16″ Halloween Wreath (not decorated)
● Haunted House
● Witch's Hat Pick
● Zany Pumpkin (Jack o'Lantern) Pick
● 2 Black Feathers
● 1 Tall Black Grass
● Ribbon: 3/8″ x 9′ Ribbon for bow accent and to hand (if desired)
● Scissors
● Cutters
● Glue Gun
● Hot Glue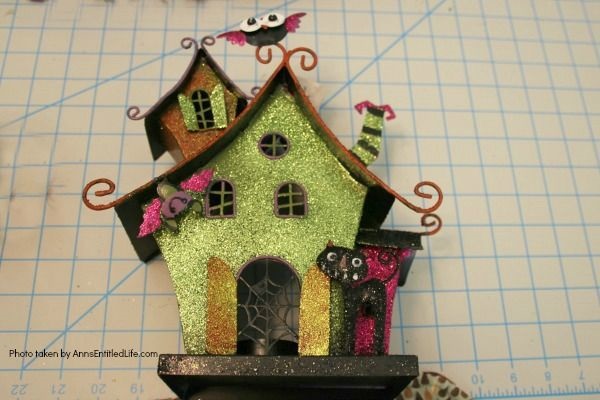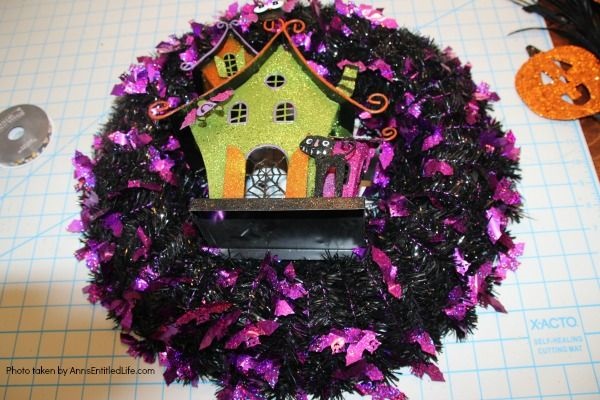 Haunted House Halloween Wreath Instructions:
● Pick three points of on your wreath to hot glue your haunted house. We chose the right and left side of the house, and the turret at the top of the house.
– This particular house had a place for a candle (there was a candle holder that was accessed from the back). If you'd like to add a small flamless candle inside the haunted house (assuming your haunted house also has the candle holder) that would be a fabulous addition to the wreath!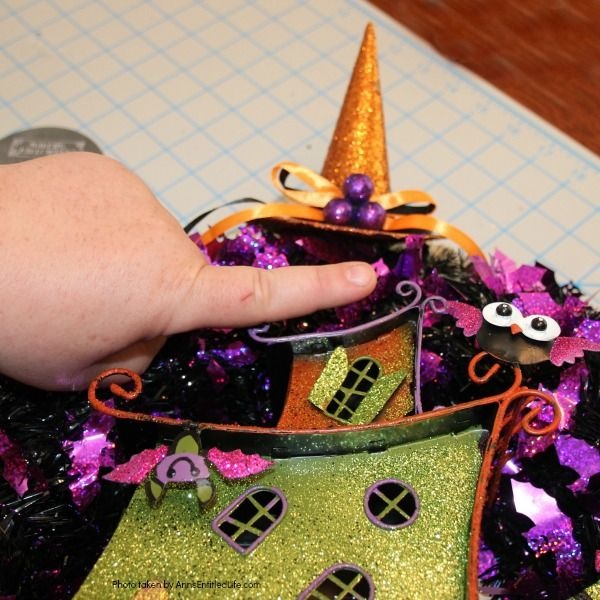 ● Line up the witch's hat with the roofline of your haunted house.
● Clip off part of the pick so it will not show when hot glued to the wreath.
● Hot glue in place at an angle. Make sure it will fit your door and not be too far out that it will be crushed when you close the door.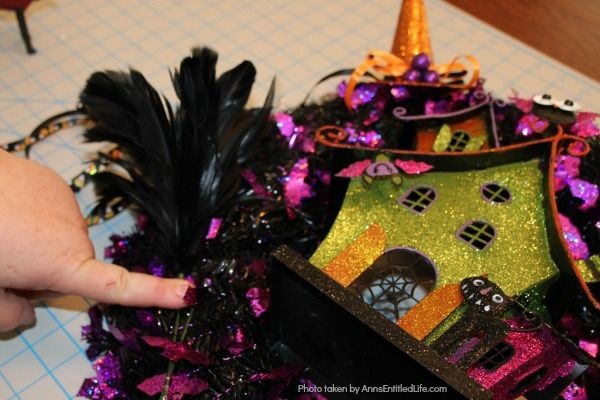 ● Add two black feathers below your hat. Jam the ends of the feathers into the wreath, and hot glue to the wreath.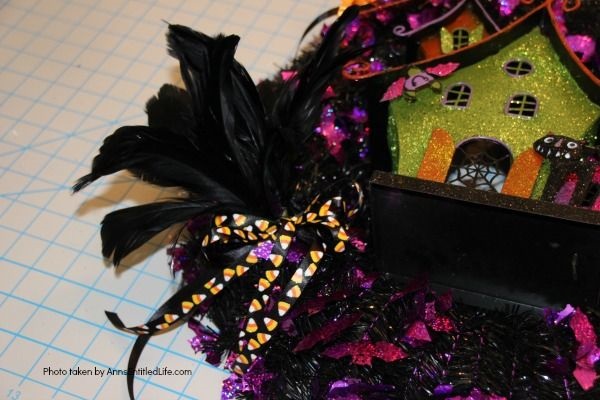 ● Form a bow from your ribbon (or use a premade bow). This is a small bow as not to be a wreath focus. We used candy corn but spiders, cats, bats, etc will also work. You may also want to consider finding a ribbon in a Halloween color (black, purple, green, orange) that is lacking in your wreath and pick up the color in your ribbon.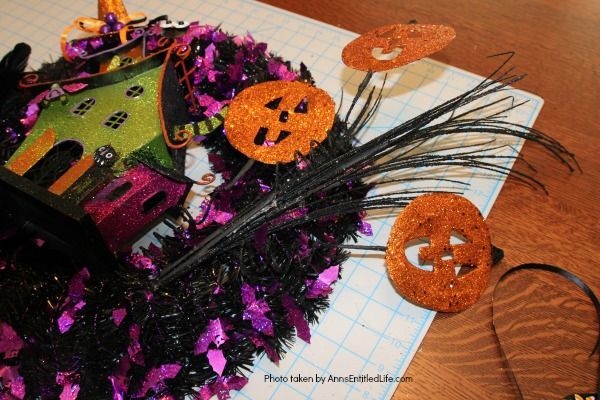 ● Insert the long black floral spike behind your pumpkin (jack o'lantern), and hot glue in place.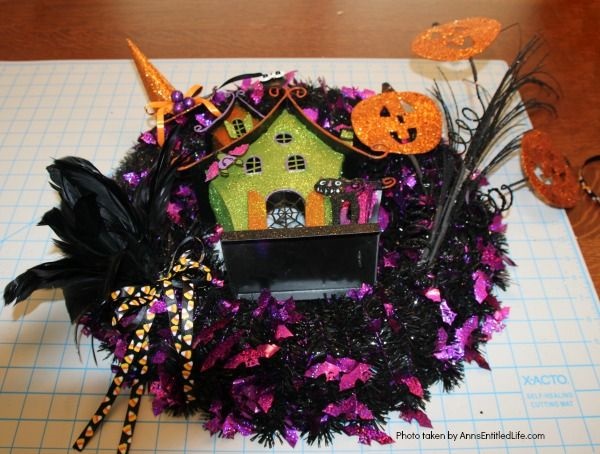 ● Hot glue the pumpkin picks to the wreath opposit your black feathers.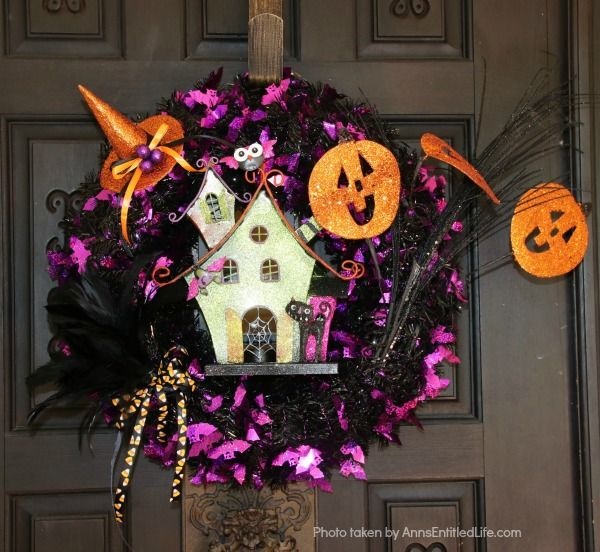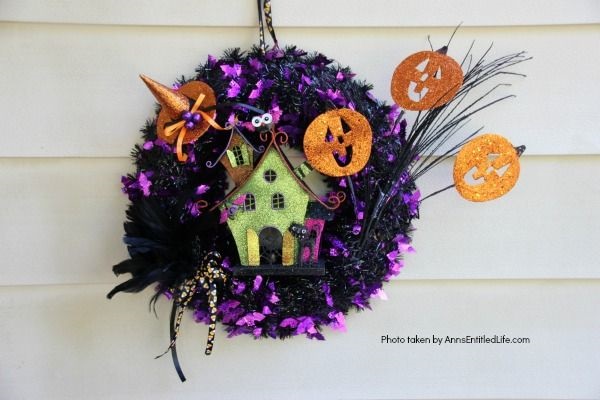 ● Hang as desired.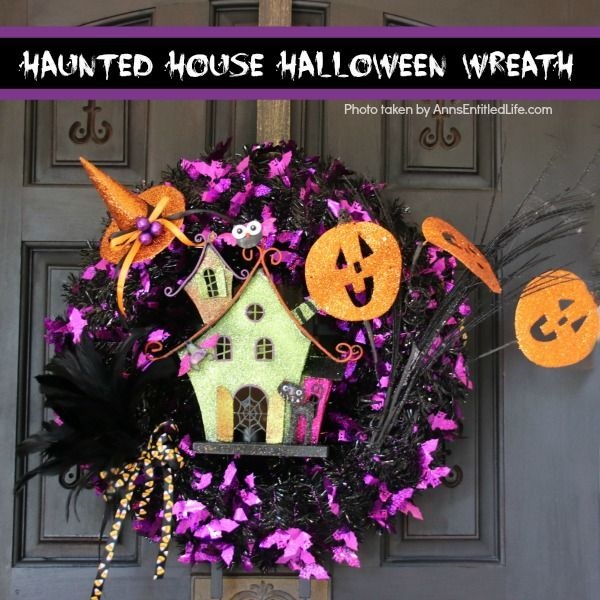 If you would like to make some other fun and whimsical Halloween crafts, you might want to try these:
● Easy DIY Halloween Glitter Witch's Broomstick – Simple and fun to make Halloween Witch's Glitter Broomstick Tutorial DIY project. With just an hour of your time, and you have a wonderful 6 foot tall witch's broomstick to make your Halloween decor, or costume, complete!
● How To Easily Make Your Own Beautiful Ruby Glitter Slippers – Ever wanted to own Dorthy from the Wizard of Oz Ruby Slippers? Well, now you can make your own ruby slippers employing these simple step by step instructions.
● DIY Spooky Spider Halloween Wreath – This simple to make homemade Halloween wreath is spook-tacular – and takes only 15 minutes to put together. If you are looking for easy do it yourself Halloween decor, look no further than this DIY Spooky Spider Halloween Wreath, and make one today!
---
● Disclosure: the links in this post may be affiliate links.
● For more Craft posts on Ann's Entitled Life, click here.
● If you enjoyed this post, be sure to sign up for the Ann's Entitled Life weekly newsletter, and never miss another article!
---