Those of you that followed Coupons, Deals and More may remember this little gem. It was one of the "better" Crap My Hubby Says (or does) posts. I ran across the post while looking at the old blog last week, and decided to rerun the question.
I will tell you that I personally, cannot top this story to answer the question: What Is The Stupidest Thing You Have Ever Done To Save a Buck?
So, I am sitting at the kitchen table Friday night minding my own business and working on the blog. Hubby comes over to the table and sets down a shampoo and conditioner bottom atop the newspapers that were waiting to go out to recycle.
I (foolishly) assumed he was going to take the pile out to the garage and dump it in the recycling bin.
Instead, Hubby takes off down the basement.
I thought nothing of it – it wouldn't be the first time he forgot to take the recycling out when he intended to – and I continued to type.
He comes back upstairs with a hacksaw and before I could say a word, starts cutting the shampoo bottle … to access the remains!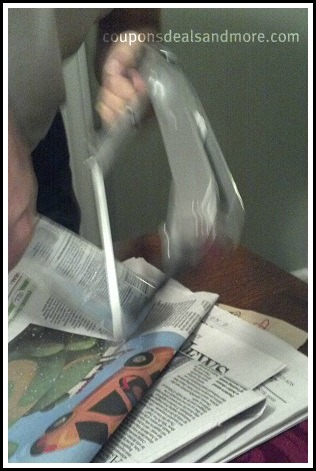 On top of our kitchen table!!!! (for those that care, ours is the keyhole trestle table #599)
Now we won't ask why he didn't take the bottle down to his basement work room, or why he thought it was worth losing a finger to cut through a bottle for the remains of some shampoo, but I would like to know what made him think doing this on our kitchen table was a bright idea!?
This is a clearer picture of what he was attempting: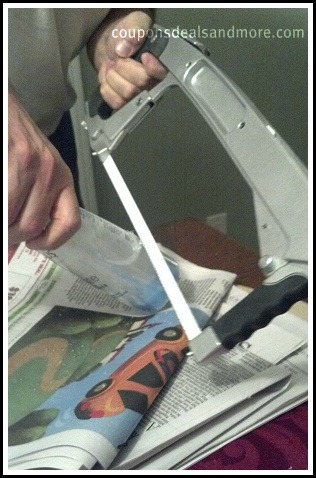 And no, he wasn't successful. He said it was a double bottle so very difficult to cut by hand.
Since hindsight is 20-20, what is the stupidest thing you have ever done to save a buck??