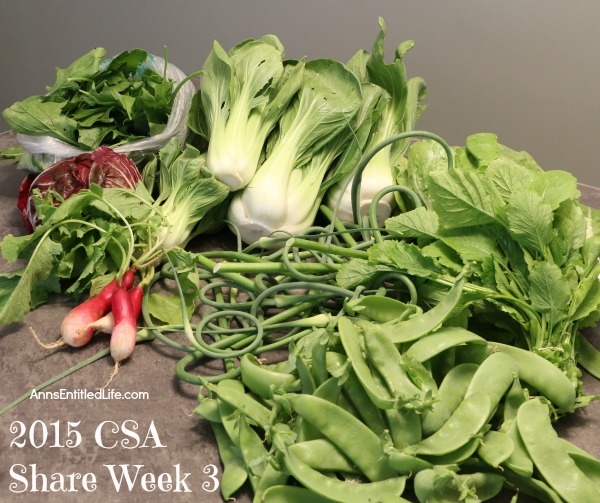 This is the diary of our 2015 CSA share. The cost of our full share is $545 for 22 weeks, from June through October, and works out to $24.75 per week. Western New York weather is such that June is lightest CSA month. September and October will be more than abundant! The first few weeks are light, and very, very leafy. As we move to the fall, the CSA becomes more abundant, and the variety increases greatly.
We also purchased a Fruit Share this year for $180, lasting 18 weeks which works out to $10 per week. The local fruit included in the fruit share starts with cherries, apricots, plums, peaches, nectarines, blueberries, and moves into pears, raspberries and of course apples! This portion of the share begins in July.
---
This week the u-pick was open for peas. I went out and in under 5 minutes picked that giant pile of snow peas. I didn't bother with the shelling-peas.
Hubby made this Bok Choy recipe last week that was simply out of this world!! I filled my bag with bok choy, and will have him make it again. I will also take notes and write up the recipe. I think we gobbled it all up in 5 minutes flat, and we are not giant bok choy fans.
2015 CSA Share Week 3
● Bok Choy
● Broccoli Raab
● Broccoli (did not take)
● Garlic Scapes
● Head Lettuce (did not take)
● Radishes
● Red Russian Kale (did not take)
● Romaine Lettuce
● Salad Greens
● Salad Turnips (did not take)
● Spinach
Do you belong to a CSA? If so, what type? How much? Do you find it as worthwhile as I do?
---
● For more CSA posts on Ann's Entitled Life, click here.
● Mind Your Peas and Cukes pinterest board: All things CSA, Produce, Farmstead Fresh – community supported agriculture, farmstand fresh produce, organic produce, more from all over the United States.
● CSA posts
● Find a CSA
● Porter Farms CSA (we belonged for years)
● Root Down Farm CSA (our 2013-2015 CSA)
● NYS Fruit and Vegetable Harvest Calendar
● US Agricultural Data
---