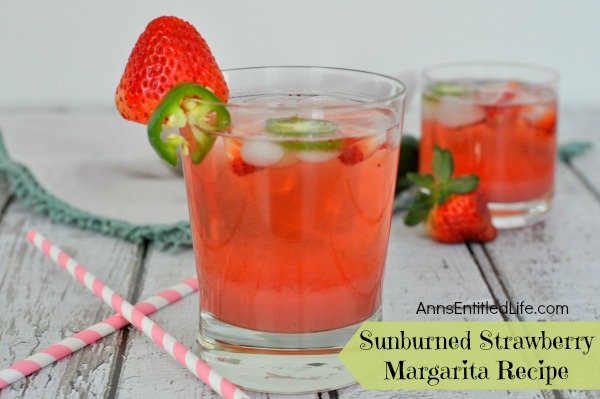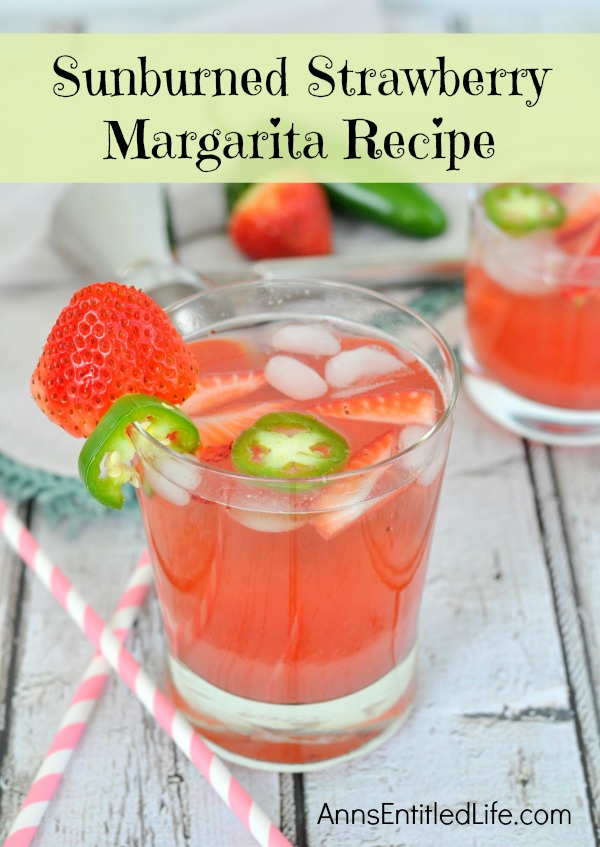 Sunburned Strawberry Margarita Recipe
By Ann
Add a little zest to a delicious, homemade strawberry margarita tonight! This sweet and spicy Sunburned Strawberry Margarita pairs wonderfully with Mexican food, party snacks, or just sipping on the deck.
Prep Time: 20 minutes
Sunburned Strawberry Margarita Ingredients:
● Ice
● 3 Jalapeño Slices
● 2 oz Tequila
● 1 oz Strawberry Puree
● 1 oz Lime Juice
● ½ oz Strawberry Syrup
Strawberry Syrup Ingredients:
● 4 cups Strawberries, hulled and halves
● ½ cup Sugar
● ½ cup Water
Directions:

● To make the strawberry syrup:
● Heat strawberries, water and sugar over medium heat. Stirring frequently, heat until just boiling.
● Remove from heat, cover and let cool to room temperature.
● Strain for strawberry syrup.
● The remaining strawberry pulp gets pureed to create the strawberry puree.
● To make the Sunburned Strawberry Margarita:
● Place 2 jalapeño slices in a cocktail glass and muddle to release flavor.
● Add tequila, strawberry puree, lime juice and strawberry syrup to a cocktail shaker, and fill with ice.
● Shake and strain into glass.
● Top with sliced strawberries and sliced jalapeño .
● Serve Immediately
Makes 1 Sunburned Strawberry Margarita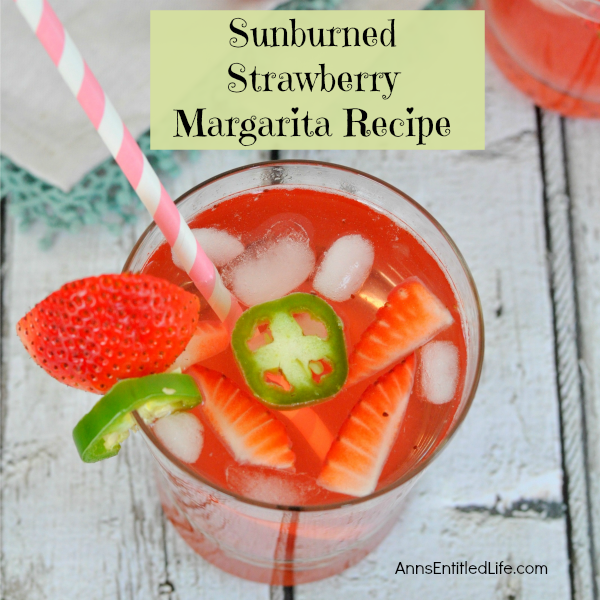 ● To print the Sunburned Strawberry Margarita Recipe click here.
Isn't this a pretty drink?
Since you will have quite a bit of puree and strawberry syrup, you can easily make this into a pitcher drink to use at a party. Keep the strawberry puree and syrup stored in your refrigerator. Or, you could make strawberry iced tea!
As always, drink responsibly and please don't drink and drive.
---
● Ultimate Guide to Non-Alcoholic Bar Basics
● For more liquor and wine cocktail recipes, tips and reviews, click here.
● Be sure to follow my Cocktails board on Pinterest!
---