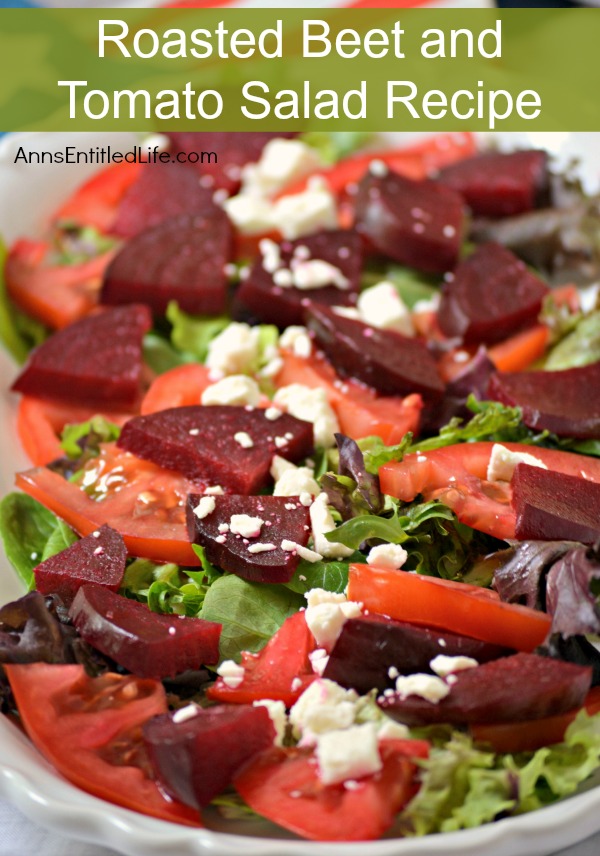 Roasted Beet and Tomato Salad Recipe
By Ann
A beautiful, delicious, unique salad recipe that makes great use of fresh produce! Roasted beets, tomatoes, olive oil, vinegar and salad greens combine for a truly tasty side salad dish.
Prep Time: 10 minutes
Cook time: 50 Minutes
Ingredients:
● 4 Beets, roasted
● 2 TBSP Olive Oil
● 2 large Beefsteak Tomatoes
● 2 TBSP Red Wine Vinegar
● Dash Pepper
● Dash Salt
● 2 cups Salad Greens
● 2 TBSP Feta Cheese Crumbles
Directions:

● Preheat oven to 400°.
● Cut off the beet-greens as close to the base of the beets as possible.
● Wash the beets thoroughly.
● Place the beets on a square of aluminum foil and drizzle with olive oil.
● Wrap the beets loosely in the foil, and place them on a baking sheet.
● Roast for 50 minutes or until a skewer slides easily to the middle.
● Allow the beets to cool enough to handle, then peel away the skins. They should peel away easily using your fingers and a pinch.
● Slice the roasted beets and beefsteak tomatoes.
● Season with salt, pepper and vinegar (mixed in a bowl or just topped).
● Place salad greens on top of a platter, then place sliced, seasoned, roasted beets and tomatoes on top of the greens.
● Top with feta cheese crumbles.
● Beets can be served warm or cold.
● Makes 4 servings Roasted Beet and Tomato Salad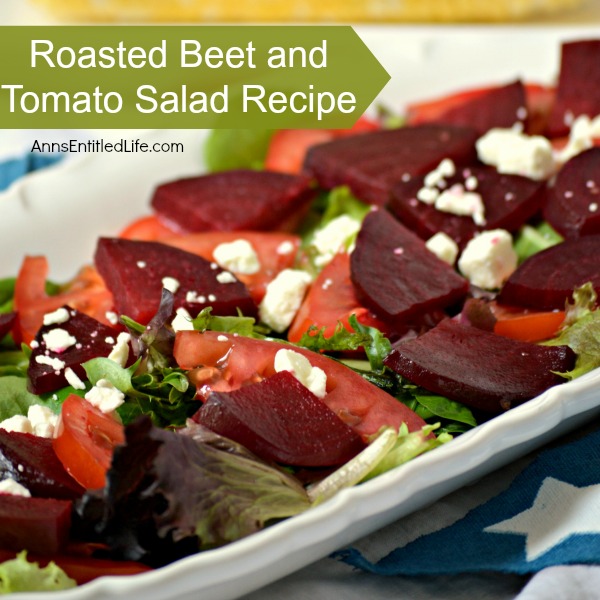 ● To print the Roasted Beet and Tomato Salad Recipe, click here.
This is a very pretty, very tasty salad. It is just different enough to be unique, but not so different that family and guests will give you an odd look when you serve it (oh don't give me that! you know exactly what I mean!).
---
● For more Recipes on Ann's Entitled Life, click here.
● If you enjoyed this post, be sure to sign up for the Ann's Entitled Life weekly newsletter, and never miss another article!
---