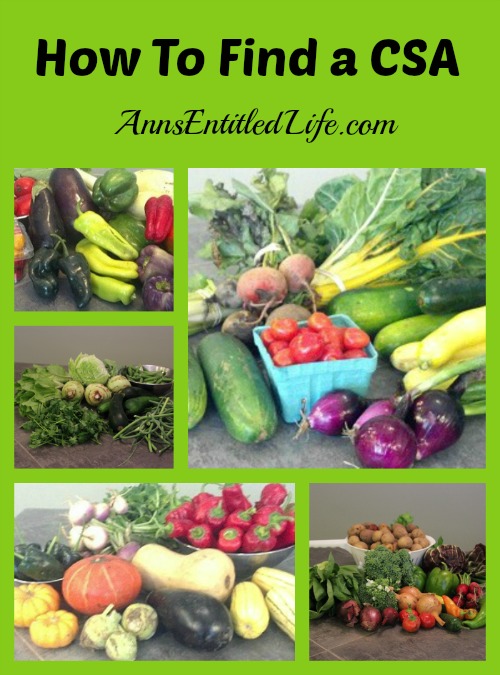 If you haven't already done so, now is a great time to locate, and sign up for, a CSA (community supported agriculture) share for 2014. Hubby and I love participating in our local CSA. Over the years we have belonged to several.
To find a CSA, we started here: How to find a CSA
There are all flavors of CSA (which stands for community supported agriculture) including organic, all natural (the organic label is a process many farms either cannot afford, or are have producing trees that are too old to ever qualify for the organic label), produce, honey, eggs, beef, chicken – basically the sky is the limit! There seems to be a CSA for everything these days!
Once again I am going to chronicle my CSA bags/boxes this year on Ann's Entitled Life. For the 2014 CSA season we decided to return to Root Down Farms a non-organic CSA (tough to get), although it is a non pesticide, all natural farm. The cost is substantially more for Root Down Farms than for our old CSA Porter Farms, $545 for 22 weeks for a full share from Rootdown Farms (many CSAs offer full and half shares to fit your family's needs), but we like the day of the week for the Root Down Farms pick-up – a Thursday. Hubby does a lot of cooking on the weekend, and a Thursday pick-up means he can menu plan the weekend on Friday and use what we pick-up from the CSA. This worked out very well last year, and we had little waste and didn't give away that much.
While the cost is substantially more than our old CSA, Porter Farms CSA (probably the best value of any CSA in America! Seriously. If you live in Western New York and want to try a CSA, you can't go wrong starting with Porter Farms CSA) we went for a full share again this year. In addition to the $545 for 22 weeks of vegetable, flowers and some melons, we bought in on a fruit share too:
● Fruit Share costs $180, 18 weeks:
The local fruit included in the fruit share starts with cherries, apricots, plums, peaches, nectarines, blueberries, and moves into pears, raspberries and of course apples! This begins in July.
As many of you know, Hubby and I drive around Western New York several weekends a month from June – October for farmstand produce. While we have the CSA for vegetables, we always have to buy fruit. I am a firm believer in buying direct when possible, and it is difficult to get more direct than the farmer's stall!! By purchase the 18 week share of fruit, we should be able to cut those drives down to once a month or less. While we enjoy the drives immensely, we don't always have time for them. In any event, we shall see how this works out!
Our current CSA is a pick-up at the farm. Our old CSA was pick-up at various small distribution sites. We would have to drive to the farm once a season, and bring back the produce for everyone else's share that week. And, other CSAs have house-drop-off where they deliver right to your door! Make sure you know the details of delivery, including time and day constraints, before you sign up for a CSA.
If you aren't sure if a CSA is for you, check out this post: The Dirty Dozen – What Organic Fruits & Vegetables You Should & Shouldn't Buy and then locate your local CSA for options. A CSA may be just the ticket for your family!
Do you belong to a CSA? If so, what type? How much? Do you find it as worthwhile as I do?
● Find a CSA
● NYS Fruit and Vegetable Harvest Calendar
● US Agricultural Data
---