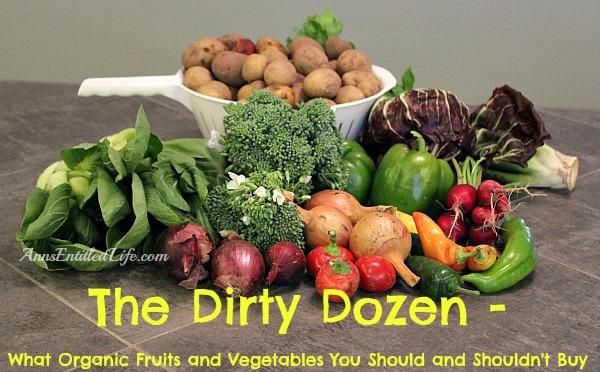 Do you buy organic fruits and vegetables? Some fruits and vegetables are more "worth" buying than others. Environmental Working Group put out a list many years ago, of the fruits and vegetables that are well worth the extra cost of buying organic: You can lower your pesticide intake by avoiding the 12 most contaminated fruits and vegetables and choosing the least contaminated produce.
The Dirty Dozen
● Apples
● Celery
● Cherry Tomatoes
● Cucumbers
● Grapes
● Hot Peppers
● Nectarines – imported
● Peaches
● Potatoes
● Spinach
● Strawberries
● Sweet Bell Peppers
They are a Plus category which highlights two more produce: domestically-grown summer squash and leafy greens, specifically kale and collards. These crops did not meet traditional Dirty Dozen™ criteria but were commonly contaminated with pesticides exceptionally toxic to the nervous system.
Conversely, there are products they declare really aren't worth the money to buy organic.
Clean 15
● Asparagus
● Avocados
● Cabbage
● Cantaloupe
● Eggplant
● Grapefruit
● Kiwi
● Mangoes
● Mushrooms
● Onions
● Papayas
● Pineapples
● Sweet Corn
● Sweet Peas – frozen
● Sweet Potatoes
As many of you know, Hubby and I have belonged to a CSA for years. Our current CSA (Community Supported Agriculture) isn't organic, it is all natural although they follow organic protocol. As it was explained to me years ago by the lady we buy our pig from, getting certified organic isn't a cheap or fast process. That means many smaller farms can't do it, and according to our CSA owner, some older farms will never be able to become certified (she was speaking specifically about a local farm that has been in continuous business since the 1800s… never gonna happen, she said).
This year our CSA added fruit to our options, so it looks like everything on the Dirty Dozen list will be available to us via our CSA. And it looks like some of the Clean 15 will also be on our list – I wonder how corn makes that list? Ever see unsprayed corn? Ewwwww
Will you be joining a CSA this year? If so, what do they offer? Do you generally buy organic? Or is it pick and choose?
---
● Past CSA Shares
● Find a CSA
● NYS Fruit and Vegetable Harvest Calendar
● US Agricultural Data
---