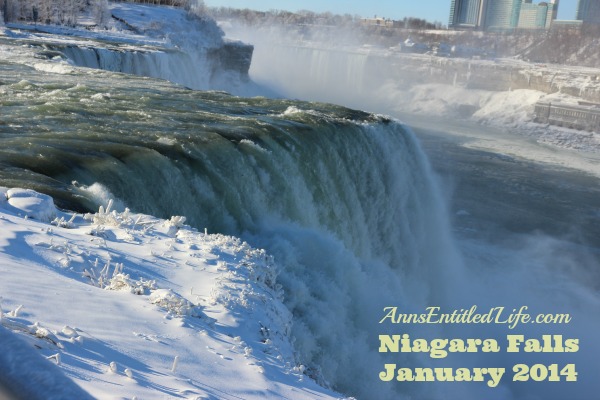 I wanted to finish my four seasons picture series of Niagara Falls before we departed south. That meant late December, early January as we would be long gone before February arrived. Due to personal concerns, and then weather issues, Hubby and I didn't make it up to the Falls until January 4th. It was a gorgeous, but cold day. The temperature was hovering around 20°, and right near the Falls it was much, much colder than that.
The water sprays off the Falls all year long. You don't really notice it though, except in the winter. Not only does it make a less than 20° day feel even colder, the spray freezes on the tree limbs, and even over the viewfinders!! Fortunately there was a little bit of snow on the ground (which the grounds crew had beautifully manicured so enough snow, but not too much, was removed), so no worries about a slick sidewalk.
I put the photographs in another slider. The larger pictures of the slides are below. If you look at those large slides, you can see chunks of ice flowing over the Falls, some ice forming on the spill-over itself, as well as the ice formations on the Canadian side, and at the base of the Falls. One of the coolest pictures in my opinion, is that of the frozen viewfinders!!
You will also notice that the platform overlooking the Falls doesn't have one person on it! I doubt I will ever see that again in my life. Just as we were departing, several tourist buses had deposited a few tour groups. Whew, perfect timing!
All my photographs are taken on the American side, and my main focus is the American Falls.
Click the arrows on the slider (to the right) to see all the photographs in a slideshow:
[slider id='5118′ name='Niagara Falls Winter 2014′]
● Niagara Falls Winter 2014: The Park Grounds
● Niagara Falls Winter 2014: The Park Grounds
● Niagara Falls Winter 2014: The Park Grounds
● Niagara Falls Winter 2014: The Park Grounds
● Niagara Falls Winter 2014: The Overlook
● Niagara Falls Winter 2014: The Overlook
● Niagara Falls Winter 2014: Frozen Viewfinders
● Niagara Falls Winter 2014: Single Frozen Viewfinder
● Niagara Falls Winter 2014: The Niagara River
● Niagara Falls Winter 2014: The Niagara River
● Niagara Falls Winter 2014: The Niagara River
● Niagara Falls Winter 2014: The Niagara Bank lined with Frozen Trees
● Niagara Falls Winter 2014: The Base of the Falls
● Niagara Falls Winter 2014: The Base of the Falls
● Niagara Falls Winter 2014
● Niagara Falls Winter 2014
● Niagara Falls Winter 2014
● Niagara Falls Winter 2014
● Niagara Falls Winter 2014
● Niagara Falls Winter 2014 – a look at the Canadian Falls from the top of the American Falls (as they flow over)
● Niagara Falls Winter 2014 – the Canadian Falls
● Niagara Falls Winter 2014 – if you look at no other picture, click this one.
● Niagara Falls Winter 2014
● Niagara Falls Winter 2014
● Niagara Falls Winter 2014 – up close
● Niagara Falls Winter 2014
● Niagara Falls Winter 2014: The American Falls – up close
---
● Niagara Falls Spring, 2013
● Niagara Falls Summer 2013
● Niagara Falls Autumn 2013
● Things to do in Niagara Falls
---