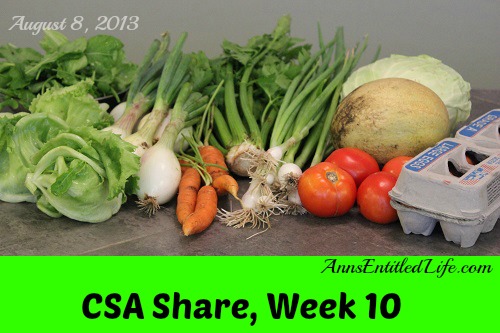 This is the diary of our CSA share this year. The cost of a full share is $545 for 22 weeks (this CSA offers a winter share) which will bring us to the last week in October, and works out to $24.75 per week. Western New York weather is such that June is the lightest CSA month. September and October will be more than abundant! Usually, I feel I don't get my money's worth the first few weeks (which will be predominantly lettuces), but the fall bags more than makeup for that.
This was a good CSA week for us! I choose what Hubby and I would eat, and got my money's worth out of this week's share without tromping in the fields and picking. I thunderstorm-ed last night, so I had no desire to hit the fields and pick stuff we didn't have time to eat or freeze. Maybe next week I'll have the time and inclination?
This week we took:
● Arugula
● Cabbage
● Cantaloupe
● Carrots
● Celery
● Lettuce Hearts
● Onions
● Scallions
● Tomatoes
Also available that we didn't take:
● Beets
● Chard
● Collards
● Kale
● Salad Greens
● Squash
● Zucchini
I also bought free range, organic-feed, brown eggs for $5 again. I have a dozen eggs in my refrigerator, but I will be doing a good deal of baking the next two weeks, and needed more. And I think they are a good deal for the price.
Do you belong to a CSA? If so, what type? How much? Do you find it as worthwhile as I do?
● Past CSA Shares
● Find a CSA
● NYS Fruit and Vegetable Harvest Calendar
● US Agricultural Data