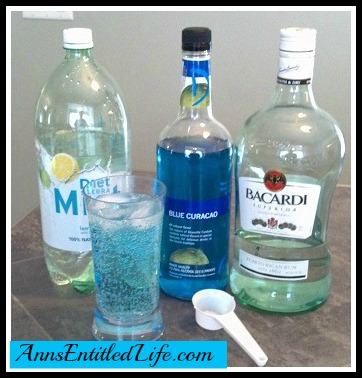 After making the Blue Dolphin Alcoholic Beverage, I was left with a mostly full bottle of Blue Curacao liqueur. I decided to give rum (my favorite liquor) and the Blue Curacao a try together.
Ann's Blue Alcoholic Beverage
● 1 ounce Blue Curacao liqueur
● 1 ounce Rum
● 12 oz Diet Sprite
● Ice
● Combine Blue Curacao, Rum and Diet Sprite in tall glass, add ice.
Hubby pronounced this drink: "most refreshing".
It certainly was fast and easy. And yes, I will definitely be making this again!
---
Note: this post originally appeared on Coupons, Deals and More in May, 2012.
As always, drink responsibly and please don't drink and drive.
For more liquor and wine tips and reviews, click here.
---