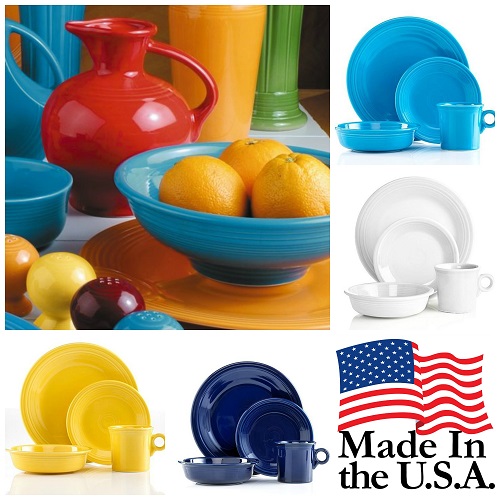 I had been searching for dishes for our Florida condo the last few weeks. I had finally decided I wanted to go with Fiesta Dinnerware, and found a fabulous deal at Macy's (that runs through the 18th). When all was said and done, I ended up with service for 8 (2 peacock, 2 cobalt, 2 white and 2 turquoise) as well as 2 serving bowls for just under $200. I was thrilled!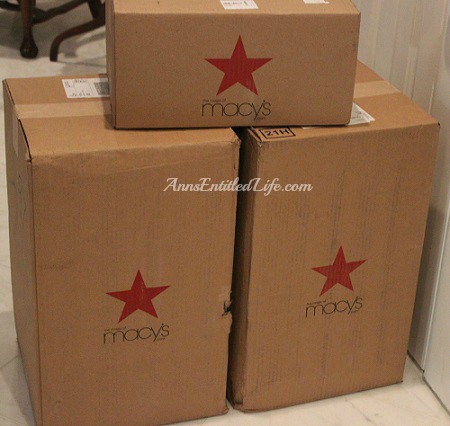 Our new dishes arrived yesterday!
Hubby and I took a year to find our current household kitchen dishes that we use at our New York house. They are grey and made by Mikasa. About a week after we bought them, they were discontinued (seriously). I have no idea what we will do if we break something and replacements.com is out of stock. Another set of mutually agreed upon dishware may be more than our marriage can handle!
The darker, muted colors work very well up north, but down in Florida I want color! And you don't get much more colorful than Fiesta Dinnerware! A bonus is they are made in the USA. And, because I mix and matched, if we break something and that color is no longer being produced, wellllll we just buy another color!
Hubby wanted all one color for the dishes and I quickly nixed that idea. To me, the fun of Fiesta-ware is in mixing and matching different colors. To make him happy, I was going to get a set of 4 white Fiesta-ware and then the colors I wanted, but he decided he wasn't going to be an additional $90 unhappy (for 4 sets). I told him I didn't want to hear any complaints from him about the color selection, and bought two sets of white for his personal use. I did ask him what colors he wanted, and he said blue, so that is what I went with. Once we finish our wall color selection (and I am considering blues or yellows but want to bring down trial pots to test on the walls), then I can add another set or two of Fiesta Dinnerware to bring in pops of color!
That's one item down for Florida housewares, 457,316 to go!
What Type Of Dishware Do You Own?
Disclosure: the links in this post may be affiliate links