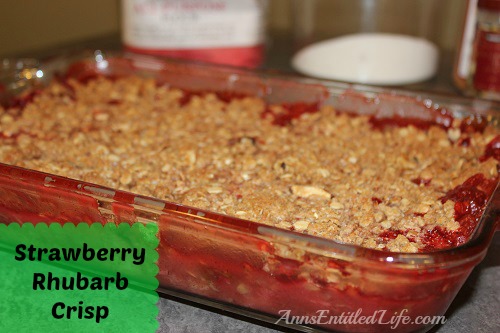 Strawberry Rhubarb Crisp Recipe
By Ann
A sweet-tart Strawberry Rhubarb Crisp Recipe that is not only fast and easy to make, but delicious as well.
Prep Time:15 minutes
Cook time:35 minutes
Ingredients:
• 3 cups fresh Rhubarb, diced
• 4 cups fresh Strawberries, sliced
• 1 cup Sugar
• 1 1/4 tsp Cinnamon, divided
• 1 cup plus 1 TBSP Brown Sugar, divided
• 1 cup Muesli
• 1/2 tsp Pumpkin Pie Spice
• 1 stick melted Butter
Directions:

• Preheat oven to 350°
• In a large bowl, combine Rhubarb, Strawberries, Sugar, 1/3 cup Flour and 1 tsp Cinnamon
• Place mixture into a lightly greased 13″x9″ pan
• Sprinkle mixture with 1 TBSP Brown Sugar
• In a medium sized bowl, combine 1 cup Flour, 1 cup Brown Sugar, 1/4 tsp Cinnamon, Muesli and Pumpkin Pie Spice
• Add melted Butter, and blend well
• Sprinkle over the top of the Strawberry Rhubarb mixture in the 13″x9″ pan
• Bake at 350°for 34-40 minutes

Makes 1 Strawberry Rhubarb Crisp, 12 servings
• If you like Strawberry Rhubarb Crisp, here is a different Strawberry Rhubarb Crisp Recipe you might enjoy.
---
• Disclosure the links in this post may be affiliate links.
• For more Recipes on Ann's Entitled Life, click here.
• If you enjoyed this post, be sure to sign up for the Ann's Entitled Life weekly newsletter, and never miss another article!
---
---
FOLLOW US ON: