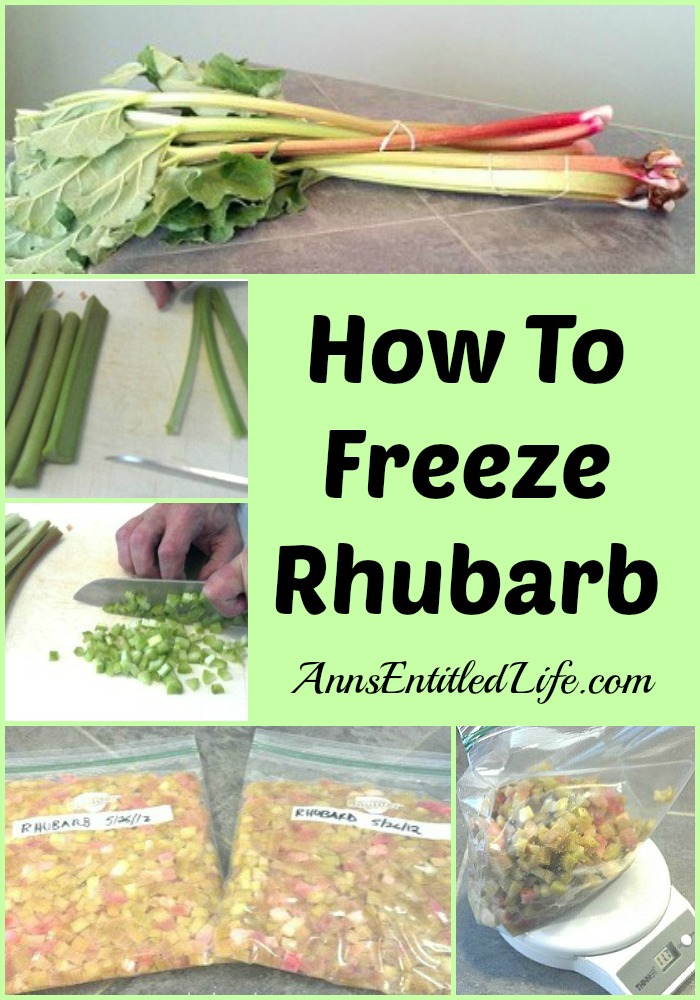 How To Freeze Rhubarb. Easy step by step directions on how to freeze rhubarb. A great way to enjoy the sweet tart taste of rhubarb in recipes year-round.
Hubby and I went out for a ride a few weeks ago, and he bought some rhubarb. While we made a fabulous dessert with a portion of the rhubarb, we had quite a bit leftover which we decided to freeze.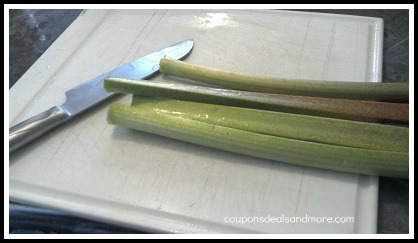 ● Wash the rhubarb and remove the leaves.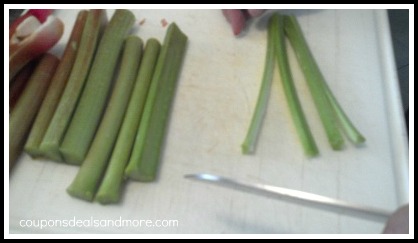 ● Dicing is the best choice – slit the rhubarb in half lengthwise, then slit each of the halves in half again. You are quartering, lengthwise.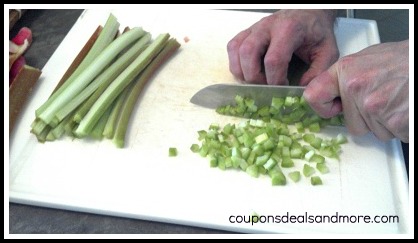 ● Dice the rhubarb.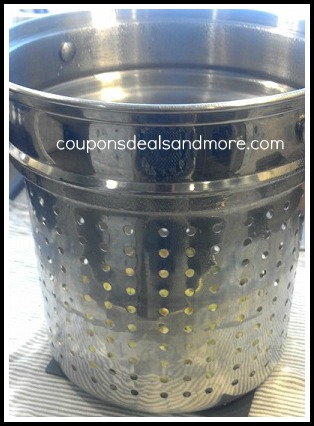 ● Bring several quarts of water to a rolling boil on the stove. I use a colander insert pot
for ease of blanching, and draining.
● Bring water to a boil.
● Immerse a colander of rhubarb for 90 seconds to blanch.
● Remove blanched rhubarb, and allow to drain for at least 30 minutes before attempting to freeze. You want to be certain it isn't very wet.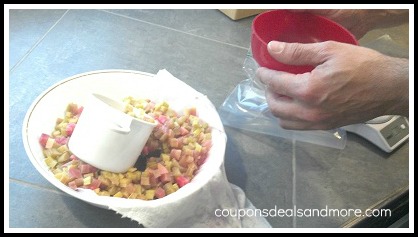 ● Hubby evenly divided the leftover rhubarb and bagged it.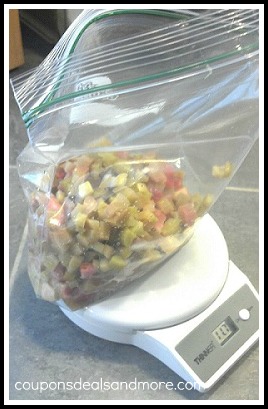 ● Yes, he is serious about evenly dividing.
● We had approximately six cups leftover which is perfect for two recipes be it a pie or crisp.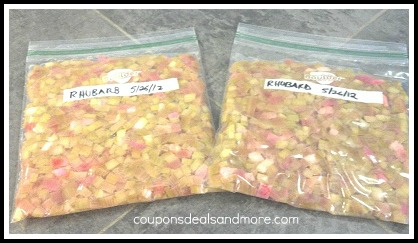 ● Hubby put the rhubarb in a ziploc bag, the unzipped ziploc into a foodsaver bag. He then used his foodsaver on canister mode. At this point he sucked all the air out of the foodsaver bag which also squished all the air out of the ziploc bag. He quickly zipped closed the ziploc bag, and removed it from the foodsaver bag.
● The foodsaver bag never sealed because he never used the heating element, and he was able to suck all the air out of the ziploc bag!
● The bags are now labeled and ready for freezing. These will easily keep for 4-6 months
Need rhubarb recipes? Try one of these fabulous rhubarb desserts:
● Strawberry Rhubarb Galette Recipe – Using fresh (or frozen) fruit, this pretty galette dessert is easy to make, but impressive to serve – not to mention super tasty! Make it for a treat tonight!
● Strawberry Rhubarb Crisp Recipe – This updated, old time strawberry rhubarb crisp is simply delicious. The great sweet-tart taste of strawberries and rhubarb combined with a buttery good granola crumble topping makes for a dessert your entire family will enjoy!
● Strawberry Rhubarb Crisp Recipe – (different crisp recipe – strawberry rhubarb is Hubby's favorite so I make it a lot.) A sweet-tart Strawberry Rhubarb Crisp Recipe that is not only fast and easy to make, but delicious as well.
● Strawberry Rhubarb Hand Pies Recipe – Homemade pie, but no utensils required to eat. These delicious, sweet and tart, easy to make Strawberry Rhubarb Hand Pies are great for dessert, lunch boxes, snacks and portion control.
---
● Disclosure the links in this post may be affiliate links.
● For more Recipes on Ann's Entitled Life, click here.
● If you enjoyed this post, be sure to sign up for the Ann's Entitled Life weekly newsletter, and never miss another article!
---