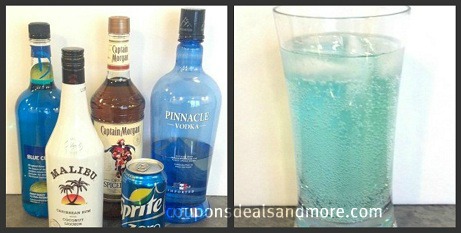 While vacationing in Florida a few years ago, we went to a sport's bar where I ordered a drink called the blue dolphin. Deciding I liked it, and it was in the upper 70s last weekend and a perfect time for a fun drink, I googled for a recipe. Well, there were a lot of different versions, some with ingredients I knew I did not like, so I took the basic recipe and created my own version!
This was very nice. I prefer diet pop to fully leaded, whereas you may not. Also, I really like coconut rum, so I went heavy on that.
Blue Dolphin Drink Recipe
1 oz Malibu Coconut Rum
1 oz Captain Morgan Spiced Rum
1 oz Blue Curacao liqueur
1/2 oz Vodka
12 oz Sprite Zero
Dash of lime juice
Mix in a cocktail shaker, and pour over ice. Makes two drinks!
As always, drink responsibly and please don't drink and drive.
Note: this post originally appeared on Coupons, Deals and More
For more liquor and wine tips and reviews, click here.