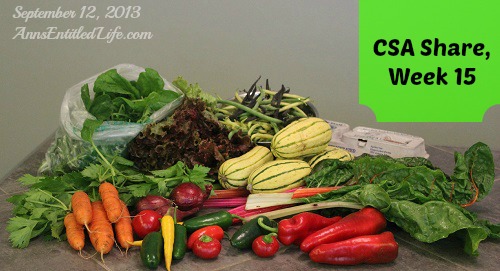 This is the diary of our CSA share this year. The cost of a full share is $545 for 22 weeks (this CSA offers a winter share) which will bring us to the last week in October, and works out to $24.75 per week. Western New York weather is such that June is the lightest CSA month. September and October will be more than abundant! Usually, I feel I don't get my money's worth the first few weeks (which will be predominantly lettuces), but the fall bags more than makeup for that.
---
Hubby and I went to the CSA together, which meant he was the one doing the choosing. We took Max, so he ran him around the green space while I went into the fields and picked purple, yellow, and green beans! Hubby also picked a number of small delicata squash (our favorite squash!) which will be the single serving size for us. Inside the bag is salad greens. There are 4-7 different types of salad greens each week, and we can pick and choose what we like. Hubby says that even if we don't eat them, they add a very nice flavor to his No Sodium Vegetable Stock.
I wasn't sure if we were out of eggs or not, so I decided to be safe rather than sorry and picked up another dozen of the free-range, brown, organic feed eggs for $5.
This week we took:
● Beans, purple, yellow and green
● Carrots
● Celery
● Chard
● Delicata squash
● Lettuce
● Onions
● Peppers, sweet and hot
● Salad greens
Available that we did not take:
● Beets
● Collards
● Eggplant
● Fennel
● Kale
● Kohlrabi
● Okra
● Radishes
● Zucchini and yellow squash
Do you belong to a CSA? If so, what type? How much? Do you find it as worthwhile as I do?
---
● Past CSA Shares
● Find a CSA
● NYS Fruit and Vegetable Harvest Calendar
● US Agricultural Data