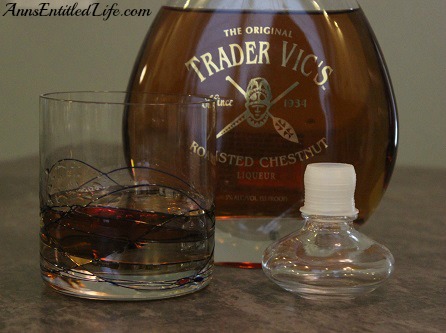 Today I would like to discuss: Trader Vics Roasted Chestnut Liqueur.
The first thing you need to know about Trader Vics Roasted Chestnut Liqueur is that it is 26.5% alcohol by volume, and you can taste that. It is a warm liquor probably best suited from September on into the winter. I drink it neat, no ice.
Hubby and I first purchased the Trader Vic's Roasted Chestnut on sale, with a rebate. Our final cost for the first bottle was under $5. Needless to say, they grabbed me with that low-low price, and converted me into a Trader Vics Roasted Chestnut Liqueur lover. Well played Trader Vic's marketing department, well played.
The Trader Vics Roasted Chestnut Liqueur smells good. One whiff and I was intrigued. The scent is nutty, which I guess is to be expected of a chestnut liqueur. Poured, it is an amber color. The taste is at once fiery and smooth. I think the alcohol content is a just a wee bit higher than I am used, hence the fiery; however, because it is smooth, instead of a coughing spasm are left wanting another sip. And another. And another. There is no negative after taste, just a smooth, bold, nutty flavor on the tongue. This is truly a delightful liqueur.
While thought of as an after dinner drink, the Trader Vics Roasted Chestnut Liqueur really is an anytime liqueur.
Priced at $20, Trader Vics Roasted Chestnut Liqueur is well worth the expense. If you can find it on sale, and especially with a rebate to lower the cost further, I highly recommend trying a bottle. But beware, you may end up hooked as I have am.
For those interested in more Trader Vic products, click here. They offer everything from a 151 proof rum (yowzer!) to ready-to-drink cocktails to various other liqueur flavors.
Have you ever tried Trader Vics Roasted Chestnut Liqueur? Did you enjoy it?
As always, drink responsibly and please don't drink and drive.
For more liquor and wine tips and reviews, click here.
If you would like to know where you can purchase the beautiful crystal glass I used in this picture, click here.