Let me introduce you to Distinguished Imports. Among the many imports, they sell is a wide variety of hand blown glassware. Last week when they contacted me to see if I would perhaps like a pair of wine or beverage glasses to use during my wine and liquor reviews and recipes, and I decided to check out the goods.
I knew after a few clicks I was going to make a purchase. These beautiful hand blown crystal wine and cocktail glasses are stunning, truly stunning. I chose to order from the Milano Collection. I ordered 4 white wine glasses, 4 cocktail glasses, and 2 red wine glasses. I used a 10% off code: HAPPYSUMMER that I found on their Facebook page and they offer free shipping on all orders. They also have a sale on the Milano Collection at this time. Distinguished Imports was kind enough to send me 2 red wine glasses, complimentary.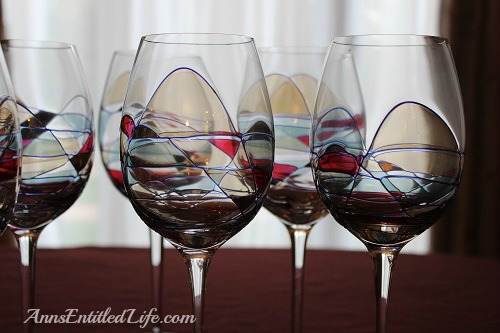 These are some of the beautiful hand-blown Milano crystal wine glasses I received.
I took a glass outside to give you a better idea of how truly spectacular these crystal wine glasses are!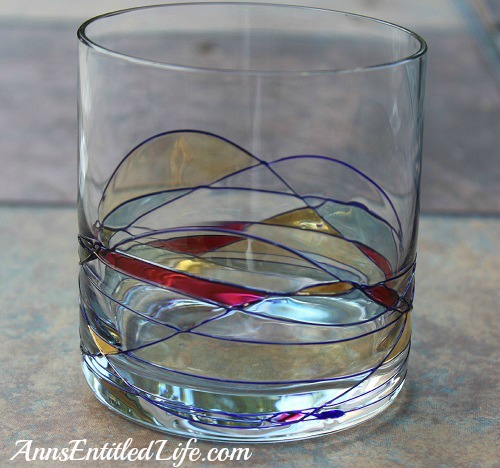 And these are the cocktail glasses. Simply stunning.
A little bit about the Milano Collection:
Introducing The Milano Collection; a line of elegant glassware for your home. Our latest discovery is this beautiful stained-glass crystal from Romania. We fell in love with this hand-blown glassware the moment we saw it!
Each piece from The Milano Collection features a cobalt blue swirl stained glass pattern with bold colors of red, blue, yellow, and 24K gold accents.
Once you see the fine artistry and the dazzling 24 karat gold highlights we think you'll agree that each piece of glassware is a work of art!
Now while I will be using these beautiful glasses for my liquor and wine reviews, one of the reasons I ordered for myself was because each glass is a work of art. While following the same basic design, each piece is subtly different. I have a cabinet where I keep wine and drink glasses for easy use. This cabinet is open, and very prominent in our family room. I wanted these not just because they are useful, but specifically because they are beautiful. Pictures do not do them justice.
If you are looking to upgrade your wine or cocktail glasses, looking for a shower or wedding gift, or simply would like a piece of art for your decor, I recommend you take a look at what Distinguished Imports has to offer. You will be very glad you did.
Ann's Entitled Life's Disclosure Additional information specific to this post: Distinguished Imports sent me two wine glasses. All other items mentioned in this article were purchased by me. All opinions in this article are my own.