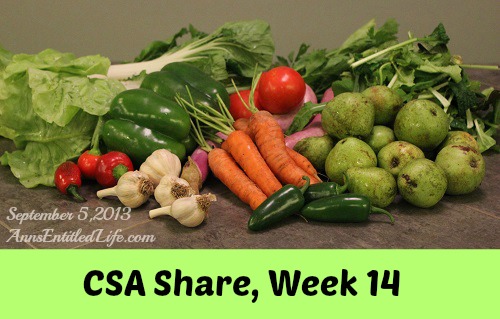 This is the diary of our CSA share this year. The cost of a full share is $545 for 22 weeks (this CSA offers a winter share) which will bring us to the last week in October, and works out to $24.75 per week. Western New York weather is such that June is the lightest CSA month. September and October will be more than abundant! Usually, I feel I don't get my money's worth the first few weeks (which will be predominantly lettuces), but the fall bags more than makeup for that.
---
Yesterday we had quite the day. Hubby bought a new truck (more about that process next week), and we drove to Ohio to get it. While we left early (before 9am), and I made good time driving down to Ohio, Hubby took longer on the way home. There was an accident on the thruway and we had to drive a round-about way to get to the CSA. We made it with 15 minutes left in pick-up time (2-6:30). I have no idea what we missed choosing this week, I just know what Hubby took.
This week we took:
● Bok Choy
● Carrots
● Eggplant
● Garlic
● Lettuce
● Pears (Yum, more pear crisp!)
● Peppers, sweet and hot
● Salad Greens
● Tomatoes
Do you belong to a CSA? If so, what type? How much? Do you find it as worthwhile as I do?
---
● Past CSA Shares
● Find a CSA
● NYS Fruit and Vegetable Harvest Calendar
● US Agricultural Data