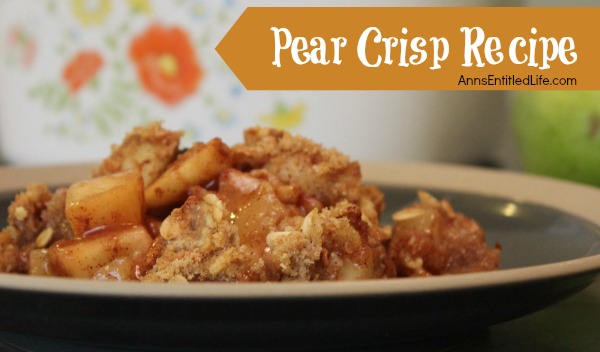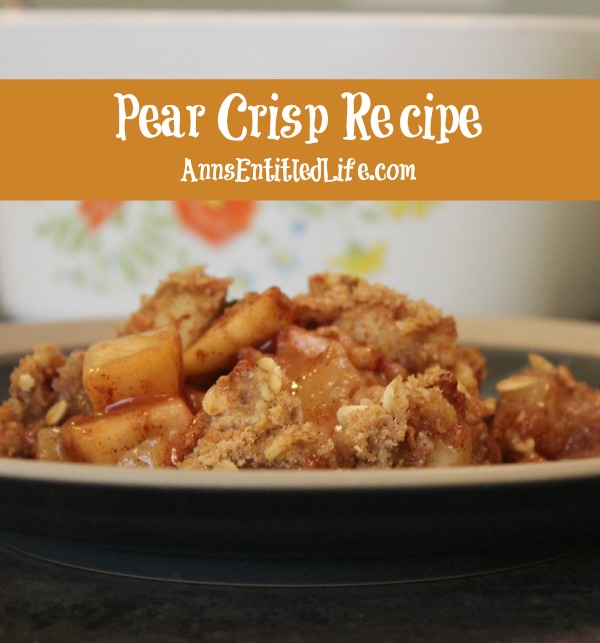 Pear Crisp Recipe
By Ann
Pear Crisp Recipe: Easy, delicious and smells heavenly! This sweet taste of fall is a perfect recipe for those freshly harvested pears.
Prep Time:25 minutes
Cook time:40 minutes
Ingredients:
• 6 cups fresh Pears, cored, peeled and diced
• 2 TBSP Lemon Juice
• 1/2 cup Sugar
• 1 TBSP Cornstarch
• 1 1/2 tsp Cinnamon, divided
• 1/2 cup Flour
• 1/2 cup Brown Sugar
• 4 TBSP cold Butter, diced
• 1/2 cup Muesli or Granola
• 1/2 cup Walnuts, chopped
Directions:

• Preheat oven to 375°.
• Combine pears and lemon juice in a 2-quart baking dish; toss the pears to coat with the lemon juice.
• Combine sugar, cornstarch and 1 teaspoon cinnamon in a separate bowl.
• Pour sugar mixture over pears in baking dish, toss with fork to coat.
• Combine flour, 1/2 teaspoon cinnamon and brown sugar in a separate bowl.
• Add cold, diced butter to the flour mixture. Cut in butter until your mixture resembles pebbles.
• Add muesli (or granola) and walnuts to flour mixture, stir in.
• Sprinkle flour mixture evenly over pear mixture in baking dish.
• Bake at 375° for 40-50 minutes or until pears are tender and topping is golden brown.
• Cool 20 minutes on a wire rack.
• Serve warm or cold.
• Refrigerate leftovers.
Makes 8 servings of Pear Crisp
---
• Disclosure: the links in this post may be affiliate links.
• For more Recipes on Ann's Entitled Life, click here.
• If you enjoyed this post, be sure to sign up for the Ann's Entitled Life weekly newsletter, and never miss another article!
---
---
FOLLOW US ON: