Many people are surprised to discover that bay leaf doesn't come from a small herb like most other herbs and spices they use in their kitchen. Bay is a useful woodsy herb that adds flavor to savory dishes and helps to repel pests in your home. If you choose to grow bay, you will quickly discover this tree can provide more than you could ever use after it is fully established in your herb garden. Bay is easy to grow and harvest.
How to Grow Bay Leaves (bay laurel)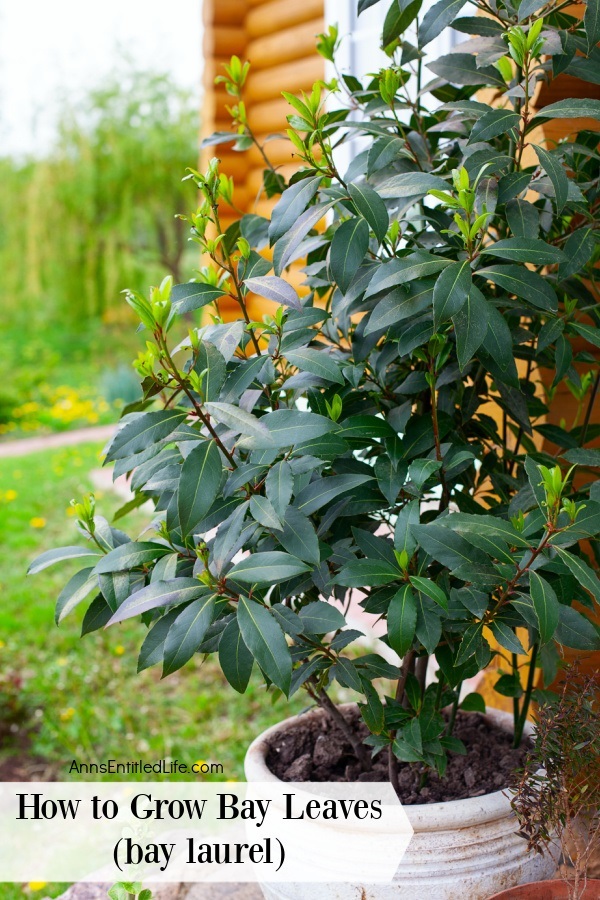 Should you plant bay laurel in a container?
Bay laurel, otherwise known as the bay leaf (Laurus Nobilis) is a full-sized bay laurel tree and can grow as such if left to its own devices. If you would like to grow bay leaf for culinary uses without having a full-size tree in your yard, you can grow bay in a pot. Growing bay in a pot will limit the tree's root base and stunt its growth allowing you to enjoy growing this fresh herb even if you do not have room for a full-size tree in your garden.
Planting bay laurel in a pot is also a great way to bring your plant indoors in the winter. This will help keep pests out as most pests like mice and roaches do not like the smell of bay leaf. Bringing your plant indoors in the winter will help protect it and stop unwanted visitors from attempting to escape the cold in their tracks.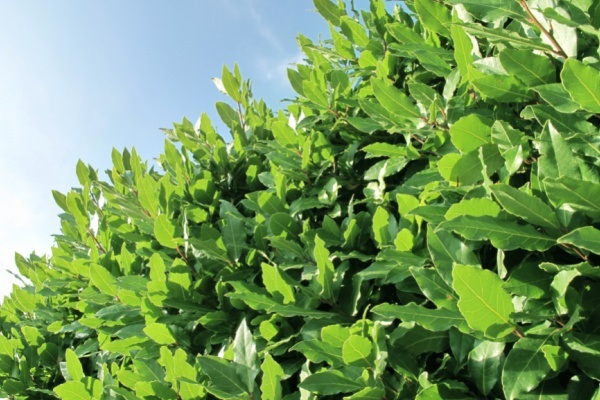 This is a great plant for warmer climates being hearty in zones 7+ and can be planted outdoors, or in a large container. If you live in the colder climates of zone 6 or lower plant the bay laurel in a large container. If you are in a colder climate growing the bay leaf plant as container plants will allow you to enjoy this perennial without having to replant year after year losing growth in the process.
Link to the USDA growing zone map for USDA hardiness zones.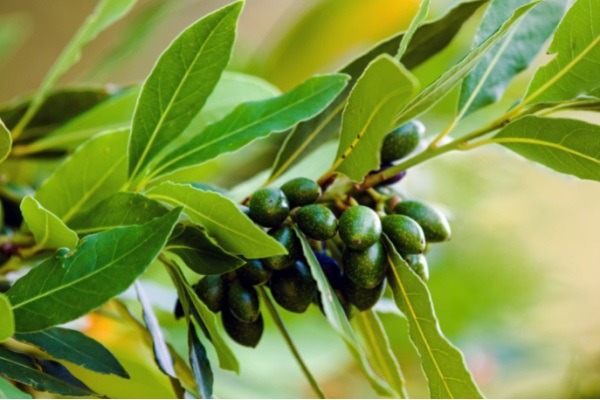 How to grow a bay leaf tree
Bay plants should be planted in well-draining soil. Choose an area with plenty of room to grow or grow as a container plant in a pot between 3 and 5 gallons, to begin with. Bear in mind that a bay laurel tree planted directly in the soil as an outdoor plant will grow into a full-size tree and should be planted in an appropriate space away from power and sewage lines as well as the foundation of your home.
Bay leaf trees love the full sun and should be planted in a sunny spot. Make sure it is also a sheltered spot from harsh wind. When indoors in the winter place the plant container in a south-facing window to allow your bay leaf tree to gather enough sunlight. If you do not get much sun in the winter consider adding a grow light to your home to help your plants thrive.
Amend soil with plenty of fresh compost before you plant to avoid nutrient deficiency. Your bay tree will need good drainage soil so amend accordingly. Adding peat moss is a great way to improve the drainage of heavy clay soils.
The best way to grow bay laurel leaves is through stem cuttings. In the late summer, take cuttings of fresh springs. Remove the bottom leaves of the stem and place them inside of a soilless medium such as peat moss. Place a plastic bag over the container to encourage growth and trap heat. Uncover to allow the plant to breathe and spray with water daily.
Another form of prorogation is air layering. To do this in the late summer cut into branches of your current bay tree and pack with sphagnum moss. Once roots have begun to form you can cut this section away and plant it in a pot to bring indoors over the winter before the first frost arrives.
Over the winter you do not need to water or feed your bay leaf tree. The following spring, add a fresh layer of compost to your garden or your bay tree pot to encourage plenty of new growth. Keep your bay tree's soil moist but not wet through the growing season between last frost and first frost each year.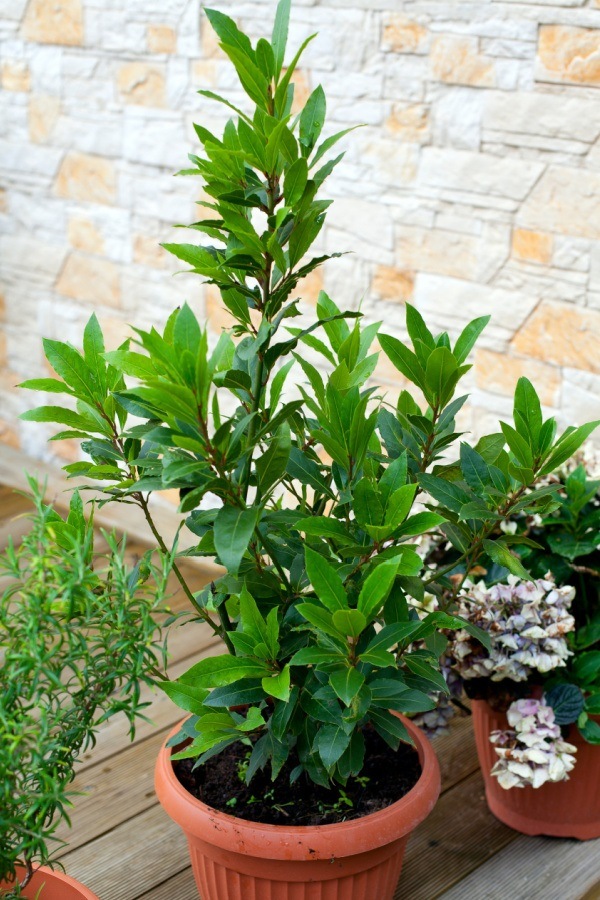 Protect your bay laurel tree
Bay leaf is a weak wood that needs to be protected from the wind. Do not stake your bay but rather pull it indoors before storms or plant young bay trees where they have some sort of wind block be it a privacy fence or other trees to help protect them from snapping.
Pull your bay in before the first frost is expected to help it survive the winter. If you live in a warmer zone and want to protect your bay leaf tree you planted in the ground from cold weather damage (unexpected cold spells) add a thick layer of mulch over the base of your bay leaf tree to protect tender young roots.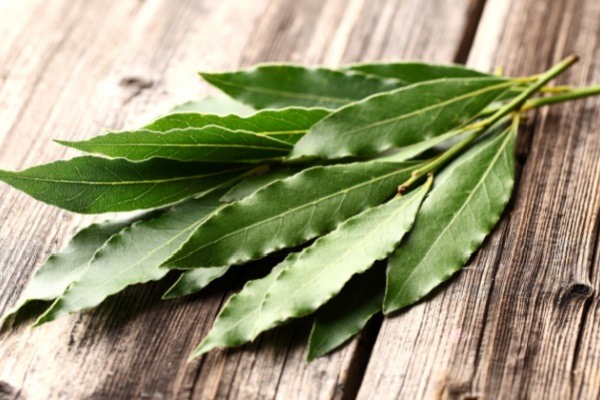 How to harvest bay leaves
You can harvest fresh bay leaves by plucking them right from the tree and cleaning them before tossing them into your dish. For a stronger flavor and for storing long term you want to dry your bay leaf. To harvest for storage remove large mature leaves and lay them out in a cool dry place to dry or place them inside your dehydrator for a few hours watching closely to not over-dry them.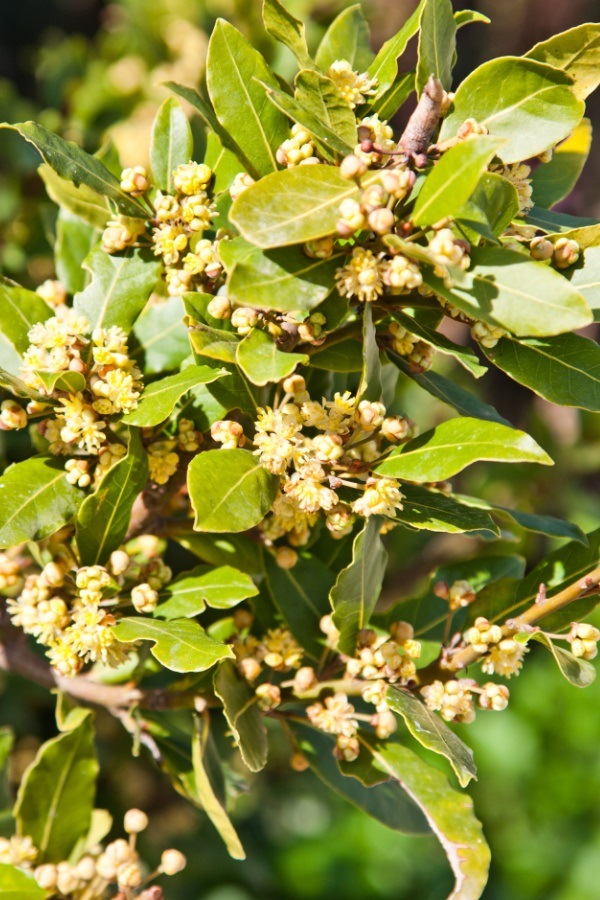 More herb posts:
● How to grow sage
● How to harvest and dry basil
● Tips for Growing an Herb Garden Year Round
---
● If you enjoyed this post, be sure to sign up for the Ann's Entitled Life weekly newsletter, and never miss another article!
● For more Garden posts on Ann's Entitled Life, click here.
---