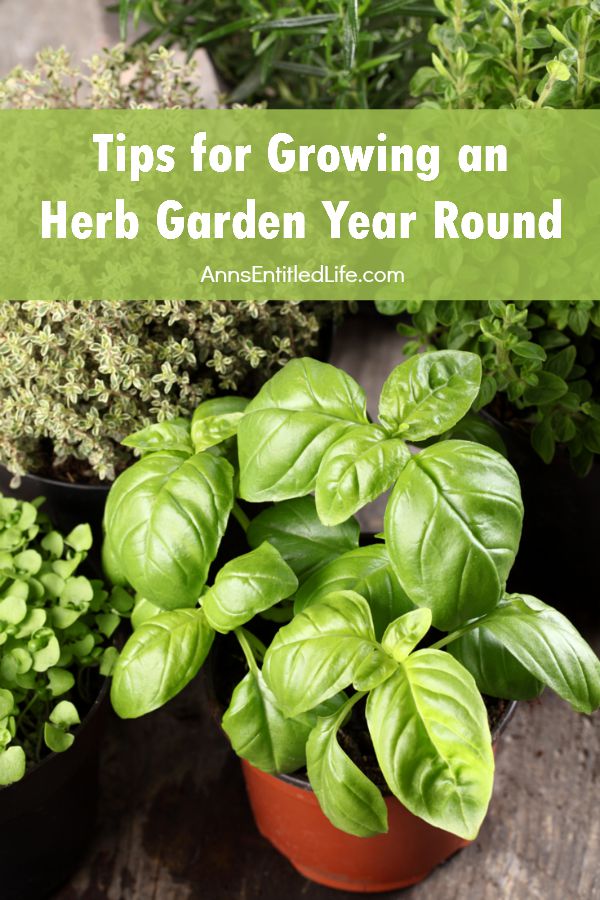 Fresh herbs lend so many flavors to your foods, and these tips for growing an herb garden year round are perfect for making that a possibility any time. Herbs are one of the easiest things we can grow at home. Not only are herbs easy to tend to, they are great for more than just seasoning food. Their fragrances are perfect for aromatherapy and in some instances perfect for getting rid of pesky bugs and critters from around your home.
Tips for Growing an Herb Garden Year Round
Invest in an indoor window box While you can grow herbs in virtually any container, a window box is convenient for many reasons: it makes use of what would otherwise be wasted space and provides your herbs with the natural sunlight they crave. Direct sunlight in a windowsill is important for the growth of your herbs. It is for ease of use and direct sunlight you so often see an window box in a kitchen window. After all, what is more convenient and fresh than a snip of a herb from two feet away to add to a recipe or use as a garnish?
Trim your herbs regularly. Herbs respond well to frequent trimming keeping them thriving and healthy. If your fresh herbs need to be harvested, dehydrating, or freezing herbs will ensure they are edible when you need them. Store dehydrated herbs in a cool dark place, or even in your freezer!
Use a hydroponic garden. These garden setups are perfect for growing herbs indoors year round. An AeroGarden
also works great! While the initial purchase can pricey, these types of gardens can yield fresh herbs for many, many years.
Invest in a heat lamp
If you live in an area where sunlight and heat through a window are tough to come by, a heat lamp
is a great substitution. You can set up in any area of your house for your herb garden and let the heat lamp
do the work the sun isn't able to do for your herbs.
Rotate indoors and outdoors. Instead of planting your herbs into your garden outside, use container gardening to make the transition from outdoor to indoor plants easy. For large flowering plants like lavender, you'll love having them outside, but indoors they may be a bit overwhelming in size and fragrance.
There may be some herbs you aren't interested in growing year round. If so, you can simply enjoy the season in which they do grow outdoors, and if they are annuals plan to replant the following year. For success in growing an herb garden year round you really need to consider lightening, a spot to grow your herbs, as well as the way you would like to grow your herbs. Barring having your own conservatory, bringing your herb garden indoors during the cold seasons is the only way to truly preserve them year round.
Do you grow herbs year round? Any tips you would like to share?
---
● Disclosure the links in this post may be affiliate links.
● Click here for more How Does Your Garden Grow Topics on Ann's Entitled Life.
● Enjoy this post? Sign up for the Ann's Entitled Life FREE Weekly Newsletter to stay connected.
---