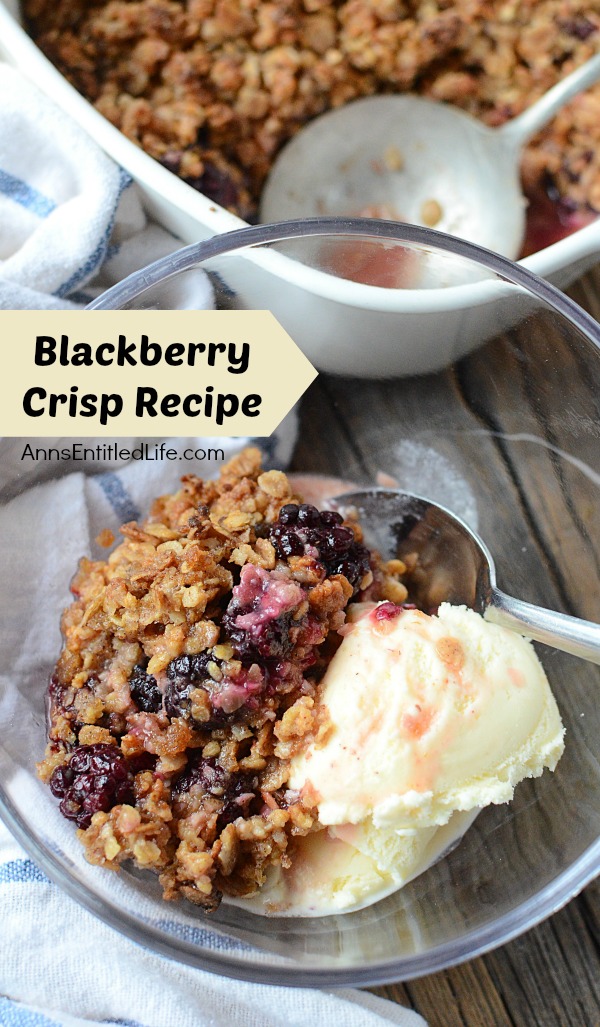 Blackberry Crisp Recipe
By Ann
An easy to make, delicious dessert made with fresh blackberry. Your family will be asking for seconds of this wonderful blackberry crisp treat.
Prep Time:15 minutes
Cook time:30 minutes
Ingredients:
• 4 cups Fresh Blackberries
• ½ cup Sugar
• 2 TBSP Water
• 1 tsp Corn Starch
• 1 tsp Lemon Juice
• 1 cup Muesli (or granola)
• 2 TBSP Flour
• ½ cup Brown Sugar
• 1 tsp Cinnamon
• 1 Stick Butter + 2 TBSP
Directions:

• Place blackberries in a greased 3 qt baking dish
• In a small bowl, combine the sugar, cornstarch, water and lemon juice until smooth, pour over blackberries.
• Combine the muesli, flour, brown sugar and cinnamon; cut in butter until crumbly.
• Sprinkle muesli mixture over blackberries.
• Dot with 2 tablespoons of cut up butter
• Bake, uncovered, at 375° for 30 minutes or until filling is bubbly.
• Serve warm or cold, ala mode or with whipped cream.

Makes 6 servings Blackberry Crisp