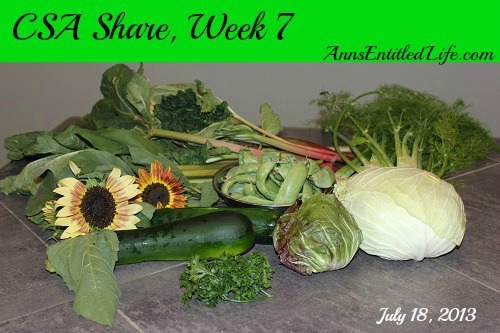 This is the diary of our CSA share this year. The cost of a full share is $545 for 22 weeks (this CSA offers a winter share) which will bring us to the last week in October, and works out to $24.75 per week. Western New York weather is such that June is lightest CSA month. September and October will be more than abundant! Usually I feel I don't get my money's worth the first few weeks (which will be predominantly lettuces), but the fall bags more than make up for that.
It was extremely hot here this past week… 90s every day. That is very unusual in Western New York, and believe me, we whined. But, apparently the fruits and vegetables love it! Our CSA said some produce is a few weeks behind, but a few weeks of warm dry weather will help a lot.
This week Hubby and I went together and went out in the U-pick section. We grabbed rhubarb, some flowers and some parsley. Now that we know what is out there, I can pick up alone as long as Hubby gives me a list. Besides the multitude of flowers, there were green beans and just about any type of herb you could image available.
What we ended up with this week:
● Cabbage
● Fennel – which Hubby loves! Look for a recipe in the coming weeks!
● Parsley
● Radicchio
● Rhubarb
● Scallions
● Snow Peas
● Sunflowers
● Zucchini
Also available that we didn't take:
● Cucumbers
● Garlic Scapes
● Kale
● Swiss Chard
● Yellow Squash
If we hadn't gone out to pick, the bag would have been pretty small. Due to the horrible weather we've had so far this year (tons of rain), this CSA has not been worth the weekly cost to date. We shall see if it picks up as the weather dries out.
Do you belong to a CSA? If so, what type? How much? Do you find it as worthwhile as I do?
● Past CSA Shares
● Find a CSA
● Porter Farms CSA (we belonged for years)
● Rootdown Farm CSA (our 2013 CSA)
● NYS Fruit and Vegetable Harvest Calendar
● US Agricultural Data