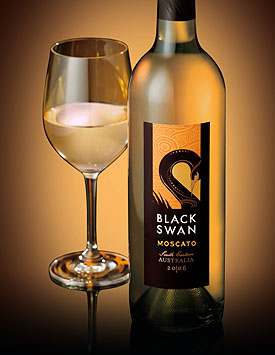 We have a local discount wine store whose ad Hubby always peruses. Last week they had a screaming deal on Black Swan Moscato Wine – under $3 per bottle without a rebate! Hubby stopped and bought four bottles figuring – wth! And he is right… how bad could a moscato be? Let's find out…
Today's discussion: Black Swan Moscato Wine
Vintner's Notes:
Bright apricot and peach flavors leading to a crisp citrus finish. The ultimate choice for light fare, soft cheeses and decadent desserts.
My Notes
A southeastern Australian wine the grape is nevertheless 100% muscat gordo blanco. This wine has an alcohol level of 9.60%. The color is golden-yellow, actually quite deep. The smell is peachy, and the flavor does have peach flavors. This was actually heavier than I expected, and not as sweet as I normally like a moscato to be. Saying that, I found this to be a good sipping wine when ice cold. And for the price? A definite buy at under $5 a bottle.
Have you tried Black Swan Moscato Wine? What did you think?
As always, drink responsibly and please don't drink and drive.
For more liquor and wine tips and reviews, click here.