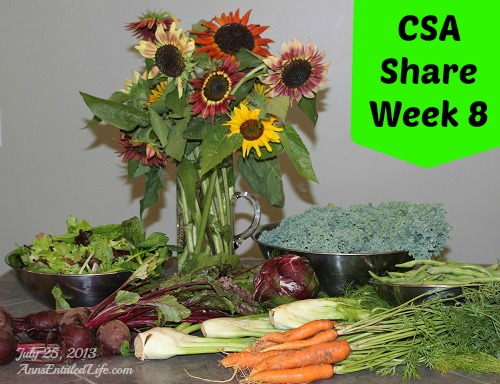 This is the diary of our CSA share this year. The cost of a full share is $545 for 22 weeks (this CSA offers a winter share) which will bring us to the last week in October, and works out to $24.75 per week. Western New York weather is such that June is lightest CSA month. September and October will be more than abundant! Usually I feel I don't get my money's worth the first few weeks (which will be predominantly lettuces), but the fall bags more than make up for that.
When I picked up our share yesterday, it was one of those perfect Western New York summer days where the temperature is 75°, it is sunny, blue skies with a few puffy clouds to break things up. The wind was light, and birds were chirping, the bees were buzzing – were they ever! I swear every sunflower I went to cut had a minimum of two honey bees in the middle! Since the day was so ideal, I decided to pick green beans as well as sunflowers. That entire bowl took me just a few minutes to gather – clearly produce is growing, and growing well in spite of the crazy weather we've had this year!
What we ended up with this week:
● Beets
● Carrots
● Fennel – which Hubby loves! Look for a recipe in the coming weeks!
● Green Beans
● Kale
● Radicchio
● Salad Greens
● Sunflowers
Also available that we didn't take:
● Cabbage
● Cucumbers
● Scallions
● Swiss Chard
● Zucchini
Even without picking the flowers and the green beans this was a decent week – at least it was different than past weeks and for that I am grateful. While this CSA hasn't been plentiful due to the weather, it has been diverse.
Do you belong to a CSA? If so, what type? How much? Do you find it as worthwhile as I do?
● Past CSA Shares
● Find a CSA
● NYS Fruit and Vegetable Harvest Calendar
● US Agricultural Data