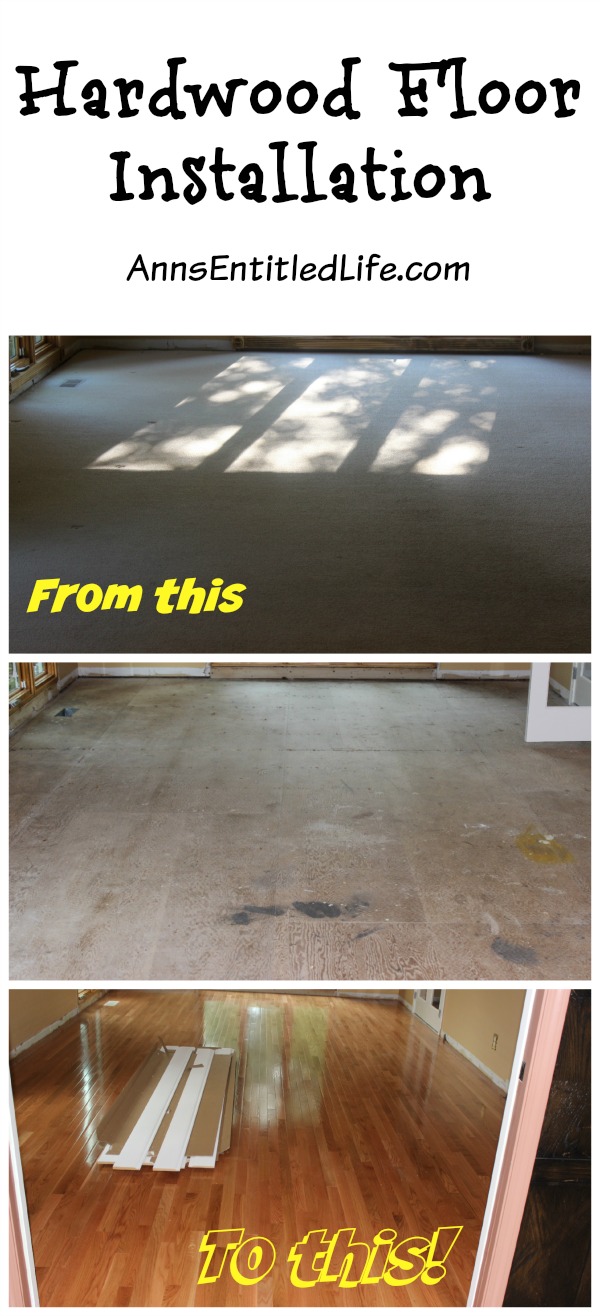 The last few days, I have told you of the process of installing hardwood floors in three rooms of our house: the living room, Hubby's office and our family room. From the long planning process to the installation itself in all three rooms, the process was both long, and very worthwhile.
First let me show you the before and after pictures: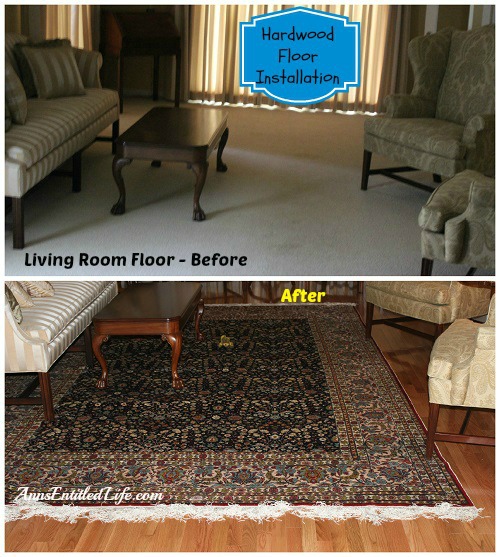 This is our living room. Nothing changed except the flooring. And yet, as we put pieces back in the room, it seemed much larger! It seemed as if there was more room in between each furniture piece. Purely an illusion though as we didn't gain room, we just changed the flooring!
Many years ago, before we were married, Hubby and I went on vacation and I purchased a hand-knotted "Persian" rug. We have kept it folded for over eight years. We had thought about hanging it in the stairwell, but it would have taken one sturdy rod (this thing is heavy!), so we decided not to do it. I did lay it out on top of the white carpet for a while – and since it has a black base it really grounded the room, but then we got a puppy and up that rug came. One of the things I most looked forward to with having hardwood floors installed was being able to lay down this beautiful rug! Now I need to find a good mat to put underneath it!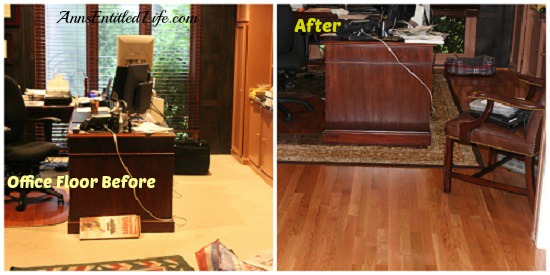 The room where I least expected there to be a difference (just because of the amount of crap he has in there) was Hubby's office. The one room everyone who has seen the after of the hardwood flooring installation agrees that the wood floor made the most difference in was – Hubby's office. It is amazing. The room went from dark and dreary, stuffed to the gills with junk where all you noticed were the piles, to open and airy – and it is still stuffed to the gills with junk! You just don't notice it as much. The difference is indescribable, and unfortunately the picture does no justice to the difference in Hubby's office – but take my word for it, it is a huge upgrade!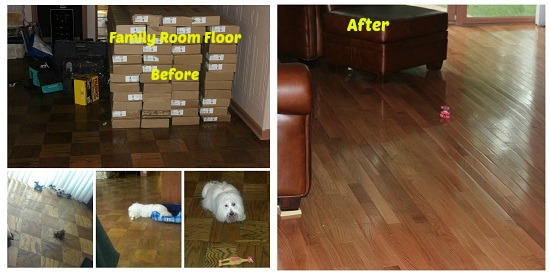 Of the 400-and-something pictures I took of this project, wouldn't you know I forgot to take a "before" of the family room!? The collage on the left is what I could find in old pictures. There was a parquet floor in that room that I LOVED! If I could have found something similar, I would have had it installed in the living room and office and we'd have been done long ago. But, parquet is "out" at the moment, and none of the flooring people we spoke to saw it making a return in the near future. No product, no parquet. And no, I didn't want it enough to pay the premium of fabrication.
So, out came the parquet with a great deal of effort, and down went the white oak hardwood flooring. This room benefited from new flooring almost as much as Hubby's office! Hubby picked a color for this room eight years ago (his first and last indoor color choice) and even though it was a white/tan, the pink undertones kept coming through! It was terrible. Our interior colors are predominantly white, brown, yellow (various shades of all three), and we have a green-grey kitchen and laundry room.
Pink doesn't exactly fit the motif.
The new floor has a yellowish undertone which brought out the tan/white in the paint in the family room. The room looks light, bright and spectacular now! I am shocked at what a difference it made.
If you had asked me before this process started what room I thought would benefit the most, I would have said far and away the living room! While the living room does look better, the improvement is minimal, especially compared to the drastic improvement the other two rooms have gone through.
Unless you are a fairly skilled carpenter or have square rooms with little intricacies, are strong and willing to dedicate weeks of your time to installing hardwood floors, hire a professional, or at the very least get a friend to help who is either a skilled carpenter, or who has installed a lot of floors. While Hubby and I could have probably muddled through the living room and his office – in three to four times as long as Kennan took to complete the rooms – I doubt it would have looked anywhere near as good. The finagling, the base board fitting and the casing problems made us very glad we hired a professional. As far as the family room goes, I have no idea how we would have done all that Kennan did around the fireplace. It was really something!
For us, this project exceeded my wildest dreams upon completion. We were extremely glad we found the elusive square edge flooring, that we hired a professional, and that not only are our floors beautiful, they no longer squeak. The project ran one week over time scheduled, and I was getting a bit claustrophobic near the end, but it is now three weeks later and none of that matters; I just see beautiful floors, clean rooms, and a lovely flow downstairs. This is one project I am very glad we undertook.
See also:
● Hardwood Floor Installation Part 1
● Hardwood Floor Installation Part 2
● Hardwood Floor Installation Part 3
---
● If you enjoyed this post, be sure to sign up for the Ann's Entitled Life weekly newsletter, and never miss another article!
● For more Renovation projects on Ann's Entitled Life, click here.
---